How to figure out ideal desk height for your maximum comfort
Have you ever wondered why most people working in offices suffer from back pain? One of the reasons is that people rarely take the time to figure out the ideal desk height they should be using. This, in turn, leads to them using being forced to crouch while working. This does not affect their posture alone, but it also messes with their stress levels and may increase the risk of musculoskeletal disorders. As such, it is quite important to figure out the ideal desk height that would fit you perfectly.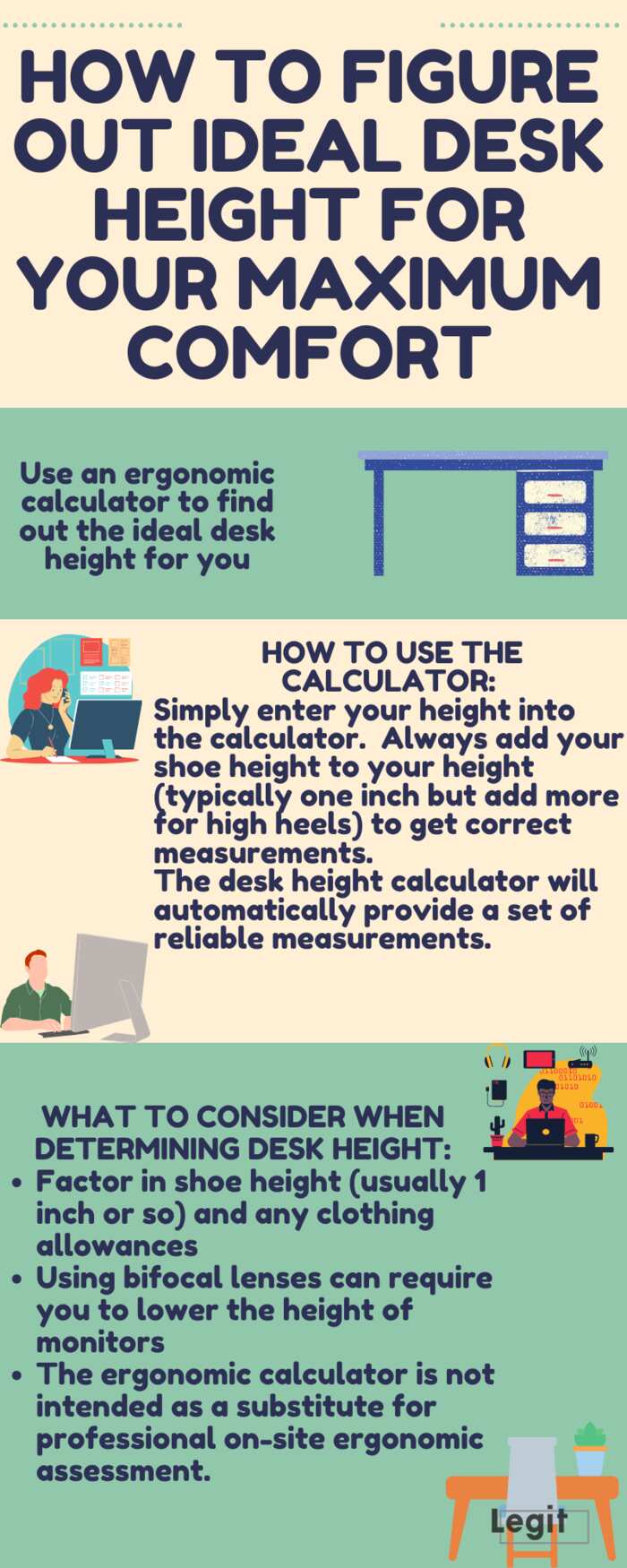 Does table height contribute to your maximum comfort in the office? Yes, it sure does. A table that is too low forces an unnatural curvature of the spine while a high table causes tension to the neck and shoulder muscles.
Here is how to determine the correct desk height.
How to figure out the ideal desk height
But how can you tell the ideal desk height for you? There is a special calculator used for determining the best working position. This calculator is known as the ergonomic calculator.
How do I measure my desk height? You just need to input your height with shoes on, and the ergonomic calculator will work its magic, giving you details about how high or low your desk should be.
The calculator will also give you additional details, such as:
How far you should be from the monitor (if you use a computer)
The ideal tilt angle of the monitor
For example, for someone who is 5 feet 3 inches tall, the calculator will give these details:
Sitting eye height range: 44.0 inches
Seat height range: 15.0 inches
Sitting elbow height range: 23.5 inches
Distance from the eye to the monitor screen: 20 to 30 inches
The ideal tilt angle of the monitor: 10 to 20 degrees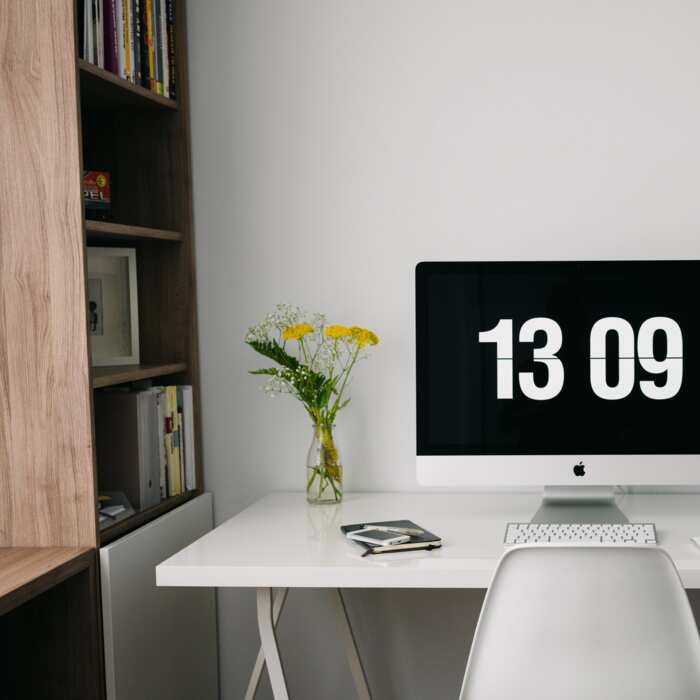 What to consider when determining desk height
Here are some tips that will come in handy while using the ergonomic calculator and while determining the proper desk height:
Factor in shoe height (usually 1 inch or so) and any clothing allowances
Using bifocal lenses can require you to lower the height of monitors
Adjust your workstation to vary posture throughout the day
Standing while using the computer helps vary your posture more than sitting
Comfort is crucial. Reposition your equipment if your body feels any strain or pain
The ergonomic calculator is not intended as a substitute for professional on-site ergonomic assessment.
You can also determine if a desk is the right height for you by using this strategy:
When you're seated or standing in the position you'd use the desk, rest your arms at your sides, keeping your elbow at a 90-degree angle and your upper arms in line with your torso. If the desk is the right height, your hands should rest comfortably on the desk.
To figure out the normal desk height suitable for a worker, the worker should sit at the desk (or stand, if it's a standing desk) with their arms at his or her sides.
The person can then move his or her elbows to a 90-degree angle, and it should be easy and comfortable for him or her to place both hands on the desk.
If the elbows are at more than a 90-degree angle, the desk should be raised, or the chair lowered.
If the elbows are at less than a 90-degree angle, the desk should be lowered, or the chair should be raised.
Average desk height
What is the average table height? The standard desk height is 29 inches (or 73.5 centimeters approximately). However, it is essential to note that although this is the standard table height that most desks are, this height would only be ideal for people who are 6 feet tall.
Here are some standard heights for different tables:
Dining table: 30 inches
Kitchen table: 30 inches
Bar table: 42 inches
Coffee table: 20 inches
Side table: 25 inches
Console table: 30 inches
Nightstand: 25 inches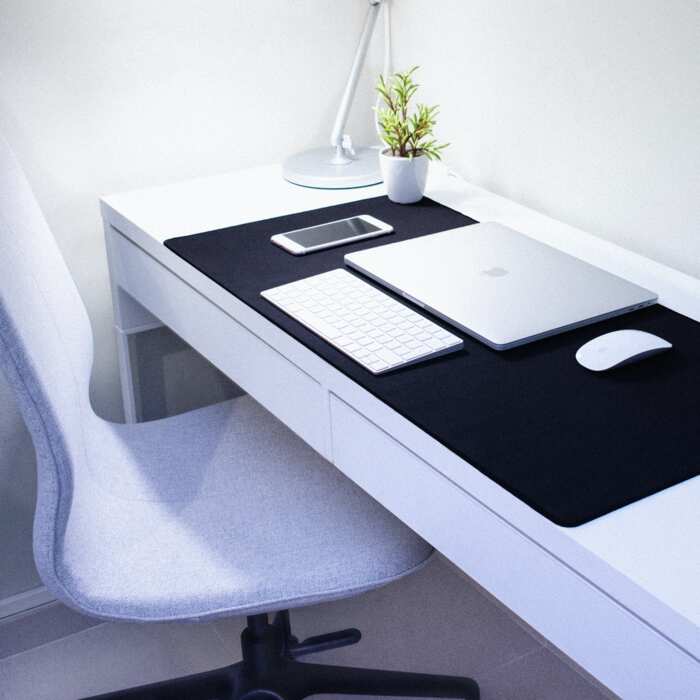 Standing desk height
For standing desks, things are a little different. Generally, the typical desk height for a standing desk should be at elbow height.
This means that as your elbows are positioned at a 90-degree angle from the floor, measure the floor's distance to the bottom of your elbow. The desk should be built to this height.
Work in a standing posture or a saddle chair when:
Your work is performed over distances that exceed your comfortable arms reach envelope, which is more than 38 cm or 15" from the body's center.
Your job requires that you move your body along with your arms.
Your work is spread out over several areas.
Your work height above the floor is variable.
Your job involves weighted objects or large forces.
Visual demands make a seated posture inappropriate because of difficulty in seeing something or the need to move around to get the best angle to view something.
You need to relieve the fatigue of sitting for long periods. Periodically performing some tasks from a standing position can give you a break from the usual sitting position.
Advantages of using the proper desk height
Using the proper desk height has several benefits, including the following:
Lowers the risk (and associated business costs) of musculoskeletal disorders
Reduces sick leave by minimizing injuries
Reduces user stress
Helps workers stay focused
Improves productivity
Increases workplace engagement
Using the proper desk height does not benefit you alone, but it also has a positive impact on your productivity, which in turn, positively affects the company you work for. As such, employers should ensure that their employees are using the correct desk height.
Source: Legit Nigeria