APC UK mocks Obaseki, claims Buhari turned him down
- President Buhari reportedly turned down Obaseki
- According to APC UK, Obaseki visited Buhari concerning his troubles with the party
- The post said Buhari told him the party is supreme
PAY ATTENTION: Click "See First" under the "Following" tab to see Legit.ng News on your Facebook News Feed
Shortly after he announced his resignation from the ruling All Progressives Congress (APC), Governor Godwin Obaseki of Edo state has been mocked by a social media platform of the party in a brutal fashion.
According to the post against the governor on Facebook, the APC claimed Buhari turned down the governor's request outrightly.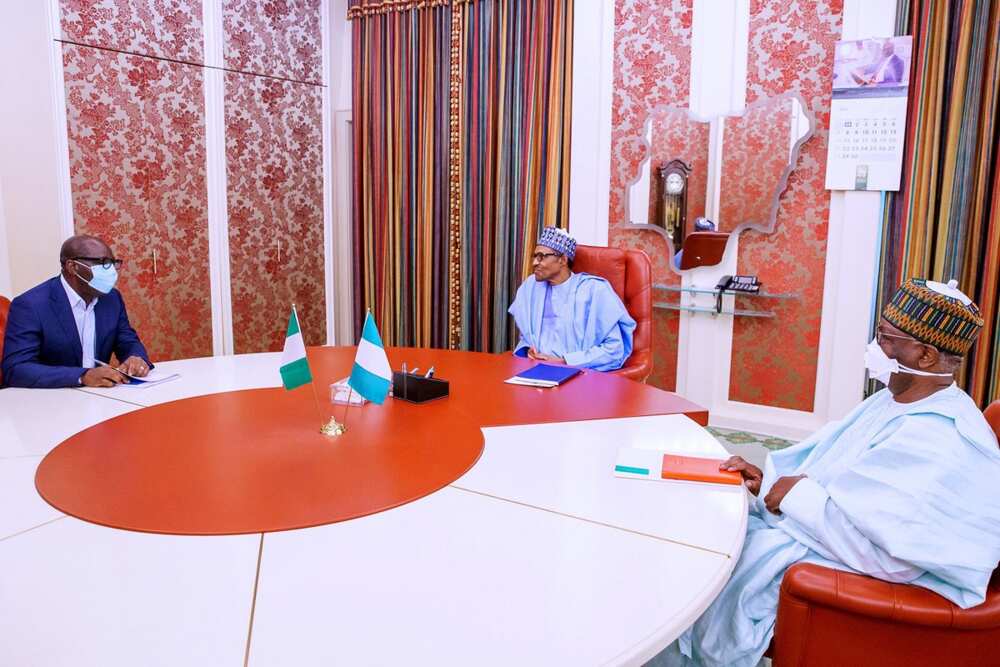 Going! Fading Away!! GONE !!! Edo state governor Godwin Obaseki resigns membership of APC after meeting with President Buhari.
"President Buhari: "Sorry I can't help you. The party is supreme! Goodbye," the post read.
Meanwhile, Legit.ng had reported that as Obaseki seeks a new political fortress after his re-election bid was dealt a big blow by APC, the governor has been urged to push his ambition on a new platform.
The Edo state governor, it would be recalled, was handed a red card on Friday, June 12, as the APC screening committee headed by Jonathan Ayuba submitted that he has a "defective certificate."
The decision came on the heels of an aggravated political feud between the governor and his predecessor who also doubles as the national chairman of the ruling party.
Amid mounting speculations surrounding the governor's imminent defection to the Peoples Democratic Party (PDP) ahead of the state guber election, Obaseki has been enjoined to pitch his tents somewhere else.
A poll conducted by Legit.ng showed that 83% of Nigerians want the governor to seek his re-election on another platform instead of throwing in the towel.
The Facebook poll, which was conducted on Monday, June 15, saw about two thousand voters participate out of which 83% want Obaseki to leave APC. 17%, however, thought otherwise.
A social media user, Wale Babalola, said: "Whatever he feels comfortable for him, I support him. Those MOFOs are moving on with their agenda. They did it to Ambode anyways and got away with it. But, the law of retribution never sleeps, it only takes time."
Another user said: "He should not even waste his time on appealing the decision of APC...... Bcos if he does, he will not succeed and the cabals in APC will laugh at him, so him should quietly decamp to PDP and fight for his Mantle!!!!!"
APC disqualifies Obaseki from Edo guber primaries |- on Legit TV
Source: Legit.ng