Legit.ng weekly price check: Traders hint on most important item being bought in the market
- Despite the increasing number of cases of the COVID-19 in Nigeria, business activities continues to operate with caution
- Although the pandemic slowed down certain operations in the country and beyond, yet marketers keep their businesses afloat in various ways that are unique to their goods and services delivery
- This week, Legit.ng visited the market to find out from traders the most important item being bought in the market at the moment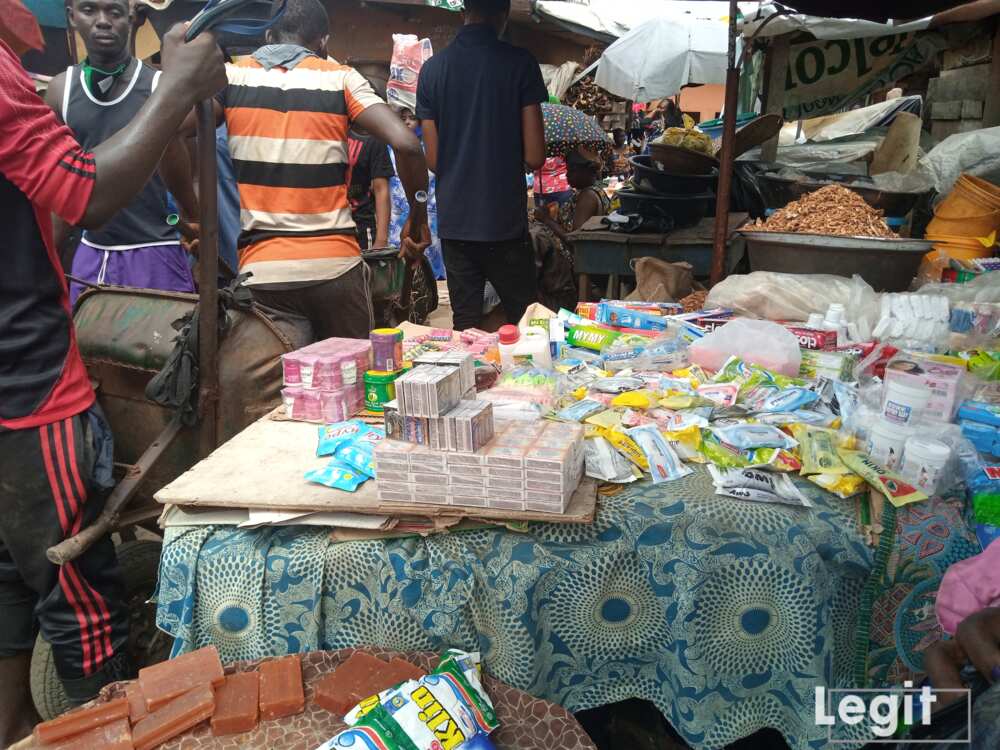 It's the season where some goods would be supplied in large quantity at the market and also a season where others would be scarce especially the ones that are not in season. In Nigeria, there is planting season and there is harvest season; these two seasons shape the market activities in the country.
During the planting season, goods are planted and in turn brings about increment in their cost price while during harvest season, they are harvested which makes them available and large in supply. Yet, there are some goods that are planted towards the end of the year as revealed by traders at the market.
These goods, when supplied in large quantity are affordable but when supply decreases the price skyrocket. In market, there are items that are of high demand and there are items buyers cannot leave out of their shopping list. Such items are seen on display in most shops and stores at the market and some purchased in large quantity by the sellers.
At the market this week, Legit.ng had a chat with some traders who gave us information about the goods or item that are most picked and bought by buyers in wake of the coronavirus pandemic. Some of them further revealed the goods whose demands are higher now and why.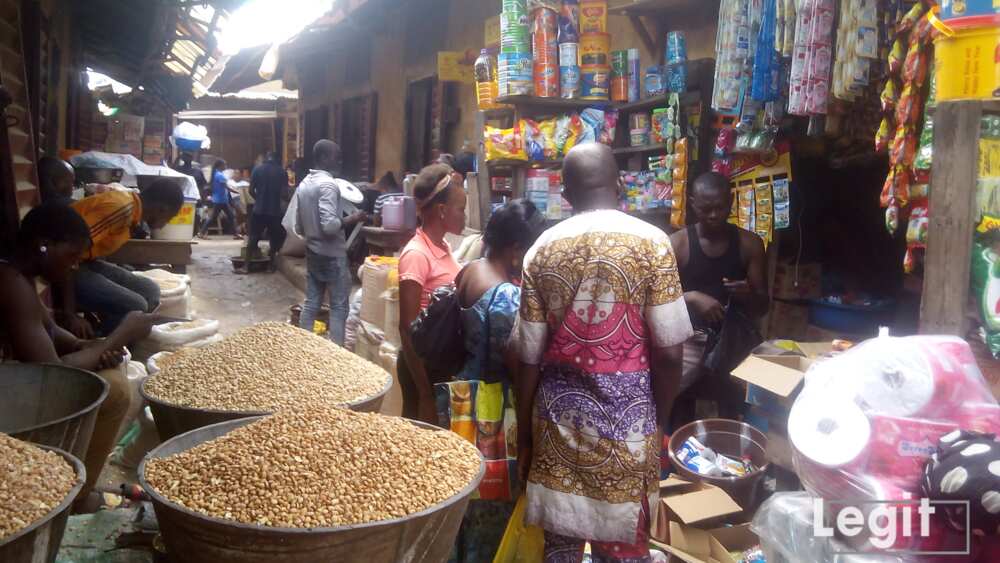 In an interview with a provisional item seller, she informed our correspondent that provisional items or grocery items top the list of most buyers shopping in recent times.
"Buyers before leaving their home draft out a list but there are items that top that list and most of them, before the pandemic and during the pandemic, the provisional items come first. This is so because of the contents that make up a provisional list, such contents are of utmost importance; they are detergents, laundry and bath soaps, dairy products, noodles, spaghetti, cereals, chocolate/candy, margarine, beverages to mention but a few. And some of these products, manufacturers have changed their look but this did not affect the cost price rather to make them look unique and appealing to the buyers.
"The provisional items are one of the most bought items in the market lately because one way or the other, everyone irrespective of their social status or class needs a provisional item. This is why we make sales on a daily basis. Some purchase the items for their kids, others for their partner, parent, or relatives. This is a business that one can never regret starting and I can tell you I have been running it for over five years now.
"Now, there is hike in the cost price of provisional items due to rising demand. People are buying the items but their quantity is at a reduced level and not all the items are high in demand. The pandemic has affected the supply chain of these items. We now offer for sale goods that we can afford as some of the items, we traders cannot even buy them in bulk. Notwithstanding, not all provisional items are expensive, others are still very affordable," The mother of two told Legit.ng.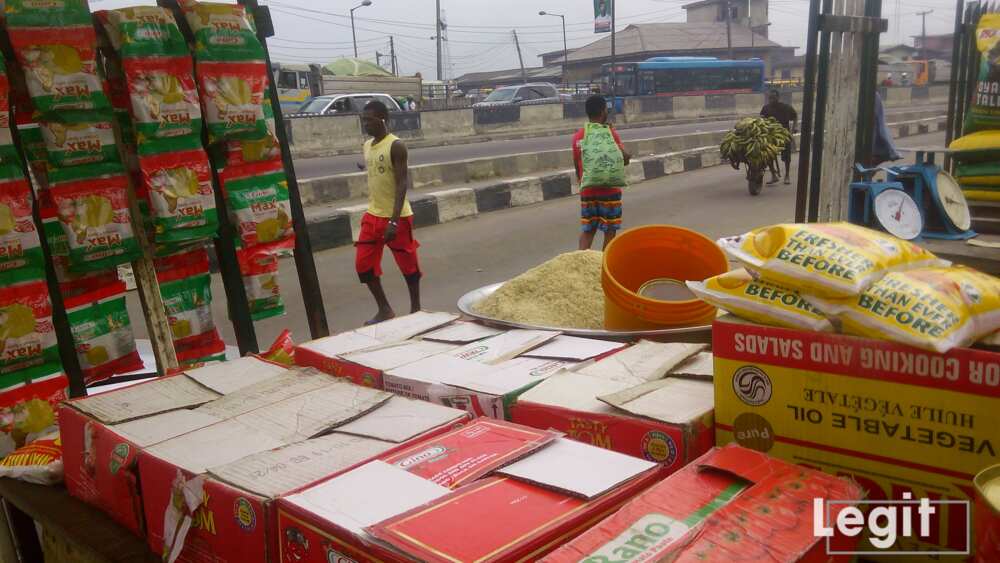 In agreement with the above seller, another trader who sells similar products at the market disclosed that patronage and sales are on a balanced level. According to her, the patronage of these products is higher now than in previous weeks; adding that when activities resumes fully, the patronage would increase further.
She said: "We are facing hardship daily as a result of the lockdown but we need to keep our business running so as to be able to survive. Eating order varies and this in turn influences buyer's choice of shopping. Some persons who like fast food opt for provisional items like flakes, pasta, noodles with tomato paste and egg rather than fresh tomatoes, bread and margarine as well as dairy products. The demand for these items is higher and it moves faster because we have regular customers who patronize us requesting for the items daily.
"The products sell fast irrespective of shop or store location. The items are very important as they serve everyone and even when their prices skyrocket, they are still sold at reasonable rates. The patronage so far for the item is over average and on a balanced level but we hope to make better sales. Money is one major factor that aids the running of this business; if you don't have enough money, and then you will close down your store or shop because the prices of the goods are not stable, they fluctuate and you need to get them so as to stay on track with other competitors."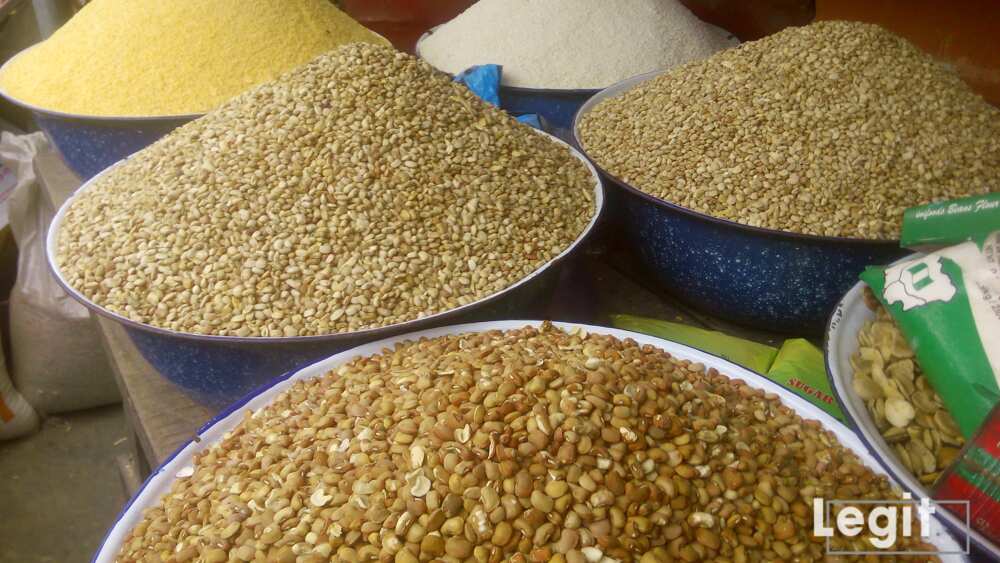 For sellers of rice, beans and garri, they are of the view that food items are one of the most purchased items in the market this week. In her opinion, a seller said beans and garri are most preferred now to rice due to their cost price.
The seller stated that: "Due to the cost price of quality rice, most buyers prefer beans and garri and some who patronize us often, buy beans and garri in large quantities and rice in small quantity. This is because most men cannot do without eating swallow on a daily basis same with some women. For them the preparation of swallow is more affordable than that of rice and stew of other food delicacies.
"We have people who cannot do without eating rice daily so also those who cannot do without beans and bread daily; one cannot really say a particular item top the buyers list because we have individual preferences.
"Most food prices in the market have remained either stable or dropped due to the economy situation of our country. And in recent times, when there was a slight reduction in the cost price of beans and garri, the demand increases, which influences sales. We make good sales especially by weekend now."
At the market, there was no noticeable change in the cost price of yam and perishable items like fish, turkey, chicken, tomatoes, pepper, onion and cow hides. They still maintain their old prices.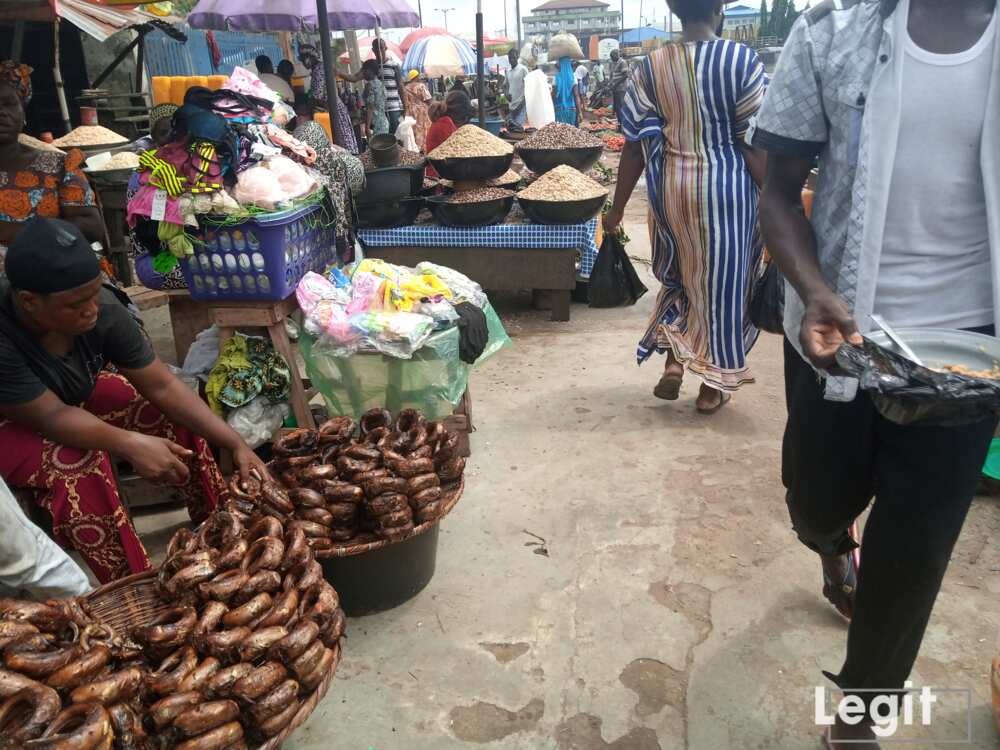 A fish seller informed Legit.ng that panla fish top the buyers list of items this week as well as cow hides (ponmo).
"Some buyers cannot afford Titus fish, catfish and croaker fish due to increment in their cost price. While few can purchase chicken and turkey, others opt for panla fish and cow hides; this in turn has affected the cost price of the goods as a carton that cost N7,000 before, now cost N11,000; depending on the size of the fish, the bigger the size, the expensive the carton of the fish as some are sold at a higher price.
"For cow hides, the ones that are sold for N100, now cost N200, while the ones that are sold from N200, now cost N500. So, due to the high demand of panla fish and cow hide, their cost price have risen, bringing about increased in sales," A seller told Legit.ng.
For a yam seller, sales have been a difficult one due to the cost price of yam. According to him, only few buyers purchase yam daily as others prefer to patronize potato sellers and plantain.
He said: "Due to the increment in the cost price of yam, we no longer make sales and the patronage drops daily. Not everyone can afford a tuber of yam that cost over N500 and some N1,500. What they do is, purchase potato or plantain. So, we have been running into shortages; only those who are enough cash patronize us daily. Yam is not among the most purchased item in the market now, as demand is low while supply is high."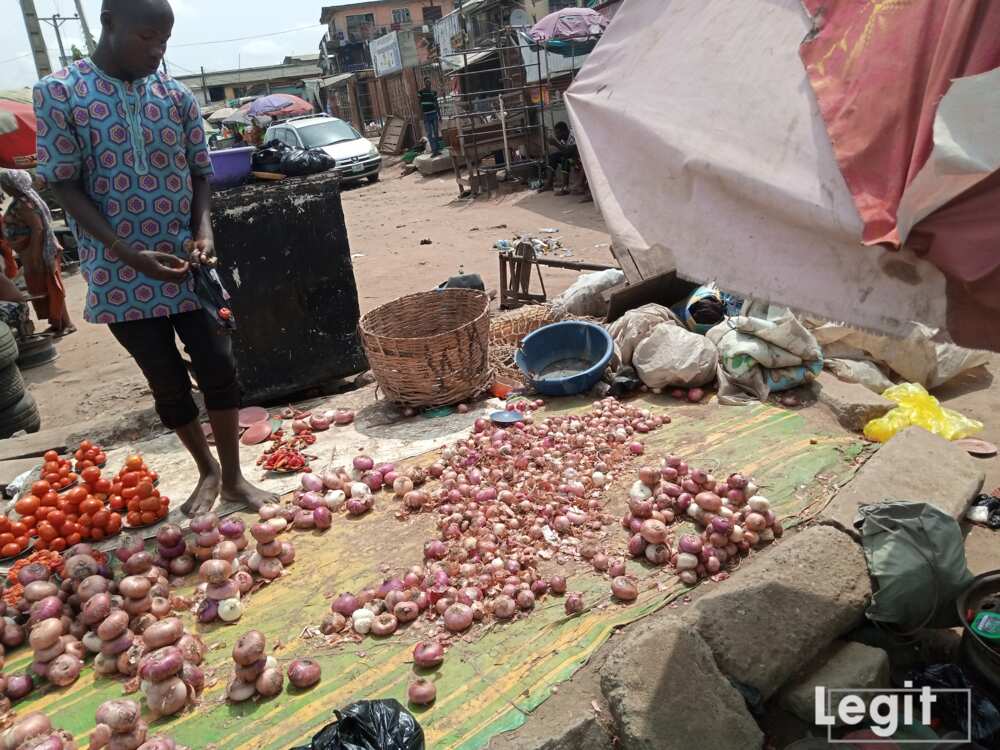 In another development, a trader who sells tomatoes, pepper and onion told our correspondent that onion is one of the most purchased items she sells daily; adding that the cost price and its health benefit leads to high patronage.
In her words, she affirmed that: "A basket of round shaped tomato is sold from N8,000 upwards and a bag of pepper cost N7,000 upward; that is for the medium sized bag while the small bag of pepper is sold from N3,500 upwards. The big bag is sold from N10,000 but a bag of onion is sold from N18,000.
"Although, we sell tomatoes and pepper but sometimes we run at a loss as we do not get to sell all on time. For onion, it remains one of the most important items purchased in the market in recent at the moment asides fruits and vegetables; also, the cost of purchase is at a reasonable level and we sell it on time and buyers purchase in large quantities."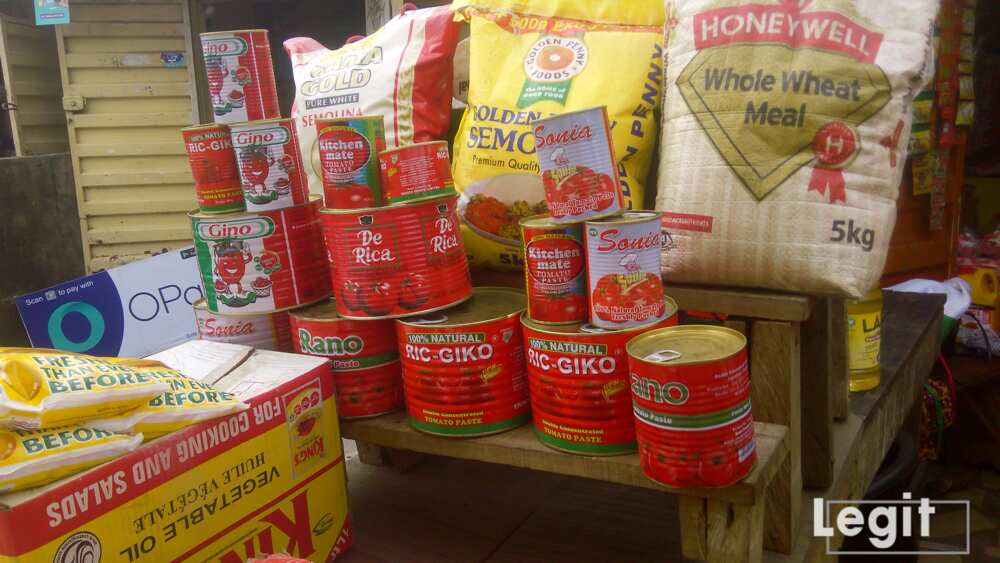 Also at the market, a bunch of plantain that cost N1,500 before, is now sold from N1,200 below. A 25-litre of vegetable oil (refill) that cost N13,000 in previous weeks, dropped to N12,500 but branded oil are sold from N14,000 upwards while palm-oil maintained its old price of N11,500.
"I sell these product; vegetable-oil, palm-oil, spices, seasoning, macaroni, spaghetti and tomato paste. A carton of tomato paste cost N2,400 and above while for spaghetti, a carton is sold from N3,400 but the buyers prefer macaroni due to its economic pack, the ones that are sold from N100. But now, all these products are of high demand especially seasoning; buyers purchase seasoning more than other items because it is very important. What we pray for now is to make better sales so as to be able to purchase the items that are of high demand in other not to lose loyal customers," A seller explained to Legit.ng.
Relatively, foodstuff dealers are satisfied with the turnout of buyers in the market lately. According to the traders, the buyers now purchase foodstuff items in large quantities.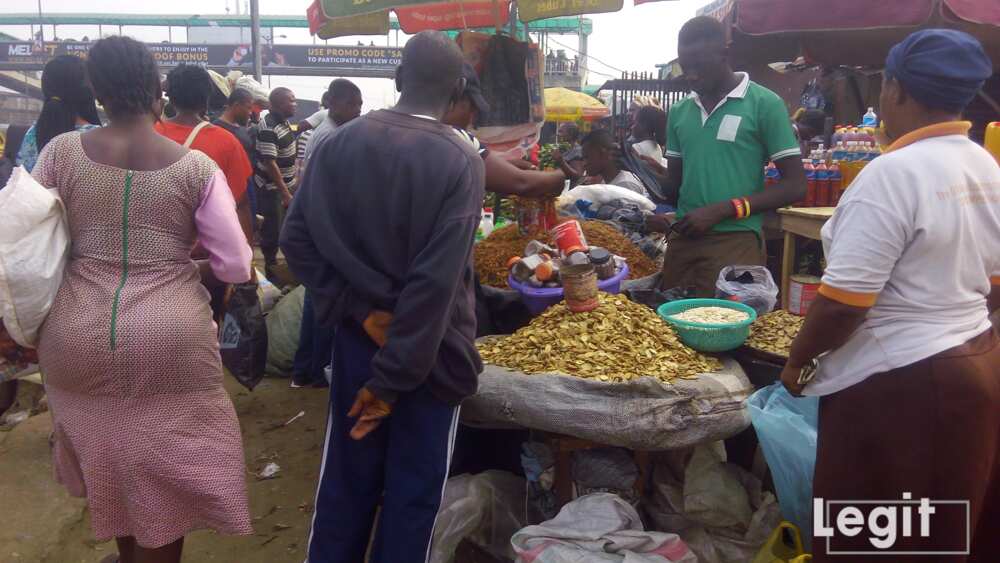 The prices of items like ogbono, egusi, crayfish and dry pepper maintained stability as informed by a trader. According to him, the goods are no longer exported and thus remained sold within the country which makes their prices stable.
The foodstuff dealer explained that: "A bag of egusi cost N55,000 and below as against its old price of N65,000 while a bag of ogbono, the one that draws well goes for N80,000 upwards but the price of the local one is lower to the price of the badagry own and others. For pepper and crayfish, they are sold at affordable rates.
"Due to the pandemic, the prices of the goods remained stable because no one is exporting it and in turn, we sell it within the country; so this made the goods available, affordable and supply in excess now. But as soon as the airport is opened, some buyers who come from other countries would patronize us and would improve our sales the more.
"We are coping well with the situation of things in the country and the market at large. The effect is really telling on the purchasing power of the buyers. But we are making sales and the goods that are purchased most by buyers are ogbono and crayfish; most wealthy people cannot do without purchasing these items in large quantities. And with the latest development, the level of patronage has increased due to the fact that buyers purchase our goods in large quantity as the cost prices of our goods have dropped further."
Further findings at the market showed the goods that are mostly consumed are staples while goods that top buyers list are perishable goods and provisional items. For some goods there's been a general drop and for others, they maintained stability in prices as revealed by the traders.
Democracy Day: Nigerians lament bitterly over governance via Legit TV
Source: Legit.ng News