Why I stood by N-Power beneficiaries who were unjustly exited from scheme - Taiwo Oluga
Editor's note: Honourable Taiwo Olukemi Oluga is member of the All Progressives Congress (APC) representing Ayedaade/ Irewole/ Isokan federal constituency area of Osun state at the House of Representatives.
In this exclusive interview with Legit.ng, Honourable Oluga, who is the chairman, House of Reps committee on women in parliament, bares her mind on her activities in the green chamber in the last 356 days, the bills she sponsored, motions and bill supported, employment creation, why she stood by some volunteers of N-Power who were unjustly exited from the scheme among others issues.
PAY ATTENTION: Click "See First" under the "Following" tab to see Legit.ng News on your Facebook News Feed!
You have now spent 365 days as a lawmaker of the federal republic of Nigeria, what have been your achievements?
Yes, it has been a journey of one year at the federal House of Representatives and to the glory of God, I have sponsored some bills and made motions that have positive impacts on my constituency.
These bills include the federal college of education, Gbongan (establishment) bill, 2020 (HB.794) - first reading (October 9, 2019), second reading (November 21, 2019); a bill on price control act (amendment) bill, 2020 (HB.797) - first reading (March 10, 2020) - second reading; electoral act (amendment) bill, 2020 (HB. 793) - first reading (March 4, 2020); compulsory universal basic education act (amendment) bill, 2020 (HB. 794) – first reading (March 4, 2020); women's representation in legislative Houses bill, 2020 (HB. 795) - first reading (March 4, 2020); the constitution of the federal republic of Nigeria, 1999 (alteration) bill, 2020 (HB. 796) - first reading (March 4, 2020); a bill on National Assembly Budget and Research Budget NASBRO - first reading (November 14, 2019) and a bill on patent and design act, 2020 - first reading (March 4, 2020).
Others are motion on the plight of disengaged N-power beneficiaries on the November 13, 2019, and a motion on the need to improve access of Nigeria students to quality basic education on July 23, 2019.
The motions and bills supported by me included the bill for an act to amend the appropriations act, 2020; a motion on 50% affirmative of women representation in politics dated on November 26, 2019; a motion on Nigeria national hero on November 6, 2019; a motion on the need to improve access of pension reform act on December 12, 2019; motion on the uprise of cultism in Nigeria on July 18, 2019; a motion on death sentence for rap.e on November 27, 2019; a motion on the need to address the issue of "mysterious deaths" in Jigawa state.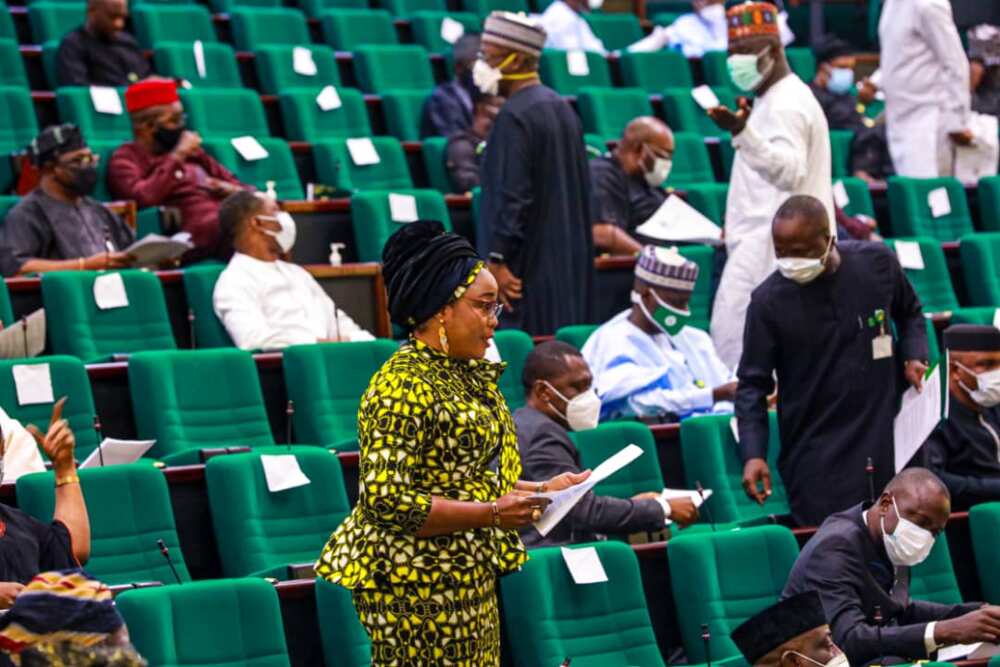 The motion further called for the urgent establishment of well-equipped isolation and testing centres as part of measures towards curbing the spread of COVID-19 pandemic.
On Wednesday, March 18, I proposed an amendment to the motion on coronavirus disease (COVID-19) and that the House leadership should be briefed weekly by the minister of health on the country's preparedness for containing the pandemic.
I also supported a motion moved on the need to address the lapses of security operatives at the nation's Airports on Wednesday, March 11, 2020, and I supported a motion on the need to re-assess and re-evaluate the tactical squads of the Nigeria Police Force.
I proposed an amendment to ensure that officers involved are made to undergo mental stability test and that such tests should be periodical to all law enforcement officers nationwide. The motion was voted on and adopted as amended.
I also supported the debate that called for an adequate mechanism to be put in place to ensure that coronavirus doesn't get out of control. I called for proper care for victims of the virus and that more campaigns should be taken to the Nigerian people, especially those at the grassroots, through primary healthcare activities.
Apart from the bills and motions that I moved in the last year, I have acted on a number of petitions submitted to my office by my constituents. These included: submission of a petition from a constituent whose engagement with the Federal Road Safety Commission (FRSC) was unlawfully terminated and another against the same commission which denied his due and deserved promotion and the submission of a petition by one of my constituents and his colleagues on the non-remittance of their salaries and arrears from Niger Delta Power holding company for many years.
As part of my activities as the chairman House committee on women in parliament, I hosted a round table/Inauguration of the committee women in parliament; annual retreat of women in parliament held at Victoria Island, Lagos.
It is on record that last year during a plenary you passionately championed the cause of some volunteers of N-Power in Osun state who were unjustly exited from the scheme, what actually motivated you?
First, it is the duty of the National Assembly to oversight any appropriated fund of the government. This administration has different social investment programmes with a huge amount invested in them.
Second, these direct beneficiaries of N-Power are being maltreated, having taken it upon themselves to serve diligently, yet their stipends were withheld and that was why I intervened by raising the motion on the floor on their behalf.
Third, it high time we started doing things right in our country Nigeria let no one be deprived of his/ her benefit/ stipend/ salary. Also, I made it clear to all public office holders that the current NASS is an arm of government to check all excesses.
What have you done to empower your constituents and reduce the unemployment rate in your constituency?
In a bid to reduce unemployment among youths and other constituents in Ayedaade/Irewole/Isokan federal constituency, I have assisted a number of people with employment opportunities into Nigeria Police Force, Nigerian Army and National Hospital Board.
I have engaged 100 youths across the federal constituency under the Youth Empowerment Scheme (YES) as Taiwo Oluga corps and they were deployed to health centres and schools.
I also trained 100 indigenes of Ayedaade/ Irewole/Isokan federal constituency on small scale businesses with start-up capital. I provided and opened up more opportunities for employment, entrepreneurship and skills acquisition through strategic implementation partners
My other achievements include functional constituency office; interpersonal relationship with the constituents and prompt attention to party elders, youths, children and women, physically challenged, widows, artisans and market women/men, royal palaces and other related categories.
What are your achievements in education?
In my contributions to the education system in my constituency, I organised Spelling Bee competition for both Middle and High school students and the winners were given cash prizes, books, and school bags.
PAY ATTENTION: Get the Latest Nigerian News Anywhere 24/7. Spend less on the Internet!
The first position received the cash prize of N100,000 (Hundred thousand Naira), the second position received the cash prize of N70,000 (Seventy-thousand Naira), the third position received the cash prize of N50,000 (Fifty-thousands Naira) while the fourth position received a cash prize of N25,000. (Twenty-five thousand Naira)
Also, free summer coaching with nine (9) centres across the federal constituency for public and private school students. Irewole local government has two centres: Ayedaade High School, Ikire has 1251 student participants and A.U.D Middle School has 342 student participants.
Isokan local government has two centres: ADC High School, Apomu has 750 student participants and St David Elementary/Middle School, Ikoyi has 405 student participants.
Ayedaade local government has five centres: Olufi High School, Gbongan has 981 student participants, Community High schools; Orile-Owu has 360 student participants, Community Middle/High School Araromi Owu has 98 student participants, St David High school Ode- Omu has 574 student participants and Community High School Tonkeere has 248 student participants.
The tutors and coordinators were well appreciated and remunerated. I have distributed over 500 pairs of school uniforms to both Middle and High schools, distribution over 500 pairs of school bags to students and distributed over 2000 dozens of customized 60 notebooks to students.
What efforts have you made to cushion the effects of COVID-19 among the people of your constituency?
I gave a cash donation to the government of the state of Osun COVID-19 committee, cash donation to federal constituency during COVID-19 pandemic, donation of food relief items to the federal constituency and nose masks distribution to the people of my constituency.
Meanwhile, Legit.ng had previously reported that President Muhammadu Buhari felicitated with the ninth National Assembly on their first year anniversary.
It was reported that the president in a short message posted by his media aide, Bashir Ahmad, on Wednesday, June 10, sent warm greetings to the leadership and members of the 9th Assembly.
Nigerians storm National Assembly to protest social media bill | - on Legit TV
Source: Legit