Deontay Wilder says he doesn't care about Floyd Mayweather's planned boxing return
- Deontay Wilder is preparing for his trilogy bout against Tyson Fury
- Floyd Mayweather had in 2019 said he would come out of retirement
- Wilder says he does not care if the 'Money Man' returns to action
Deontay Wilder has stated that he is not bothered if Floyd Mayweather comes out of retirement or not, as the boxer prepares for his trilogy with Tyson Fury.
Mayweather had in November 2019 announced he will come out of retirement and that was just 48 hours before Wider's fight against Luis Ortiz.
However the 'Money Man' has back-tracked the claims, but the idea does not bother Wilder who feels the timing for such announcement was wrong.
PAY ATTENTION: Click "See First" under the "Following" tab to see Legit.ng News on your Facebook News Feed!
Mayweather's company was a co-promoter of the Wilder-Ortiz show, which was distributed by FOX Sports.
When Wilder was asked this question by YouTube channel Tha Boxing Voice, he said:
"I have no idea,You know what I mean? I mean, it's so many different things that could be said about it. But, you know, it is what it is. Let him do what he do. You know, whether he come back or not, that's up to him. Personally, I really don't care."
"It's not stopping nothing over here. Even if he announced something during that time, as you can see, it didn't stop nothing. And it's not gonna stop nothing."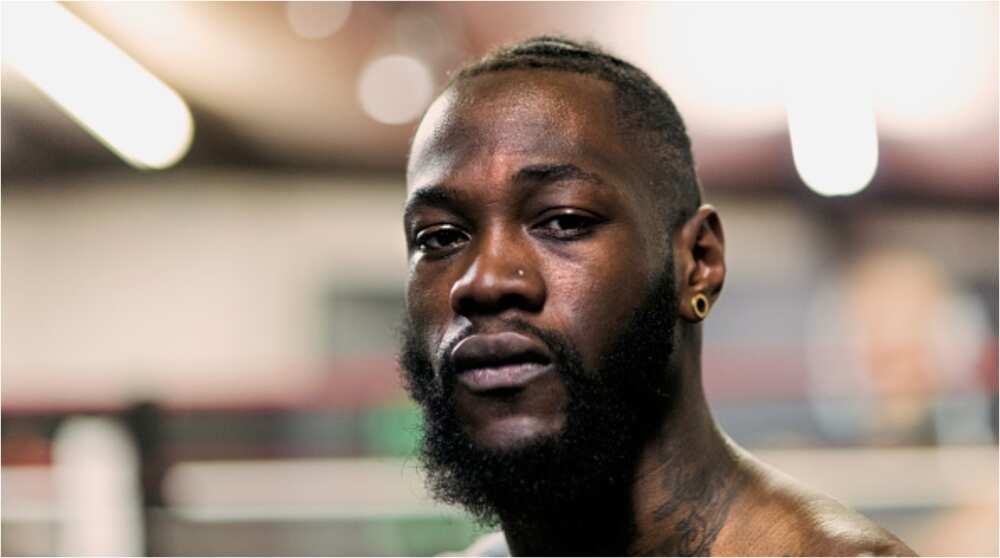 Meanwhile, Tyson Fury is already speaking ahead of the record double-header fight against fellow Brit Anthony Joshua saying Deontay Wilder is a more dangerous opponent.
Anthony Joshua and Tyson Fury stand a chance to earn about £70 million each if they stage their heavyweight unification bout in 2021.
Both British boxers are in possession of all the belts in their category and they have reached an agreement to face-off in a two-legged encounter in 2021.
Reports claim that the winner of the first leg would win double of his take-home when they clash in the final round of the meeting according to the deal they agreed in principle.
But Fury is due to take on Wilder for a third time later this year ahead of a potential double-header against fellow world champion Joshua next year. Tyson Fury believes Deontay Wilder is a more dangerous fighter than Anthony Joshua.
Legit.ng earlier reported that Floyd Mayweather has finally put to bed about returning into the square circle as he announced he would be involved in exhibition fights.
The 43-year-old retired from boxing in 2017 after defeating Conor McGregor then returned to face Japanese kick-boxer Tenshin Nasukawa a year later in an exhibition bout.
Now the Money Man took to his social media handle to reveal that he is planning a series of exhibitions in the overseas.
Okocha is Nigeria's greatest player ever – Ahmed Musa | Legit TV
Source: Legit Newspaper