50+ pick up lines for girls that have the most success on Tinder
Are you a lady who wants to get dates from your Tinder matches? If yes, then you need to know some of the best pick up lines for girls that are guaranteed to get you a date.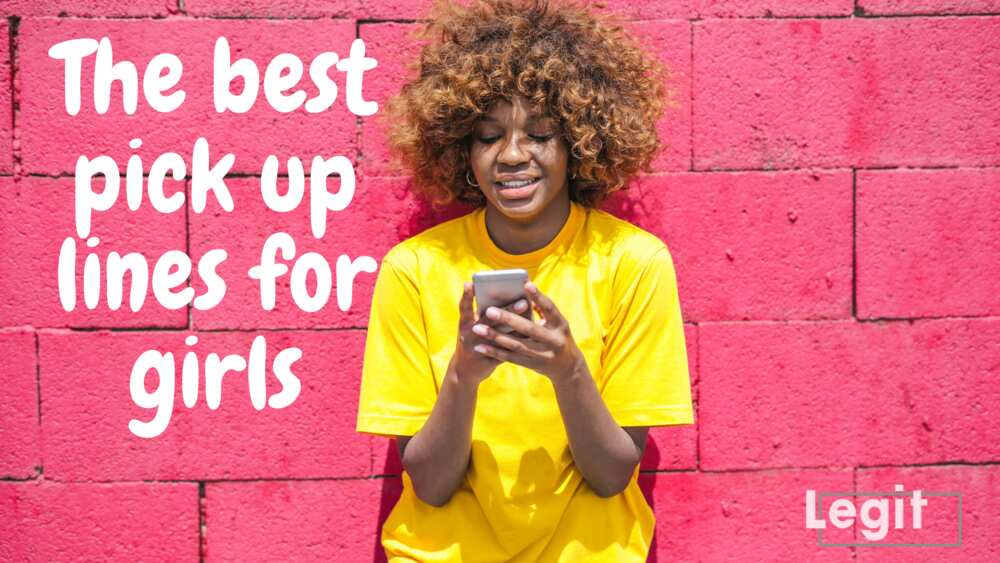 Tinder pick up lines come in all shapes and sizes. What you need to do is find out which one would work for a particular person as not all people appreciate the same humour, and everyone has different tastes.
Funniest Tinder pick up lines for girls
Here are some funny Tinder pick up lines that you need to know:
You're a knockout. Was your father a boxer, or did you just get lucky with the gene pool?
I bet you a cocktail your personality is even better than your looks!
I've been celibate for the past 5 years and I'm just trying to get back out there.
I'm new in town. Could you give me directions to your apartment?
Do you believe in love at first sight, or should we match again?
I'd say you're the bomb, but that could turn into a lethal conversation.
Are you a bank loan? Because you have my interest.
You sound busy…any chance of adding me to your to-do list?
You have a dog! Does that mean I'll never win the "best ever cuddler" title?
The most successful pick up lines for girls to use on guys
Below are some of the best Tinder pick up lines that can help you get a date with your Tinder crush:
If I had a lily for every thought I had of you, I would spend forever in my garden.
Were you a part of the Boy Scouts? Because you have my heart tied in a knot.
If I said I worked for FedEx, would you let me handle your package?
You look familiar. Are you a model?
Hey handsome, do you want to play firefighters? Together, we can practice "stop, drop and roll".
Are you as gorgeous on the inside as you are on the outside?
Let me breathe for a moment because you took my breath away.
Oh no, can you help me? (How?) I lost my rubber duck. Could you take a bath with me instead?
It's too bad you're not my math homework. If you were, you would be hard, and I could do you on a desk.
My mother raised me to be a good girl. Tonight though, I feel a little naughty.
Boy, I may not be Wilma Flintstone, but I can make your bed-rock.
Cute pickup lines to use on Tinder
There is a saying that goes, "A man falls in love through his eyes, a woman through her ears." Even if the saying has great truth, it does not mean that it is always right. Men also like hearing praises being sung about them as women do.
Here are some of the pick up lines which you can use on him:
You are like my favourite cup of coffee, hot and lip-smacking!
Are you sure you are not tired? You have been running through my mind all day.
For a moment, I thought I had died and gone to heaven. Now I see that I am still living, but heaven has been brought to me.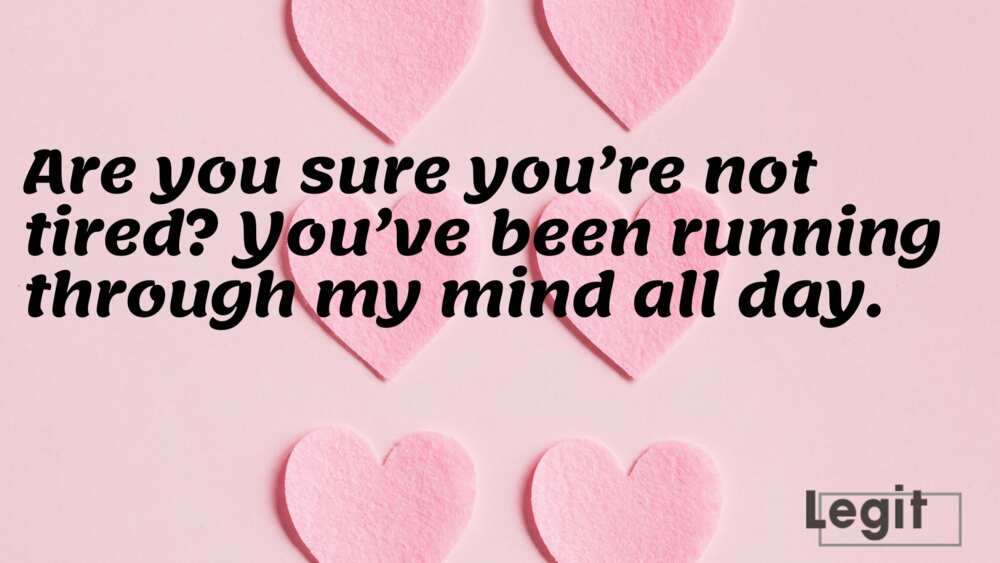 Can I borrow a kiss? I swear I will give it back.
Is your name Google? Because you have everything I have been searching for.
Are you from Tennessee? Because you are the only ten I see!
The best flirty Tinder pick up lines for a girl to use
This list has what you need to tease a boy on Tinder:
Why do you have to look so good?! I cannot concentrate on what I am doing!
I am not quite sure what you think of me. I just hope it is at least R-rated.
I am sorry, your shirt has to go. However, you can stay as long as you please.
You seem familiar. You look a lot like my future boyfriend/husband.
I can see into the future, and yeah, it's you and me together.
You are hotter than a sunburn!
You make me melt like ice cream in a cone under the summer sun.
I will report you to the police for stealing my heart!
You have a bit of cute on your face.
Mind if I try and guess which part of your body you like being kissed the most?
There is something wrong with my eyes. For some reason, I cannot take them off of you.
I know a girl who is madly in love with you. If I was not shy, I would tell you.
If possessing good looks was illegal, you would have been arrested ages ago!
That shirt looks great on you! As a matter of fact, so would I.
Pun pick up lines to use on a guy
Using punny pick up lines on your boy-crush can make the conversation more lively and funny.
Below are some of the best lines which can help you break the ice:
Are you a loan, because you're gaining my interest.
Sounds like I might be the chick for you!
If you 're a chicken, and I'm an egg, do we need to start having the conversation about who's going to come first…?
Are you Japanese? Because I'm trying to get in japanties.
For sure I think we'd make a great pear.
Are you a hen, because you are eggsactly what I'm looking for?
You seem like fun, we should turnip some time; I reckon we would be raisin the roof.
Cheesy Tinder pickup lines that every man will love
Are you interested in knowing the best Tinder pickup lines that your boy-crush on Tinder will love? Below are some of the cheesy pick-up lines that can make any guy go crazy:
I like your sweater. What is it made out of, boyfriend material?
Are you a candle? Because I want to blow you.
Hey, what is your name? I need to know what I will be screaming tonight.
The best time is the present. Let us go for a date.
Your license should be suspended for driving me so crazy.
Did you just come out of the oven? You are so hot.
Cops need to arrest you because it is illegal to be so cute.
If you were a car, I would ride you everywhere.
My best feature is covered up, and you need to find it.
I have this special love recipe. It requires a cup of you and me, and it should be served hot.
What else do you do apart from making women fall for you?
Hey lovely, do you always work for your cuteness?
Do not worry about me. I am not drunk but intoxicated by you.
Can you check your watch and tell me how many seconds it took for me to fall for you?
Your lips were created to be kissed. Let us not let them get wasted.
The only problem with you is your address. It should be the same as mine.
What is the best first message on Tinder?
Here is a list of some helpful Tinder opening lines for girls:
Hey, how is your day going so far?
Hey! How is the day treating you?
How are things going with you today?
Hi, how is it going? Doing anything fun this week?
Love your hiking photo. Where was that taken?
Epic sunset shot. Was that a pretty fantastic day?
Cute smile. What makes it come out the most?
You look like you know how to have a good time. Had any adventures lately?
I woke up thinking today was just another boring Monday, and then I saw your photo on my app.
How does a person like me get a date with someone like you?
Hey. So when our friends ask us how we met, what are we going to tell them?
How do you pick up guys on Tinder?
Now that you have been fully equipped with the most successful pick up lines for Tinder, what you need to know next are the tips that can help you locate Mr Right.
Some of them include:
Choose the best photos from your gallery to upload on your account.
You should have an attractive bio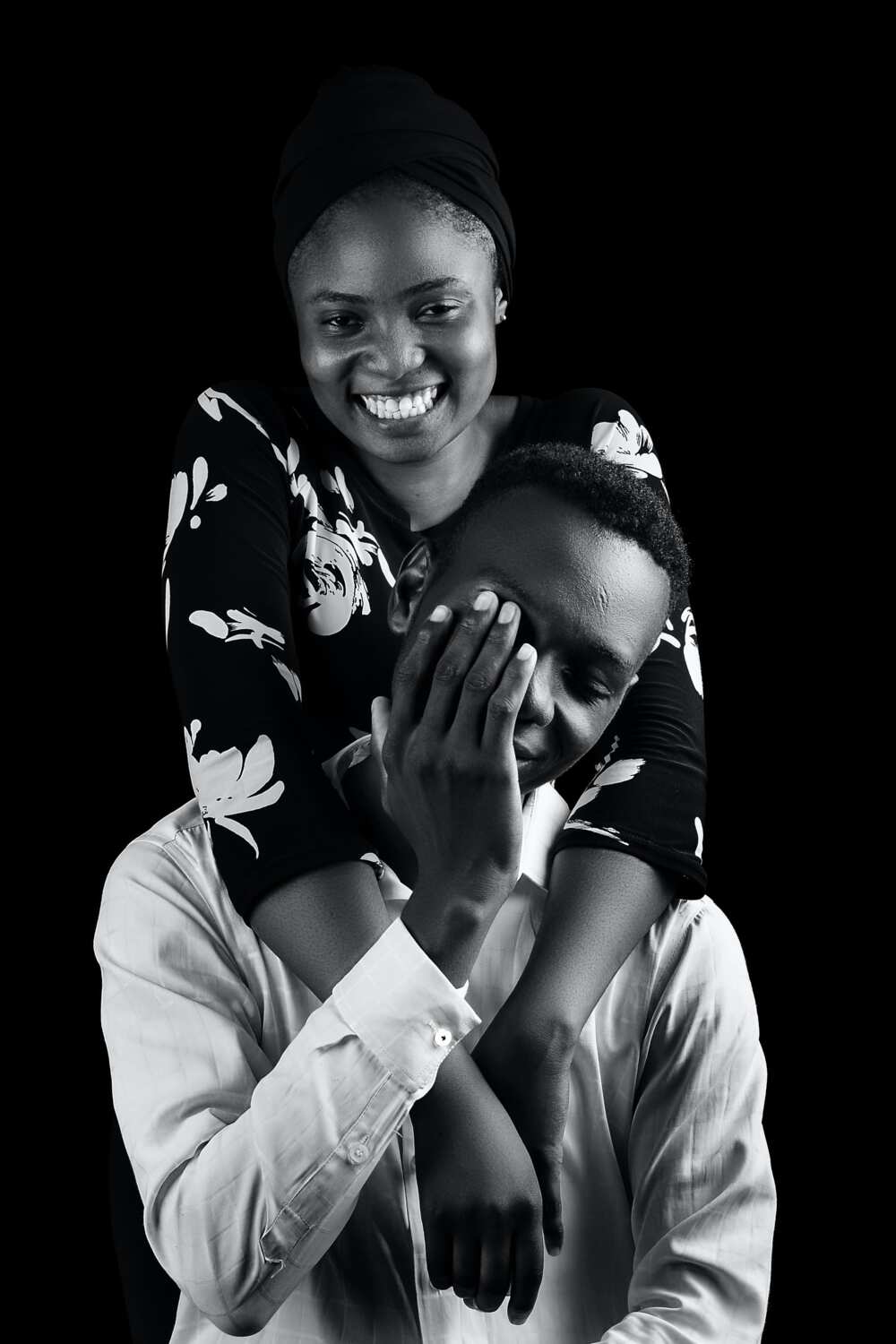 Avoid getting into the swiping frenzy. Take your time to look at the pictures that guys have uploaded and pay attention to their bios as well.
Widen your age range so that you can get many potential matches.
You should meet up with your Tinder match within two weeks of messaging.
Respond to those guys who message you. This will help you choose the best match.
These pick up lines for girls will help you impress your Tinder crush. Which ones do you like the most?
Source: Legit.ng