- MKO Abiola may be dead, but Nigerians can never forget him
- Twenty-two years after and Nigerians are still pained over his loss, thinking about how he would have made the country better is only he had been allowed to rule
- Many have described him as a martyr, a hero and a symbol of Nigerian democracy
PAY ATTENTION: Click "See First" under the "Following" tab to see Legit.ng News on your Facebook News Feed!
As Nigerians mark another Democracy Day celebration, MKO Abiola is trending on the microblogging platform, Twitter.
Nigerians are remembering Chief Moshood K.O. Abiola, thinking of how different the country would have been if he had been allowed to rule.
Democracy Day used to be celebrated on May 29, until President Muhammadu Buhari declared a change in 2018. For the first time in 2019, Nigeria celebrated her Democracy Day on June 12.
June 12 carries huge significance for Nigerians as it was on this day in 1993 that presidential elections were held for the first time after the 1983 military coup.
Unfortunately, the election was annulled when there were already indications that Chief Abiola recorded a massive victory.
Abiola of the Social Democratic Party (SDP) was widely believed to have won in a landslide victory over his National Republican Convention (NRC) opponent Alhaji Bashir Othman Tofa.
MKO Abiola died on July 7, 1998, but his memory lives on.
Years later, President Buhari apologised to the family of the late M.K.O Abiola and conferred a posthumous award on him as the Grand Commander of the Federal Republic of Nigeria, GCFR.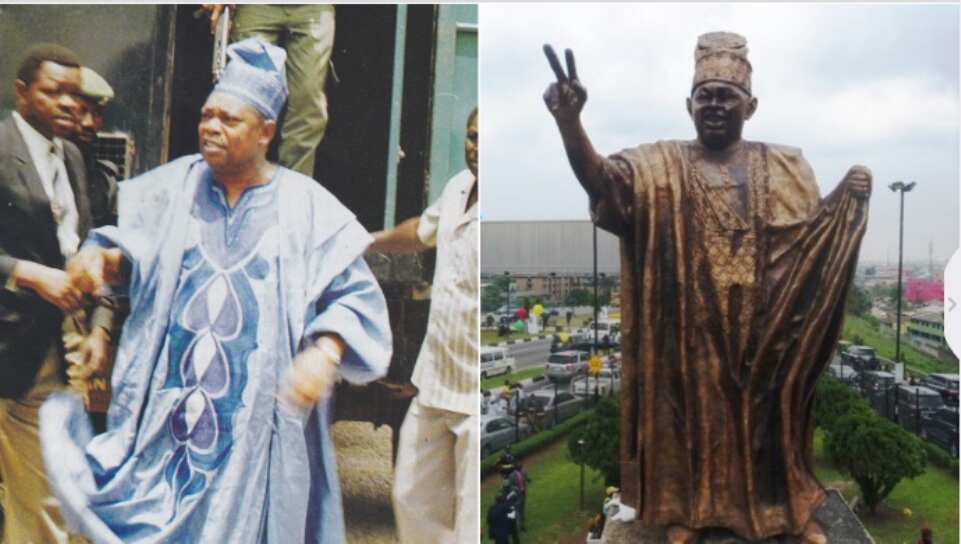 As Nigerians celebrate this year's Democracy Day, many are sharing photos and videos of Abiola in remembrance. Some are also thinking out loud about how things would have been better for Nigeria if Abiola was allowed to rule.
Legit.ng has gathered some of these below:
Temitope Ayanbisi is praying that our success does not manifest after we are dead.
Femi Fani-Kayode described Abiola as a hero and martyr.
To Taiye-Lolu Aderemi, Abiola is the father of Nigerian democracy.
Abiola is the symbol of June 12 Democracy Day celebration.
He laid down his life for democracy.
Ọgbẹni Hakeem wrote: "June 12, 1993, a mandate was stolen and was never returned. Opportunity came to amend the lost glory but democracy was betrayed by people who benefited from it. MKO Abiola lives on all thanks to PMB."
On his part, Demola hailed the martyr of democracy.
Bolarinwa Olajide is convinced that Nigeria would have been a better country if MKO Abiola was declared president.
Meanwhile, Jamiu Abiola, the son of late Chief MKO Abiola and his activist wife, Alhaja Kudirat has said that Nigeria's President Buhari has the same agenda as his father.
From Bank clerk to billionaire: 6 facts you did not know about MKO Abiola | Legit TV