- Michael Phelps has emerged the greatest sportsman of the 21st century
- A compilation of top 50 sportsmen was made by Spanish outlet Marca
- Argentine star Messi is ranked above his rival Cristiano Ronaldo
American former competitive swimmer and the most successful and most decorated Olympian of all time with a total of 28 medals Michael Phelps has been named the greatest sportsman of the 21st century.
In a ranking compiled by Spanish outlet Marca which defines athletes within the last 20 years, Phelps who won 8 gold medals at the 2008 Olympic games in Beijing tops the list of 50.
Football star Lionel Messi is ranked ahead of his rival Cristiano Ronaldo while on the boxing front, just two boxers Manni Pacquiao and Floyd Mayweather made the list.
PAY ATTENTION: Click "See First" under the "Following" tab to see Legit.ng News on your Facebook News Feed!
Check out the entire top 50 below.
50. Sebastian Loeb (Rally Car)
49. Conor McGregor (MMA)
48. Alejandro Valverde (Cycling)
47. Dirk Nowitzki (Basketball)
46. Fernando Alonso (Formula One)
45. David Rudisha (Athletics)
44. Fabian Cancellara (Cycling)
43. Barry Bonds (Baseball)
42. Daniel Dias (Adapted Swimming)
41. Bradley Wiggins (Cycling)
40. Alistair Brownlee (Triathlon)
39. Stephane Peterhansel (Rally Car)
38. Ian Thorpe (Swimming)
37. Andres Iniesta (Football)
36. Ricardinho (Futsal)
35. Vincenzo Nibali (Cycling)
34. Hicham El Guerrouj (Athletics)
33. Sebastian Vettal (Formula One)
32. Shaquille O'Neal (Basketball)
31. Kelly Slater (Surfing)
30. Floyd Mayweather (Boxing)
29. Alberto Contador (Cycling)
28. Tim Duncan (Basketball)
27. Kenenisa Bekele (Athletics)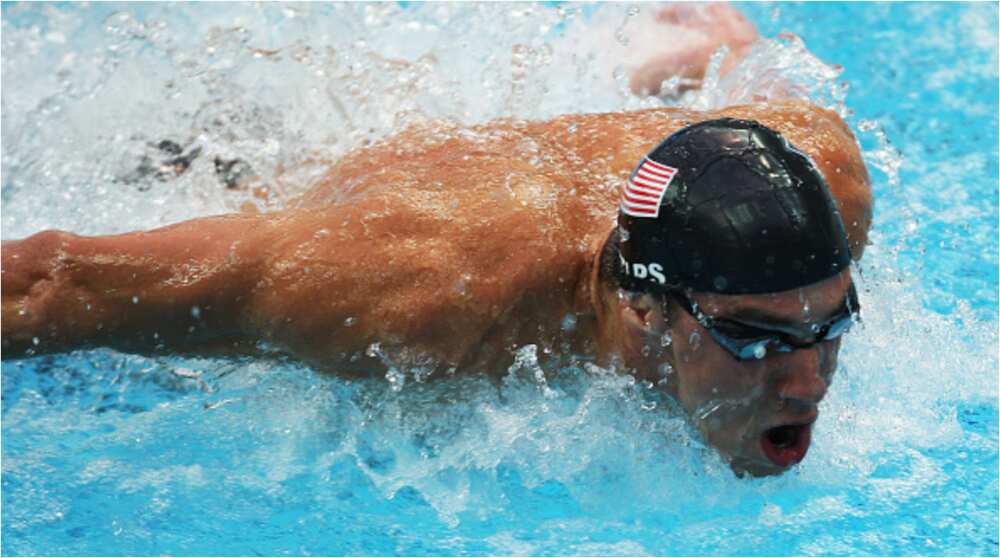 26. Teddy Riner (Judo)
25. Zinedine Zidane (Football)
24. Nikola Karabatic (Handball)
23. Kohei Uchimura (Artistic Gymnastics)
22. Ronaldinho (Football)
21. Marcel Hirscher (Skiing)
20. Kilian Jornet (Mountain Running)
19. Ronaldo Nazario (Football)
18. Tom Brady (American Football)
17. Chris Froome (Cycling)
16. Manny Pacquiao (Boxing)
15. Lebron James (Basketball)
14. Eliud Kipchoge (Athletics)
13. Michael Schumacher (Formula One)
12. Marc Marquez (Motorcycling)
11. Novak Djokovic (Tennis)
10. Cristiano Ronaldo (Football)
9. Valentino Rossi (Motorcycling)
8. Lewis Hamilton (Formula One)
7. Lionel Messi (Football)
6. Tiger Woods (Golf)
5. Kobe Bryant (Basketball)
4. Rafael Nadal (Tennis)
3. Roger Federer (Tennis)
2. Usain Bolt (Athletics)
1. Michael Phelps (Swimming)
Meanwhile, Legit.ng earlier reported that Cristiano Ronaldo has continued to dominate other footballers with his earnings in endorsements and yearly income.
The Juventus striker's Instagram posts were recently valued by HoppoerHQ and the 35-year-old rakes in a whopping £780,000 per post on his social media handle.
The Portuguese icon currently has over 22 million followers on his Instagram handle and he remains the best-paid footballer when a post is made.
Second is Paris Saint-Germain star Neymar, who cashes in £580,000 per post, £300,000 less than his former Real Madrid rival Ronaldo.
Lionel Messi is third according to HopperHQ with an income of £521,000 but is nearly double the amount England legend David Beckham makes per post.
Beckham reportedly earns £287,000 on his Instagram posts ahead of LA Lakers star Lebron James who pockets £219,000 per posts.
Okocha is Nigeria's greatest player ever – Ahmed Musa | Legit TV