- Neymar has reportedly abused his mother's boyfriend Tiago Ramos
- The word the Brazilian star used is said not to be a friendly one
- Tiago Ramos' group are now said to have issued lawsuit against Neymar
Paris-Saint-Germain superstar Neymar could be landing himself in trouble if found guilty of actually using serious abusive words against his mother's boyfriend Tiago Ramos.
In less than three months or so, the relationship between Neymar's mother and Tiago Ramos has been having issues which has even gotten to the public.
When Nadine took to social media to reveal the identity of her choice to be with someone five years younger than her son, Neymar gave her his blessings.
Back then, Neymar made it clear that the happiness of his mother is his top priority thereby supporting their relationship.
Recently, there were reports of Nadine and Tiago Ramos having a domestic row which landed the 23-year-old in the hospital.
Neymar's mother who is 52 called an ambulance following an argument between the two at their apartment in Santos on Tuesday, June 9.
According to the report on Daily Star, it was later revealed that Tiago had to have 12 stitches in his arm after breaking a piece of glass.
And a leaked audio is now said to have emerged where Neymar was heard insulting Tiago using some words which is capable of him being invited by the police.
Tiago Ramos' group have filed a lawsuit against Neymar following the incident where he is alleged to have used offensive languages.
PAY ATTENTION: Click "See First" under the "Following" tab to see Legit.ng News on your Facebook News Feed!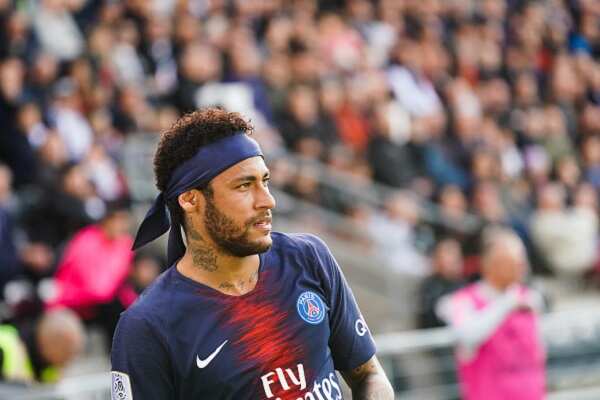 Neymar is also currently in Brazil relaxing before preparation for the new season will start in France.
Earlier, Legit.ng had reported how Paris-Saint-Germain star Neymar played an egg prank on his son Davi in Brazil after returning home from France where his club was crowned champions.
Neymar is known as one of the best forwards in the world considering the trouble he used to give defenders on the pitch of play.
The former Barcelona star however diverted that to his son in their mansion in Brazil as they both entertained themselves in lockdown.
Neymar started out by taking the youngster out into the garden for a drill to test Davi's heading ability lobbing up balls for his son to nod into a basket.
And after many attempts, Neymar then changed his plan in which Davi did not know as he threw an egg to him in which his son headed it.
I've proof to show I was asked for bribe to make World Cup team – Obasi | Legit TV