- Chinedu Obasi was part of the Samson Siasia-tutored U20 World Cup team and U23 side at the 2008 Olympic Games
- The former Super Eagles forward says he doesn't know the tactician to be involved in dirty deals
- Siasia has been handed a life ban by FIFA following allegations of match-fixing
Ex-Super Eagles forward Chinedu Obasi has stated that he does not know Samson Siasia to be a person who will get himself involved in match-fixing activities.
Former Nigerian coach Samson Siasia has been banned for life by FIFA for agreeing to "receive bribes in relation to the manipulation of matches."
"The Ethics Committee has found Mr Siasia, a former official of the Nigeria Football Federation, guilty of having accepted that he would receive bribes in relation to the manipulation of matches in violation of the Fifa Code of Ethics," the world's football governing body said in a statement on August 16, 2019.
PAY ATTENTION: Click "See First" under the "Following" tab to see Legit.ng News on your Facebook News Feed!
While investigations are ongoing, the 2008 Olympic silver and Rio 2014 bronze medalist has tendered an appeal to the Court of Arbitration for Sports CAS, pleading that court rescinds FIFA's decision.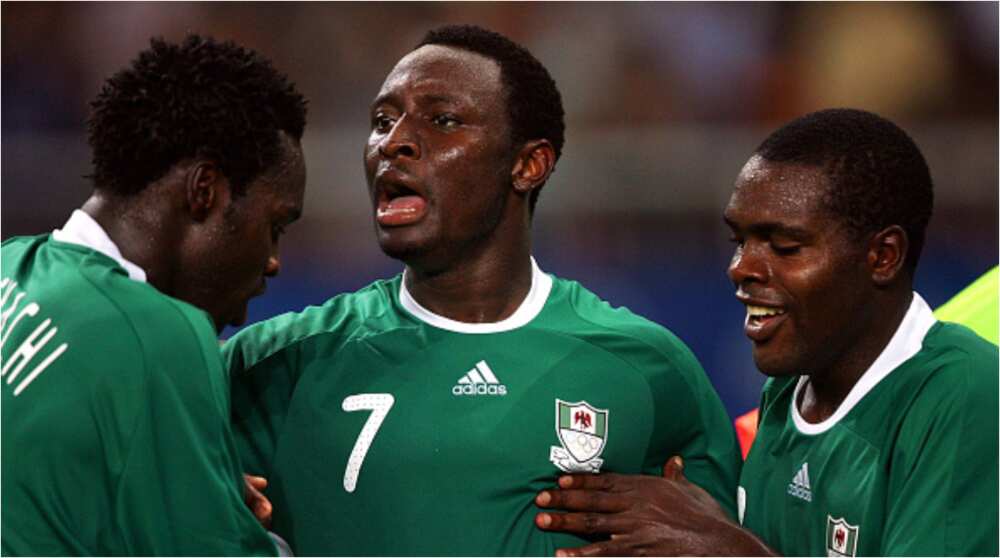 In his reaction, Chinedu Obasi who was part of Samson Siasia's team to U20 World Cup and the 2008 Olympic games in Beijing where the Nigerian teams were defeated in the final on both occasions by Argentina, says he does not know the tactician to be such a person.
"I don't know him to be that type of a person. It just makes you sit back to try to put one or two together - like how could this happen, where did it happen," Obasi told Legit.ng during a live Instagram chat.
"I heard he was supposed to court. So I give everybody a benefit of doubt; innocent until proven guilty.
"I honestly don't want to get into what has to do with people's personal lives, people's jobs. I really don't have anything to say, but I hope he comes out victorious that he can continue his life and his career.
"I wish him all the best and hope things will be sorted out as quickly as possible for him."
Recall that Legit.ng earlier reported Obasi stated that he stands by his comments on 2014 World Cup bribery allegation but will not name names.
He earlier claimed that his refusal to pay bribe was responsible for his omission from Nigeria's 2014 FIFA World Cup squad in Brazil.
The 34-year-old also disclosed that he never meant to escalate the situation as it is, adding that going into details of the whole drama will seem like he is personally attacking someone.
I've proof to show I was asked for bribe to make World Cup team – Obasi | Legit TV