Some residents of Ifo are unhappy over the wastewater coming from Oredola street off Irepodun street Agbado crossing in Ogun state.
The residents in a statement made available to Legit.ng said they are afraid that the wastewater might end up causing outbreak of diseases in the area.
According to Olanipekun Wealthdiplenty, the residents have called on the landlords of the said street to do the needful by digging soakaways but they have refused to do the needful.
He consequently called on the state government to come to the community's rescue.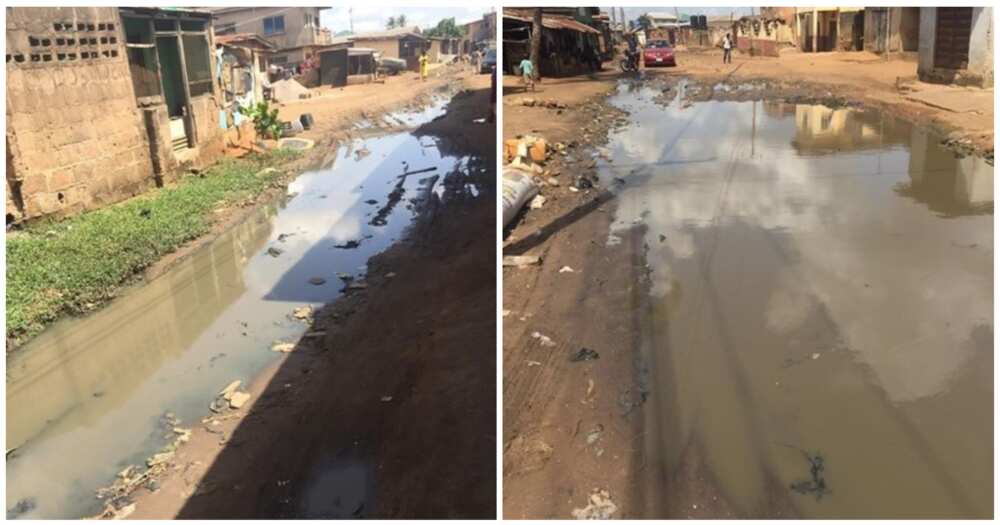 "Some landlords have refused to have soakaway and have continued to pollute the whole street with bathwater, washing water and this has led to maximum generation of mosquitoes. I try to reach out to health sanitation officers in that area but nothing was done. We are calling on Ogun state health sanitation officer to please come to our aid.
"It's terrible because most of the landlords doing this are the chairman and some excos in the CDA. This has made it difficult to solve the problem,' he wrote.
Meanwhile, Legit.ng had reported that residents of Baba Pupa village in Odeda local government area of Ogun state have revealed what they go through on a daily basis. Correspondents of Legit.ng made a visit to the village to witness firsthand what the villagers face in the course of going about their daily businesses.
One of the major challenges of the villagers is the lack of potable water. The people in that village rely on a dirty pond for survival. The children in the community hustle to fetch water from the dirty pond and drink from it as well. Adults are not left out as they do carry out most of the house chores using water from that source.
Chief Emmanuel Oduoye, the Baale of the village, also expressed his concerns over the lack of potable water. According to him, politicians do visit the community and often ask him what they want. However, none of them have been able to change anything about the village.
While the correspondents of Legit.ng were there, children trooped to the pond to fetch water and played while at it. A middle aged woman who also spoke with our correspondents said that once they add alum to the water, they can drink as much as they want. That is their way of cleaning the water to a certain level.
Nigerian community where children hustle to drink dirty water| Legit TV