- As religious faithful anticipate for the reopening of worship centres by the government, traders in Lagos market are expectant of better sales
- According to the marketers, the recent move would bring about positive impact on their businesses
- Further checks by Legit.ng confirmed at Isheri-Oke Ayetoro market, Lagos showed the improvement in patronage of traders who sell certain seasonal goods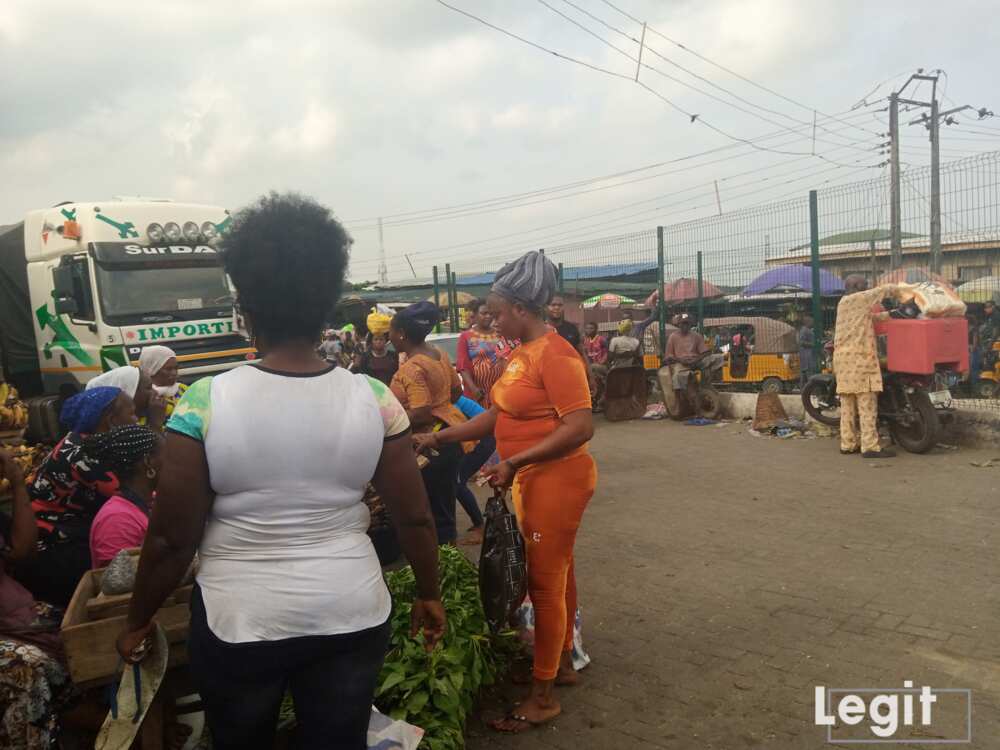 Recently, the Lagos state government announced that religious gatherings would be reopened on June 21,2020. According to the governor, mosques are to begin services from June 19 while churches are to begin theirs from June 21.
In view of this, Legit.ng visited the market this week, to inquire from traders their view on the reopening of churches and mosques and its effect on sales.
This week, Legit.ng visited Isheri-Oke Ayetoro market, situated at Magodo Phase 1, Lagos. This is a retail market that allow sellers to promote the awareness of their goods and services in other to generate sales from the buyers at a retail level.
The traders express satisfaction over the decision made by the government so far and anticipate for better sales in weeks ahead.
In this present and time, life seems very hard and survival quite challenging for many as source of livelihood for some families has been affected by the lockdown one way or the other yet buyers and sellers are optimistic that the recent decision of our leaders would bring about positive change in the country.
At the market, the fluctuating price of goods continue to bother on the level of sales and profit on the part of the sellers while buyers lament poor cash in hand.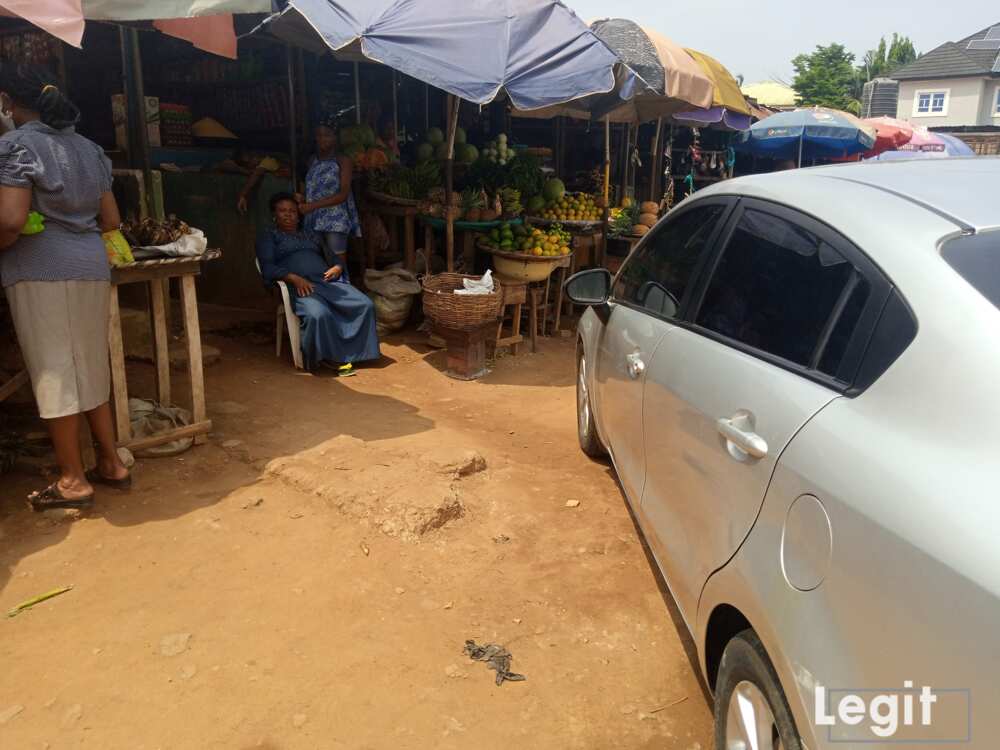 A trader who sells fruits shared her view with Legit.ng on the latest development by the state government. The fruit seller further revealed that the increment in the cost price of some fruit is influenced by the economy.
She said: "Things are not going as planned by many but we are grateful to God for life. Everything is gradually returning back to normal. The goods I sell are influenced by the economy. The prices of fruits remain the same except for those that are gradually not in season. Now, fruits that are in season are very affordable and available while the one out of season are expensive.
"Seasonal goods are moving. Presently, mango is very expensive same with fruits like banana, pineapple and apple; their cost of purchase have increased leading to increment in their cost price. Some have increased by five percent and others by over ten percent. One fruit that is very affordable is avocado; it is so because this is its season. Fruits whose basket are sold for N2,000 in previous week, are now sold from N3,500 upwards and the basket that are sold from N3,000 have risen to N4,500 while others, their prices fluctuate.
"The reopening of religious centres by the government is good and the timing is also very right. The steps taken by the government before this period was to protect us all and if they decide to do this now, then it is commendable. They made a good decision; the one that would bring about positive change in our lives physically and even spiritually.
"The recent move would improve our sales to an extent and we are going to make good sales whenever the gatherings take place; when people come out after fellowship, especially the women, they stop by the marketplace to get some important goods or food items, when this is done, sales increase at an instance. We are hopeful of a better sales and a favourable weather condition."
In markets across the state, egusi, ogbono and crayfish are items with more preference but for foodstuff dealers, the fluctuation in the cost price of goods has led to drop in sales which affects profit after daily sales.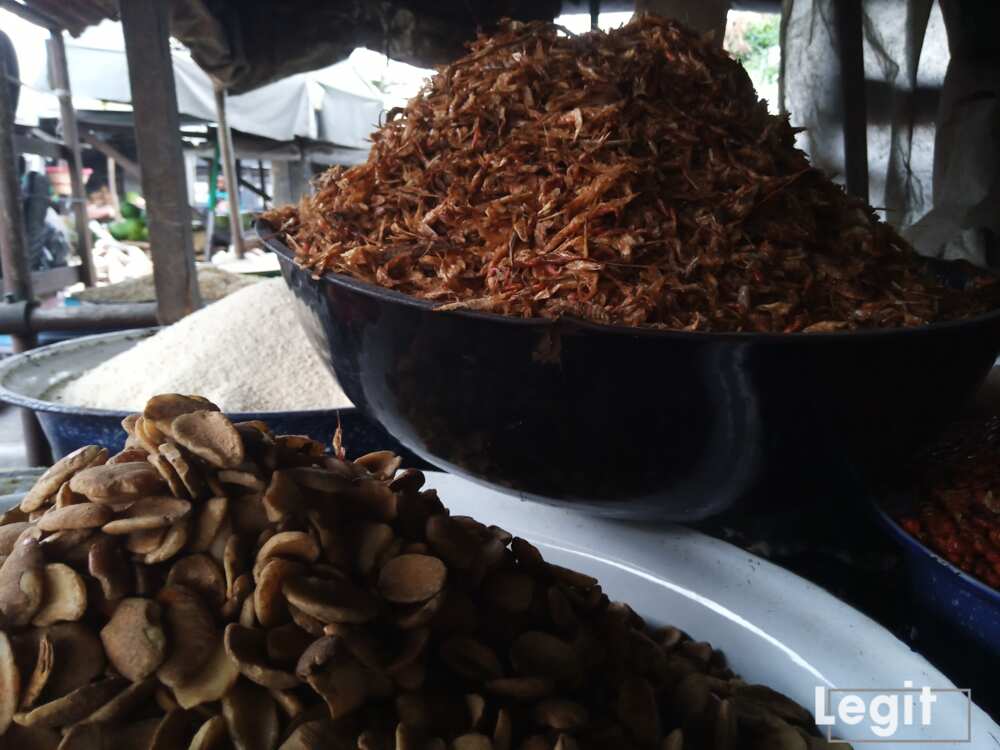 In a chat with our correspondent, a trader who sells goods like ogbono, crayfish, egusi and dry pepper lament over the level of sales lately and make known his expectation for the reopening of worship centres.
In his words, he informed that: "So far, the government has been up and doing and we appreciate their effort towards the safety of our lives; they choose to save us first hence they kept us at home but now, this decision is the right thing to do and it is very key to the divine guidance that everyone seeks.
"There is stability in the cost price of some foodstuff items and their availability is still intact. But the cost price of crayfish fluctuates. At the market, some trader sells at an expensive price while others at a reasonable price. The cost of purchase is still the same and the cost price of egusi and ogbono remains the same as well. A bag of egusi sells from N55,000, while a bag of ogbono goes for N80,000. The price of crayfish and dry pepper fluctuates while the cost price of dry pepper remains stable.
"For sales, it is not encouraging at all; although we are selling but at the end of daily sales, the profit is very small. But when the worship centres are reopened, we will be at ease because sales would improve but it cannot be compared to that of school resumption. We have loyal customers and we are not complaining but we are waiting for businesses to return to normalcy even as we continue to obey the government's directives and support the fight against COVID-19."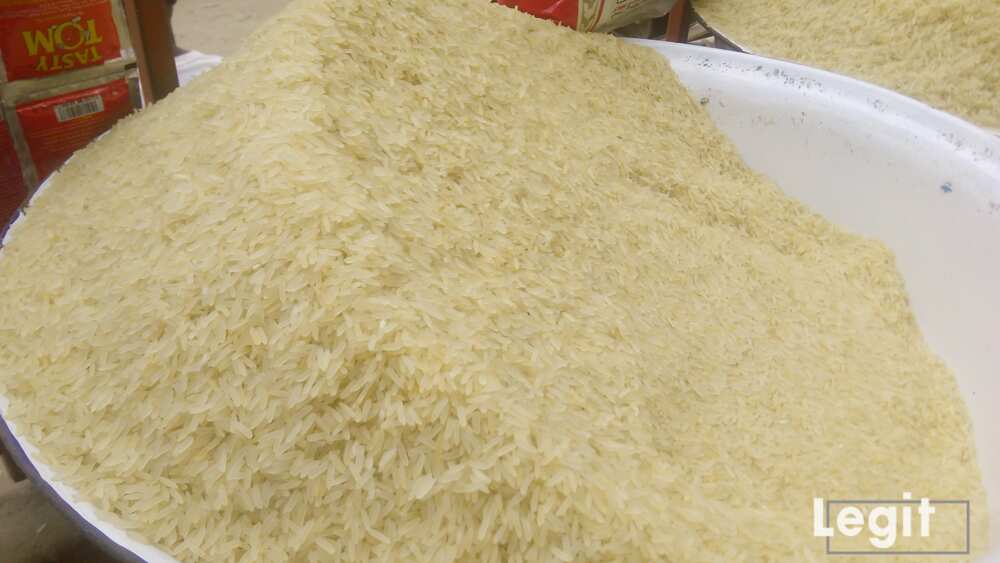 This period, rice sellers are not part of those who complain as they are making good sales despite the effect of the coronavirus pandemic. Communicating his dissatisfaction over the current economic situation of the country, a trader shed more light on the effect of the worship centres reopening on sales level.
"When ten buyers visit the market, you will get about six buyers who would purchase food items like rice beans or garri; as most cannot do without any of these items. The cost price of remains fluctuates and that of beans and garri remains the same. We make sales because we have customers who patronize us daily and the only difference is that the demand of the buyers varies now. Some buyers want to get quality goods notwithstanding the cost price and others want to get goods according to their cash in hand.
"You can get a small bag of beans from N16,000 and big bag from N30,000 upwards. For garri, you can really tell of its price because traders sell according to their cost of purchase, it is still a bit expensive. A small bag of white garri is sold from N10,000 upwards while the big bag from N18,000 upwards; but the cost price of yellow garri in the market is higher than white garri. A paint of yellow garri is solid from N800 upwards while that of white garri is sold from N750 below.
"We now have different types of rice in the market, but the cost price of quality rice is higher. Patronage is encouraging but the economy is discouraging as it affected to a large extent the purchasing power of buyers before the pandemic and even now. A bag of Nigerian rice can be purchased from N15,000, N17,000, N18,000 and N19,000 and N21,000 respectively while foreign rice is sold from N24,000 upwards.
"The level of patronage so far dropped in most markets across the state because the goods we offer for sale in the market that are sold at affordable prices does not yield more profit at the end of the day because most buyers are seriously managing to feed well this period. We make sales but demand is very low.
"Clearly, the lockdown was a break but certainly, more happened during this period yet, we are still here. Survival is tough but through the grace of God, we are able to make it alive this time of the year and we will continue to live healthily. It is really not easy as the people who are working; most of them have lost their jobs and some their salaries were not paid in full. Life is tough now but we will continue to seek the face of God and he will help us all. The effect of the reopening of worship centres would be greatly felt and its impact would be a positive one on sales level," The rice seller told Legit.ng.
More so, a perishable seller shared his view on the recent fluctuation in the cost price of goods and thus revealed the effect of the reopening of worship centres on sales.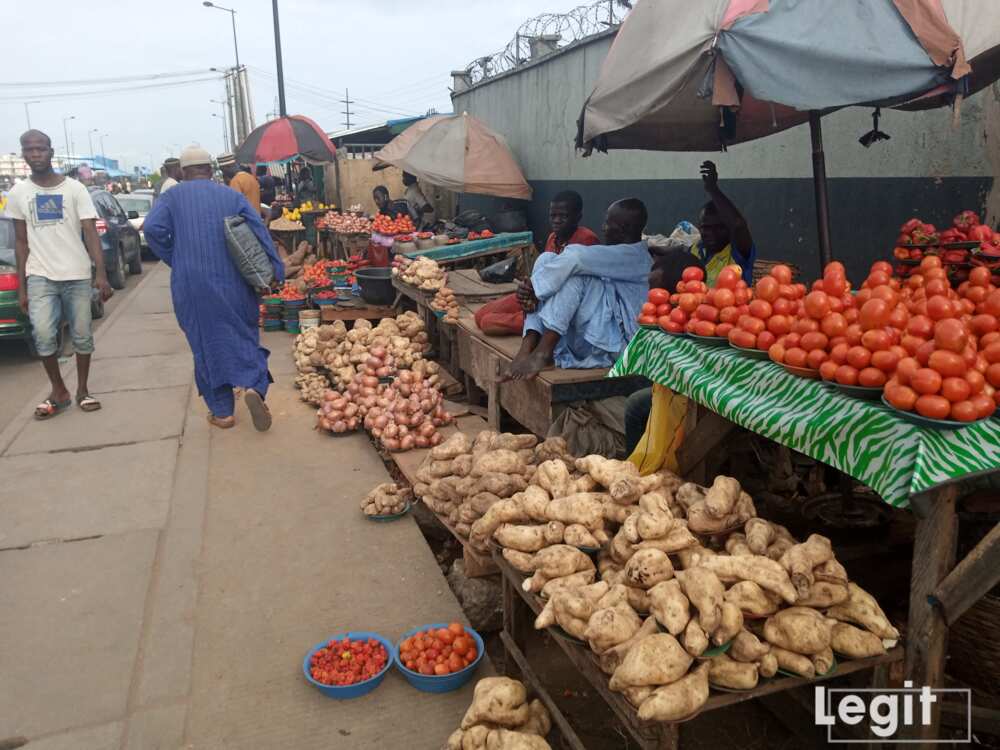 The trader, who hails from the northern region of the country, stated that: "I really feel happy on hearing that the worship centres would be reopened and I would like to say the government is really encouraging over such decision. The news was a relief as the effect on sales would be high. This is good news, as buyers who were scared of coming out to get things in the market would have an understanding of the new way of living and still interact with others cautiously; sales will improve and we will be able to meet our pending needs.
"For some time now, perishable goods witnessed instability in prices. One cannot really tell what exactly the cause but seasonal factors and supply influences it. This week, the prices fluctuates, for some tomatoes, they are expensive and for others, they are affordable for now, you can get tomatoes and pepper from N100 but onions is still very affordable. The important thing is that, when you visit some market, you can get it at affordable prices and when you visit other market, you can get it at expensive prices. The choice of the traders and the market visited varies. This period, my expectation is very high and I hope to make better sales."
Prior to this period, the government bans all social, cultural and religious gatherings in the country so as to prevent community spreading of the COVID-19 virus and not to deny anyone from performing his or her prayers at various worship centres.
In light of the above assertion, some traders are of the opinion that safety comes first even as the reopening of activities in the country commences gradually. According to them, the government should ensure strict enforcement of the guidelines by religious leaders and their followers.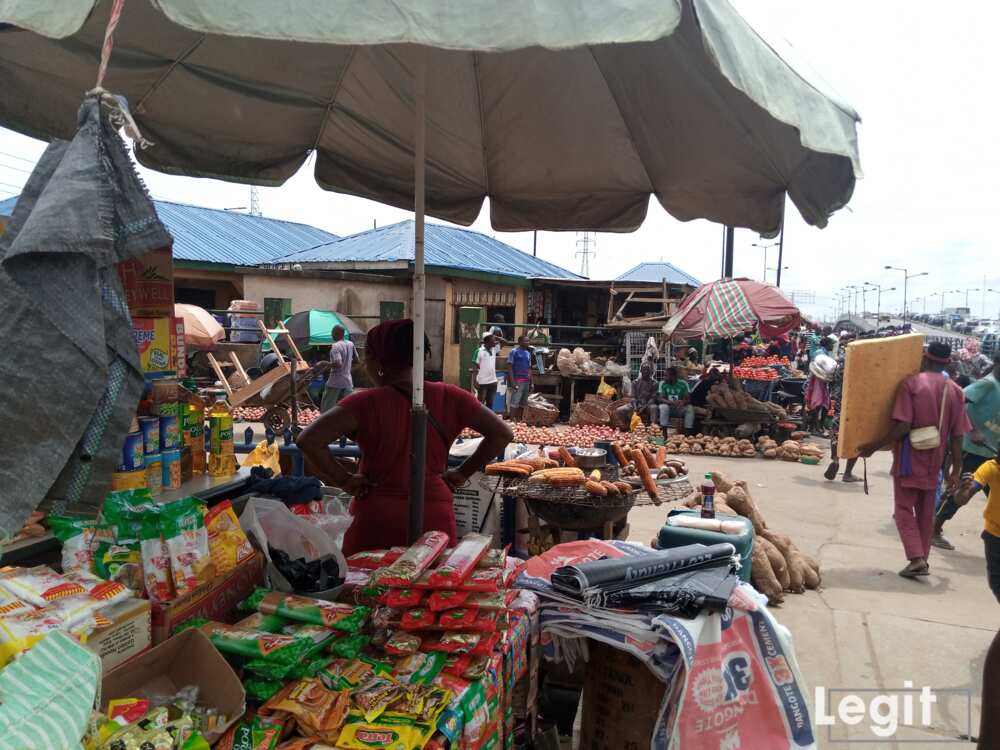 Asked what her thoughts were on the reopening of worship centres, a trader who sells seasoning cubes, spaghetti and spices explained thus: "Well, it has been a journey and we are encouraged by the efforts of our governor who never gave chances in the fight against Covid-19 but more is expected of us as individuals as they reopen activities fully in weeks ahead.
"I will urge everyone not to take chances and be ignorant of the presence of the virus in the country. We should all be conscious of the government's directives and take responsibility for our health. One should not be careless even as we visit the worship centres, it is very important and key to the safety of our lives and everyone we come into contact with. The government cannot do everything, we have to support them in our own little way by following health experts' guidelines; and then the battle would be won.
"So far, we have been operating business at a partial level and this development by the government is laudable; its effect on sales will be positive and we are expectant. Although, market environment has been very dull and is still dull but we are making sales gradually and hope to make better sales henceforth. I would plead with the government to ensure the guidelines following the reopening of the worship centres are strictly adhered to."
COVID-19: Parents speak on allowing their children return to school via Legit TV