Namibia made top 13 African countries with best roads, Nigeria did not
- Nigeria did not make the list of top 13 African countries with the best roads in Africa as Namibia ranked first
- Seychelles, Eswatini, and Cape Verde ranked 11th, 12th and 13th respectively on the list
- South African is number six, while Senegal and Kenya made the seventh and eighth positions
PAY ATTENTION: Click "See First" under the "Following" tab to see Legit.ng News on your Facebook News Feed
African countries with the best roads according to 2019 WEF Quality of Road Infrastructure has been published by Africa Facts Zone.
Namibia led the top 13 countries on the continent that can boast of good roads. Egypt, a country that has been making recent lists for other social amenities, took the second position.
Others in the top five position on the list are Rwanda, Morocco, and Mauritius. Countries like Kenya, Senegal, South Africa, Algeria, and Tanzania also made the cut.
Below is the full list of the top 13:
1. Namibia
2. Egypt
3. Rwanda
4. Morocco
5. Mauritius
6. South Africa
7. Senegal
8. Kenya
9. Tanzania
10. Algeria
11. Seychelles
12. Eswatini
13. Cape Verde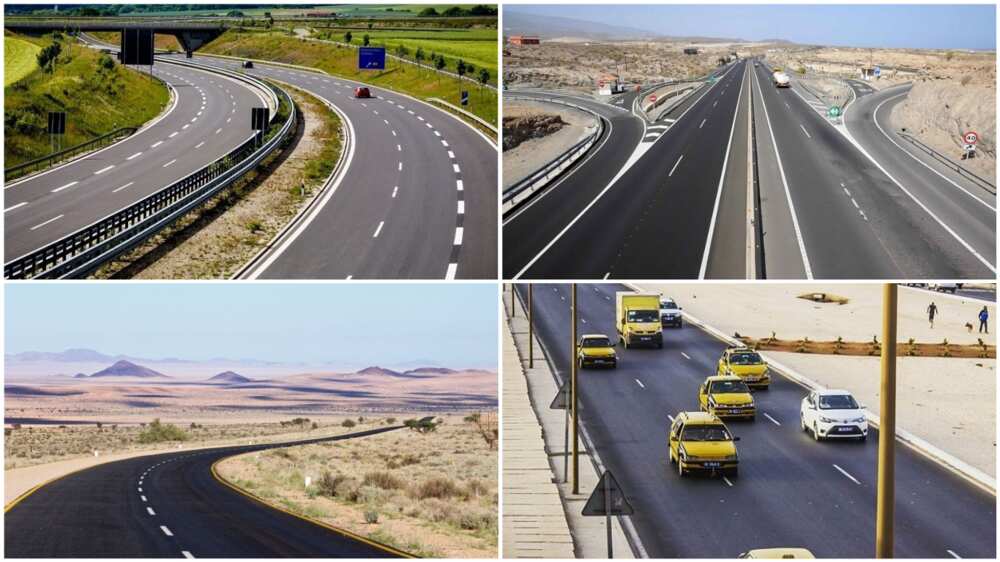 Meanwhile, Legit.ng earlier reported that Nigeria topped the list of eight countries with the biggest economies in 2019 in Africa.
Nigeria led with a total amount of $444.916bn, while South Africa and Egypt ranked second and third at $371.298bn and $299.589bn respectively.
In another list of African countries with the best electricity access, Nigeria did not make it. However, Mauritius and Tunisia ranked first and second with a 100% electricity supply. Egypt, Algeria, Morocco, and Seychelles ranked 99.8%, 99.1%, and 99% respectively.
No country on the list has below 80% electricity access as South Africa and Ghana, nations on ninth and 10th positions, have 84.3% and 84.2% power access rates.
PAY ATTENTION: Download our mobile app to enjoy the latest news
In other news, the first American woman, Kathy Sullivan, 68, to walk space achieved another feat by being the first woman to reach the deepest spot in the ocean.
Kathy came out from a 35,810-foot dive to the Challenger Deep as confirmed by EYOS Expeditions, a company that was in charge of logistics of the mission.
With that, she has become the first woman to set both records. It should, however, be noted that the Challenger Deep is the lowest among the oceans across the globe.
Kathy and Victor L Vescovo, who is an explorer funding the project, spent one and half hours at their destination.
Extortion: Yam dealer laments, says he pays illegal fees to road miscreants | Legit TV
Source: Legit