- Some members of the APC are pushing for the disqualification of Governor Obaseki from the Edo governor primaries
- The party members have sent a petition to the APC screening committee for Edo state gubernatorial election to that effect
- Governor Godwin Obaseki is accused by the group of having inconsistent certificates
PAY ATTENTION: Click "See First" under the "Following" tab to see Legit.ng News on your Facebook News Feeds
The possibility of Godwin Obaseki getting the APC ticket for a second term in office has become unsure following the push by some party members for the disqualification of the Edo governor from the race.
This Day newspaper reported that some concerned party members sent a petition to the APC screening committee for Edo state gubernatorial election demanding the disqualification of Obaseki over alleged unexplained inconsistencies in his certificates.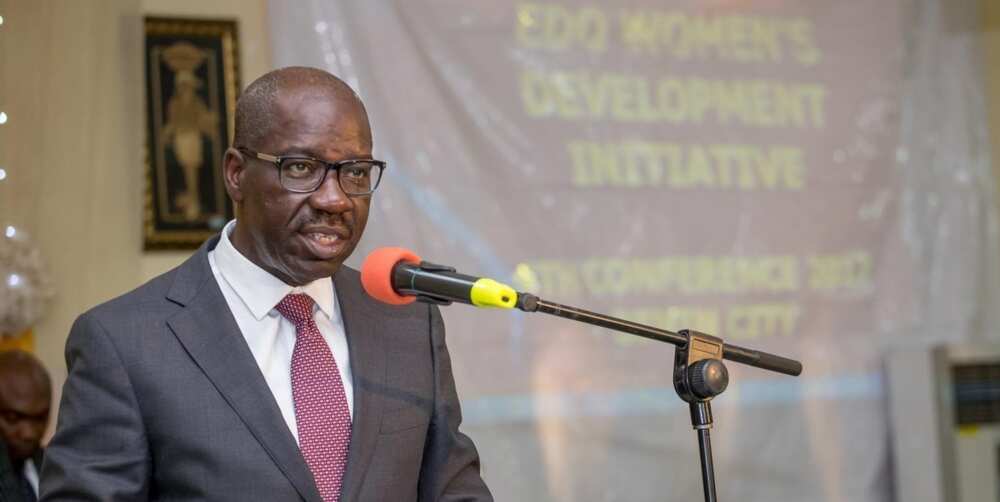 According to the newspaper, among the inconsistencies cited in Obaseki's certificates are that his O/Level results showed that he has three credits but despite that he spent only three years to allegedly bagged a Bachelor of Arts degree in Classical Studies from the University of Ibadan, Ibadan, in 1976, without an A/Level result.
The concerned party members faulted Obaseki's educational history and questioned how a four-year academic progamme was completed in three years for a degree in classical studies.
They also wondered how Obaseki secured admission into the University of Ibadan with just three credit pass in his ordinary level certificate at a time when the educational system was purely on merit.
The group urged the APC to disqualify Obaseki for alleged falsehood to avoid a repeat of the situation that occurred in Bayelsa state where the election of the APC candidate David Lyon, was voided by the Supreme Court over the faulty certificate of his running mate.
Meanwhile, as aspirants continue to outsmart one another ahead of the Edo state 2020 governorship election, Kenneth Imasuagbon has said he is convinced of coasting to victory in September.
Imasuagbon, who is eyeing the Edo government power-seat on the platform of the main opposition, Peoples Democratic Party (PDP), made this disclosure on Monday, June 8, during a programme on Channels TV.
Speaking further, Imasuagbon stated that time and power belong to God but he has received a divine confirmation that he will be given the mantle of power in the state come September.
The frontline PDP aspirant also boasted that he has the backing of the people of Edo state to scale through the hurdles of primary and win the election.
"I will be governor. God has told me that. No man born of woman will stop me. I can tell you I'm unstoppable. I have God and I have Edo people backing me.
"I will not stop running to be governor of Edo state until I reach my goal. Make no mistake, I am a very resilient person," he explained.
Imasuagbon also claimed that no aspirants coming on the platform of the opposition party have his credentials and political acceptability.
He, however, said he would "shake and hug" whoever emerges as the flagbearer of the party in the primary and the election.
Primate Ayodele: Oshiomhole should stop fighting God's project | Legit TV