- Kathy Sullivan, the first American woman to walk in space, broke another record and became the first female diver to the deepest part of the sea
- After due imaging, she launched into 35,810 feet of Challenger Deep, an ocean which is the lowest among seabeds in the globe
- Kathy first walked in space after she joined astronauts in 1984 when women were allowed on space journey at NASA
PAY ATTENTION: Click "See First" under the "Following" tab to see Legit.ng News on your Facebook News Feed
The first American woman, Kathy Sullivan, 68, to walk in space has achieved another feat by being the first woman to reach the deepest spot in the ocean.
Kathy came out from a 35,810-foot dive to the Challenger Deep as confirmed by EYOS Expeditions, a company that was in charge of logistics of the mission.
With that, she has become the first woman to set both records. It should, however, be noted that the Challenger Deep is the lowest among the oceans across the globe, New York Times reports.
Kathy and Victor L Vescovo, who is an explorer funding the project, spent one and a half hours at their destination.
They started to descend into the seabed after they had captured images of the ocean. Kathy was part of the first set of astronauts that included women in 1984, making her the first American woman to walk in space.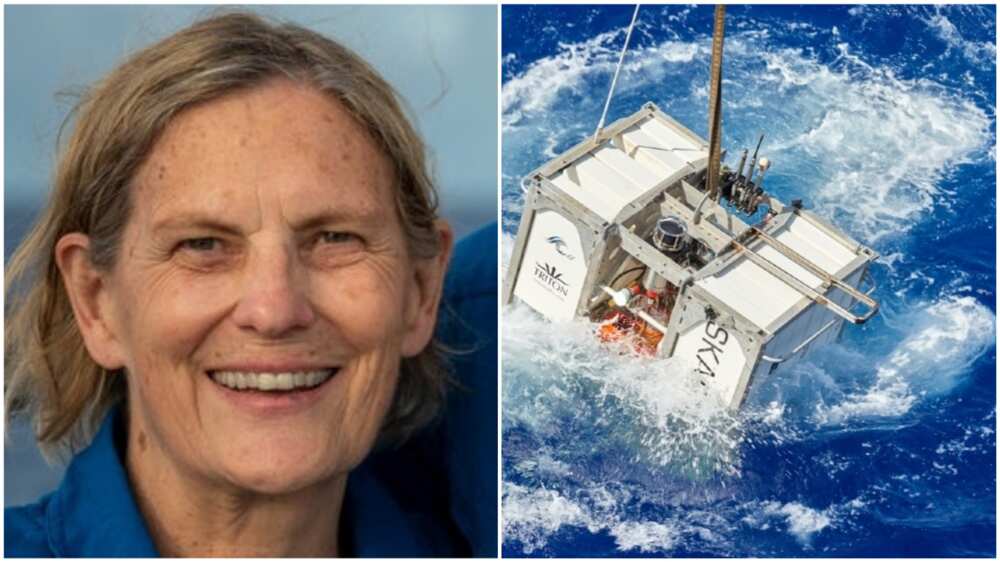 Later on in life, she became the administrator of the National Oceanic Atmospheric Administration. She had a deep interest in the ocean before becoming an astronaut.
She will be at sea for the next few days even after she had set the new record and completed a major part of her mission.
Meanwhile, Legit.ng earlier reported that a 60-year-old phar*macy worker, Mo O'Brien, set a record as the first deaf person to row the ocean in a 3,000-mile journey across the Atlantic.
PAY ATTENTION: Download our mobile app to enjoy the latest news
The woman got to the Carribean island of Antigua with her team members 49 days after she left the Canary Island of La Gomera in December 2019.
Their arrival on Thursday, January 30, will make them the fastest team of three females to ever complete the task.
In commenting on the completion of the task, the woman said she feels relieved as the Ocean Rowling Society gave the confirmation that she is really the world's first on such a challenge.
The team is made up of Ms O'Brien, her daughter, Bird Watt and their friend, Claire Allinson. On the voyage, the trio each takes a four-hour shift with a two-hour rest.
NAF Officers make history as first female fighter, helicopter combat pilots | Legit TV