- A member of the House of Representatives, Gudaji Kazaure, has said he does not believe in the existence of coronavirus
- Kazaure made the statement during deliberations on the floor of the House
- The lawmaker said the killings by bandits in a single day can surpass the number of people killed by COVID-19
PAY ATTENTION: Click "See First" under the "Following" tab to see Legit.ng News on your Facebook News Feed
A member of the House of Representatives, Gudaji Kazaure, has said he does not believe in the existence of coronavirus.
Kazaure made the statement during deliberations on the floor of the House as seen in a video by OAK TV.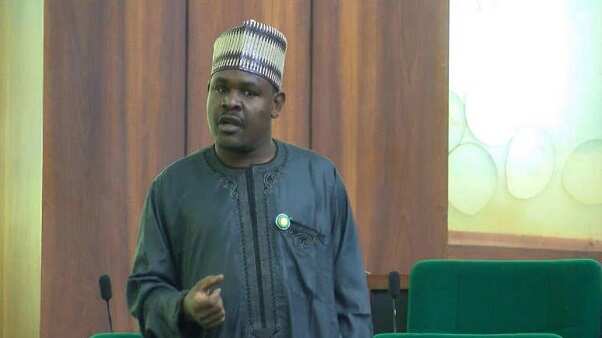 The lawmaker who represents Kazaure/Roni/Gwiwa/Yankwashi/constituency of Jigawa state questioned why Nigeria is not taking the issue of bandit attacks seriously.
He argued that the killings by bandits in a single day can surpass the number of people killed by COVID-19.
Meanwhile, COVID-19 pandemic might cost 20 million Nigerians their jobs if it continues, Senate president, Senator Ahmed Lawan, has said.
The senator disclosed this in Abuja ahead of the first anniversary of the ninth Senate.
Lawan also said that international politics is frustrating Nigeria's efforts to acquire sophisticated weapons for the armed forces to fight insecurity.
He claimed that whenever the Nigerian government made requests to buy security equipment from some foreign countries, it would take a longer time than expected before they were granted.
In another report, the leadership of the ninth National Assembly has lifted the lids on the mode of relationship between the legislature and the executive arm led by President Muhammadu Buhari.
Speaking with Daily Trust, Ahmed Lawan, the Senate president and the leader of NASS, said the federal lawmakers and the executive body are on "the same page."
He further explained that while this has helped in bringing the political leadership of the country under a smooth run, it does not mean the lawmakers are "rubber stamp" as being maneuvered.
Lawan made the disclosure as part of activities marking one year of the ninth NASS. The Assembly was inaugurated on June 11, 2019, after Lawan got 79 votes to beat Mohammed Ali Ndume to the respected stool of the Senate leadership.
The Senate president further said his understanding of separation of power is "functionality" which means specialisation of functions of the different arms.
He stated that there is no interdependence of any arm of government in the democratic political setting, adding that legislature is expected to perform the function of oversight, checks and balances of the executive.
To health news, a COVID-19 patient who ran away from Imo state after testing positive has been nabbed at "Oja Oba" market in Akure, capital of Ondo state.
The patient tested positive for coronavirus in Imo state and instead of submitting herself for treatment, she escaped to the southwest state, the commissioner for health, Wahab Adegbenro, disclosed.
A manhunt was launched for her by the Imo and Ondo governments. This eventually paid off as she was picked up and taken to an isolation centre, The Cable reported.
Slum Chronicles: Even Coronavirus is scared of us - slum dwellers | Legit TV