- A former vice president, Atiku Abubakar, is likely to take another shot at the presidential contest in 2023
- Adamu Abubakar, a son of former the vice president reportedly made the disclosure in Adamawa state
- According to reports, Adamu made the statement at an occasion to mark the first anniversary of the Adamawa state governor, Ahmadu Finitiri
PAY ATTENTION: Click "See First" under the "Following" tab to see Legit.ng News on your Facebook News Feed
Reports have emerged that a former vice president, Atiku Abubakar, will contest in the 2023 presidential election.
Adamu Abubakar, a son of the former vice president reportedly made the disclosure in Adamawa state, The Nation reported.
According to the newspaper, Adamu, who serves as a commissioner in Adamawa state made the statement during an occasion held to mark the first anniversary of the Adamawa state governor, Ahmadu Finitiri.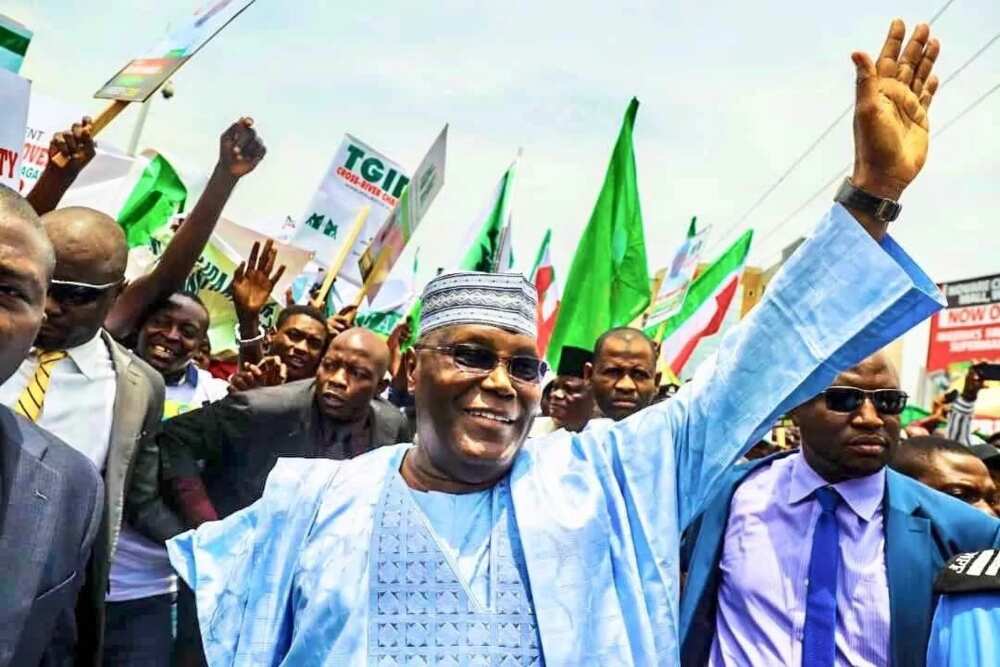 He said his father will contest for the presidency because he is an astute politician with an experience spanning four decades.
"Personally, I don't see anything wrong with my father contesting for the presidency.
Atiku Abubakar served as Nigerian vice president from 1999 - 2003. He contested the 2007 presidential election on the platform of the Action Congress (AC).
Atiku was the Peoples Democratic Party (PDP) presidential candidate during the 2019 presidential election but lost to the APC candidate, Muhammadu Buhari.
Meanwhile, Atiku Abubakar has described the stoppage of subsidy and price-fixing for petrol as a right move by the All Progressives Congress (APC) administration led by President Muhammadu Buhari.
In his verified Twitter handle, he called on federal and state governments to remove other impediments and roll out incentives to spur investments in the oil sector.
But his comment about removing fuel subsidy did not appear pleasing to some Nigerians who said he was part of the past government that exploited the country.
In another news report, Pastor Tunde Bakare of the Citadel Global Community Church has spoken of a vision where he became the next president after Muhammadu Buhari.
In a recent interview with Sunday Sun, the man of God maintained that he would be the 16th president. According to him, he has never had the ambition to become president, but a vision, which he says are two different things.
On media reports about him saying he will be the next president after Buhari, Bakare responded: "Yes, I said so in the Church.
I am a free citizen, my desire can be expressed and anyone who is angry about that can express their own. I said he is number 15 and I will be number 16."
Speaking about the clamour for Igbo presidency, the cleric said though every citizen has the right to express his or her own political aspirations, it is who the cap fits that wears it.
He noted that a day will come when it will not matter the ethnic nationality, but it will be who can deliver.
Bakare said he has never been one to clamour for zoning or no zoning. He is more interested in the best candidate winning. The pastor wished the All Progressives Congress (APC) leader Asiwaju Bola Tinubu well in his rumoured ambition to become president in 2023.
He described Tinubu as a formidable politician who is entitled to everything that he plans to do
PAY ATTENTION: Download our mobile app to enjoy the latest news
Atiku vs Buhari: Peter Obi reacts to Supreme Court judgment | Legit TV