- An anti-corruption group, ACCN, has asked EFCC to investigate an ex-commissioner of finance in Abia state, Obinna Oriaku, over alleged misappropriation of funds
- The group alleged that Oriaku abused his office as a commissioner of the state
- ACCN, however, vowed that it would continue to expose corrupt practices in Nigeria and advocate probity among public officeholders
PAY ATTENTION: Click "See First" under the "Following" tab to see Legit.ng News on your Facebook News Feed
The Economic and Financial Crimes Commission (EFCC) has been asked to begin a forensic investigation into the tenure of a former commissioner of finance in Abia state, Obinna Oriaku.
Legit.ng reports that this was contained in a petition letter written by the Anti-Corruption Campaign Network (ACCN) to the anti-graft agency over allegations of fraud and misappropriation of state funds leveled against the ex-commissioner.
The petition letter dated May 19, and signed by the group's coordinator, Patrick Odey, was made available to Legit.ng on Saturday, June 6.
The group noted that its main existence is to expose corrupt practices in Nigeria and advocate probity among public officeholders.
According to the petition: "In the course of our activities, we came in contact with certain allegations of gross financial misconduct and abuse of office for pecuniary gains by one Mr. Obinna Oriaku, the immediate past Abia state commissioner for finance, and we have deemed it crucial to bring same to your notice for investigation and review.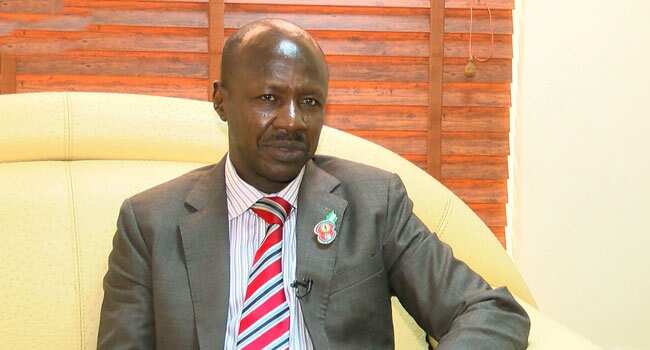 "Mr. Obinna Oriaku's time as finance commissioner was blighted by severe accusations of abuse of office and the misappropriation of public funds for personal gains through fictitious and self-serving companies which we have encapsulated in this petition for your urgent attention.
"It is strongly alleged that Mr. Oriaku while serving as the Abia state finance commissioner contracted government jobs to Lloydant Business Services - a consultancy firm, which charged in dubious excess of the service it rendered to the Abia state government in the unified electronic payment portal, thereby causing avoidable financial strain on the Abia state government.
The petition further read: "Lloydant Business Services, leveraging on its contact within the Abia state government at the time, cornered the data biometrics programme for civil servants in the state at the cost of N150,000,000.00 (One hundred and fifty million Naira) even when a private financial organisation within the state had offered to render the same service at no cost to the government.
"Perhaps more frustrating to Abians at the time is the fact that the wage bill service which the biometric capture sought to set right continued to pose serious concerns and challenges, thus implying that Lloydant Business Service was incompetent for the job it secured through cronyism.
"There are rife indications that Mr. Oriaku indirectly benefits from these transactions with Lloydant Business Services, and in some quarters, it is alleged to be a shadow shareholder in the company, thus underscoring the underhand manner with which he signed off on the company to undertake sensitive government contracts without following due process.
The group further alleged that Oriaku was said to have signed off on contracts with companies without an express executive and supervisory state Assembly's approval, adding that the action undermined the standard procurement practice in a bid to secure the contract for Lloydant Business Services.
"In his time as finance commissioner, he is alleged to have amassed questionable wealth while living lavishly and beyond the means of his employ. His seemingly unbridled appetite for luxury drew the attention of Abians and peaked upon the founded suspicion that he had fraudulently enriched himself during his time as commissioner.
PAY ATTENTION: Install our latest app for Android, read best news on Nigeria's #1 news app
"It is, therefore, pertinent for the EFCC to cause an investigation into the above allegations as they bother on economic fraud. There must be no stones left unturned in the thorough excavation of facts in this matter.
"We are confident that you will use your good office to cause an investigation into the allegations detailed above with a view to ascertaining viable ground(s) for onwards prosecution as our institutional process does not accommodate sacred cows irrespective of class and status," the group added.
Meanwhile, Legit.ng had previously reported that the Association of Ebonyi State Indigenes in Diaspora (AESID) asked the EFCC and other anti-graft agencies to embark on a comprehensive probe of the state financial records in the last 16 years.
5 years after, Nigerians speak about Buhari's administration | - on Legit TV