- The four Minneapolis policemen implicated in George Floyd's death are facing new charges
- This comes as nationwide protests broke out across the United States in response to the controversy
- An officer already in custody is facing murder charges while three more cops were arrested
PAY ATTENTION: Click "See First" under the "Following" tab to see Legit.ng News on your Facebook News Feed
Prosecutors have brought forward new criminal charges against the four policemen implicated in the death of George Floyd.
One of the officers was already being held in custody over the death of the 46-year-old, while three more were arrested for their roll in the murder.
Attorney General Keith Ellison, a black former US congressman, has called for bail of $1 million for each of the four ex-officers:
"This is a significant step forward on the road to justice, and we are gratified that this important action was brought before George Floyd's body was laid to rest."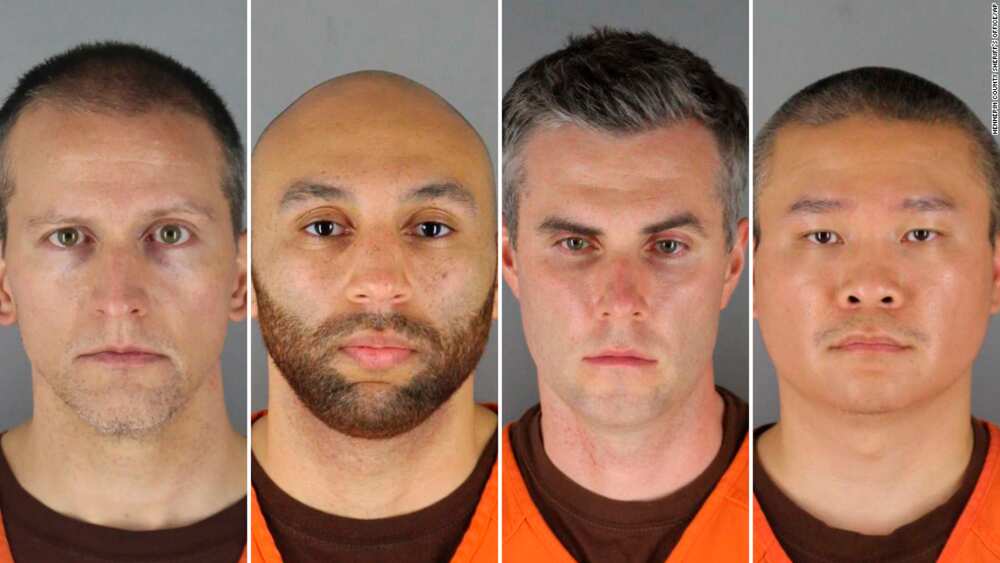 This comes after several nights of increasing unrest calmed to more peaceful protests. Thousands of protestors gathered near the White House, singing 'Lean on Me' before chanting anti-police sentiments.
Numerous major cities have scaled back or completely lifted the curfews that were imposed over the past week.
New York City saw police in riot gear facing down 1000 protestors defying curfew, clubbing demonstrators and journalists alike despite the mostly peaceful display.
Meanwhile, Legit.ng earlier reported that the Baltimore Police Department seemingly joined the cause and shared some powerful images of officers kneeling down in tribute.
Another image showed officers joining arms with protesters in solidarity and Legit.ng noted that the tweet started trending.
PAY ATTENTION: Download our mobile app to enjoy the latest news update
In other news, Korboi and Twyana Balla, an African-American entrepreneurial couple from Minneapolis, have been able to raise $1.1 million to rebuild their enterprise after protesters of the Black Lives Matter movement burned it down.
The couple narrated that they had been saving for many years to put up the brand new business and were yet to actually open it to the public.
When the husband and wife woke up to the news, they were heartbroken. Korboi recounts the words, "I don't know what we're going to do. It hurts, man. It's not fair, it's not right. We've been working so hard for this place. It's not just for me, it's for my family."
George Floyd: I was also arrested, handcuffed wrongly - Nigerian in Minneapolis | Legit TV