- Riots that erupted in American cities over the last week have claimed the lives of at least four black American men and one biracial woman
- A 77-year-old retired police captain was among the people that were killed
- The victims are identified as Dave Patrick Underwood, David Dorn, Italia Marie Kelly, David McAtee and Chris Beaty
PAY ATTENTION: Click "See First" under the "Following" tab to see Legit.ng News on your Facebook News Feed!
At least four black American men and one biracial woman have been killed in riots that erupted in American cities over the last week following George Floyd's death.
Recall that Floyd was killed by a white policeman who knelt on his neck for more than eight minutes in Minneapolis, Minnesota.
Dave Patrick Underwood, David Dorn, Italia Marie Kelly, David McAtee and Chris Beaty were killed in riots that wreaked havoc on American cities.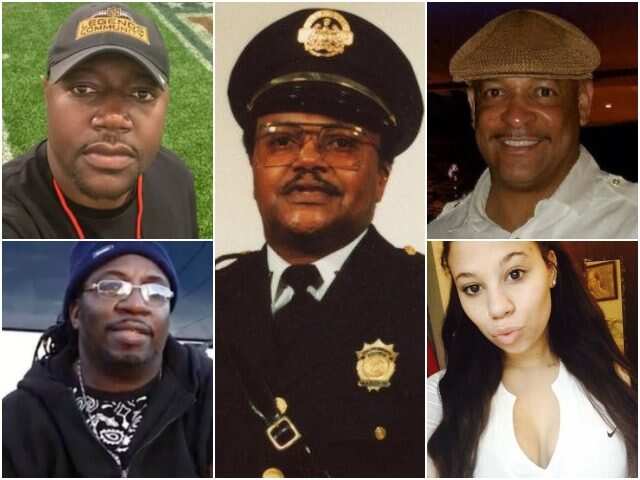 Underwood, a federal officer, was killed on May 29 during riots in Oakland, California. Police said the 53-year-old was fatally shot when he was trying to keep the peace during riots, How Africa reports.
Legit.ng gathers that Dorn, a 77-year-old retired police captain, was killed by looters who broke into a pawn shop.
Italia Marie Kelly was killed in a random shooting as she was leaving a protest in Davenport, Iowa. The 22-year-old biracial woman was killed on May 31.
53-year-old David McAtee was shot and killed in Louisville, Kentucky during riots.
Chris Beaty was shot and killed by rioters in Indianapolis, Indiana. The 38-year-old real estate broker was killed while trying to stop two thieves from robbing two women of their purses.
In other news, a postmortem nasal swab has found that George Floyd had COVID-19 when he died, but it didn't play a role in his death.
The autopsy report, which was released publicly with permission from Floyd's family, indicated that Floyd tested positive for the disease on April 3.
According to the medical examiner, the 46-year-old man was likely asymptomatic when he died.
The medical examiner found Floyd died of cardiopulmonary arrest while being restrained, ruling his death a homicide.
A separate autopsy commissioned by Floyd's family, however, found the cause of death to be asphyxia.
George Floyd: I was also arrested, handcuffed wrongly - Nigerian in Minneapolis | Legit TV