The federal government has released new measures for Nigerians, companies, places of worship, others to follow in a bid to contain the spread of Covid-19 in the country.
PAY ATTENTION: Click "See First" under the "Following" tab to see Legit.ng News on your Facebook News Feed
To ensure strict adherence, violation of the new Covid-19 guidelines comes with some punitive measures.
In this piece, Legit.ng highlights some of the Covid-19 guidelines that will get you arrested and prosecuted by the federal or state governments if you violate them.
The Presidential Task Force on Covid-19 has also noted that mobile courts will be created for the immediate prosecution of offenders.
The security agencies have also been enjoined to ensure effective and strict enforcement of the guidelines.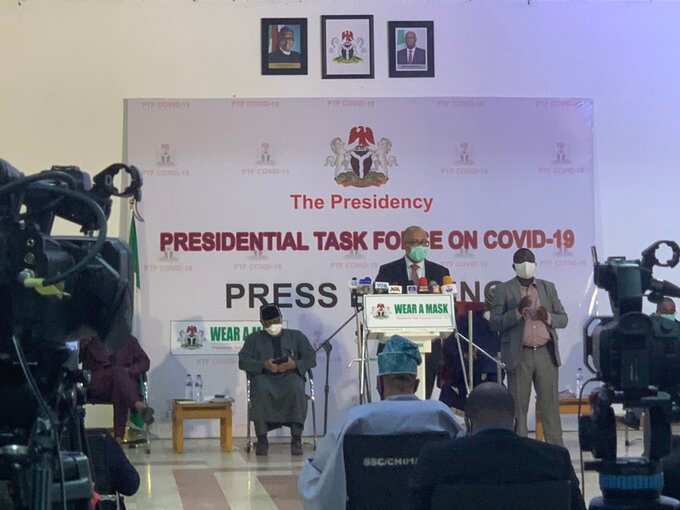 1. Violation of curfew
In place of the Covid-19 lockdown in Lagos, Abuja, Ogun, and Kano, the federal government introduced a nationwide curfew from 8pm to 6am. The curfew was recently relaxed again and it is now from 10pm to 4am every day.
Anyone who violates the curfew directive in a non-emergency situation will be arrested and prosecuted, the Presidential Task Force on Covid-19 has warned.
2. Going out without face mask
The task force has also said those not wearing a face mask/covering while out in the public will also be arrested and prosecuted.
Anyone who presents with a temperature of above 380C will be mandated to return home and call NCDC for evaluation;
3. Attending a gathering of more than 20 people outside a workplace
Though lockdown has been lifted, there is still ban on large gatherings outside places of worship and offices.
Thus, anyone attending a gathering of more than 20 people outside a workplace will be arrested and prosecuted.
Institutions that fail to comply with these protocols and guidelines will also be prosecuted
4. Inter-state travel
All interstate travel by individuals remain prohibited except for essential travels and the movement of goods and services.
Any member of the public who violates the ban on inter-state movement will also be prosecuted.
PAY ATTENTION: Install our latest app for Android, read the best news on Nigeria's #1 news app
Meanwhile, Legit.ng has highlighted a list of four states that are yet to lift the ban on religious gatherings.
Lagos, Nigeria's epicentre of Covid-19, is one of the states yet to allow the reopening of worship centres. Others are Kaduna, Kwara and Osun states.
Coronavirus: Is it time to reopen churches, mosques? | Legit TV