Coronavirus: Full list of all updated Covid-19 guidelines released by FG
The Presidential Taskforce of Covid-19 has released updated guidelines for containment of the ravaging coronavirus pandemic.
PAY ATTENTION: Click "See First" under the "Following" tab to see Legit.ng News on your Facebook News Feed
The task force said Nigeria has made progress in its efforts to contain the COVID-19 pandemic, hence there is no longer a strong need for a generalised lockdown.
Thus, the task force said the federal government will focusing more on high burdened local government areas (LGAs) across the country in the next phase of the response (Phase 2) of reopening the economy.
The updated guidelines for phase 2 are for the general public and state governments and security agencies and will be in place till Monday, June 29.
These guidelines took effect from Tuesday, June 2.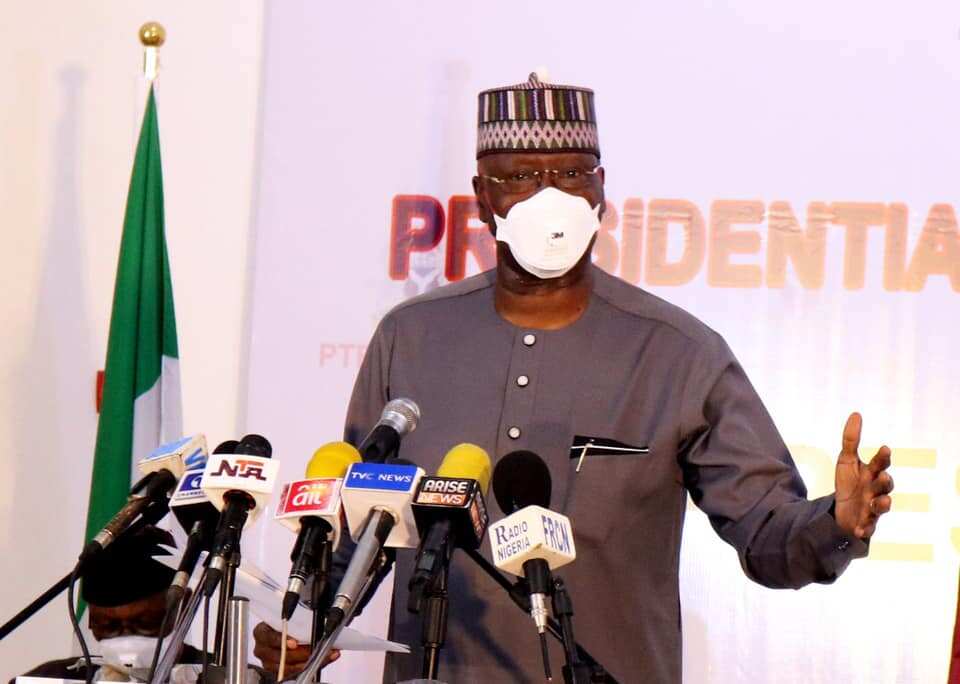 1. Mandatory use of non-medical face mask/covering for all persons while in public spaces. Latex hand gloves should not be worn except for specific medical purposes.
2. The mandatory provision of handwashing facilities/sanitizers in all public spaces;
3. All interstate travel by individuals remain prohibited except for essential travels and the movement of goods and services.
4. All restrictions on the free movement of goods and services within and between states is now removed
5. The nationwide curfew remains in place, but the timing has been changed to 10pm to
4am
6. Mass gathering of more than 20 people outside of a workplace is prohibited
7. Controlled access to markets and locations of economic activities with local authorities providing guidance on opening times;
8. Full opening of the financial sector with banks operating normal working hours, five days a week
9. Limiting workers to 75% or less to allow physical distancing
10. Full resumption of the manufacturing industry and phased opening of the informal sector
11. Mandatory temperature checks in public spaces
12. Physical distancing of two metres must be maintained between people in workplaces and
other public spaces; places of worship, offices and commercial premises must create
floor markings to guide physical spacing
13. Gradual opening of air (domestic) and sea borders with safety advisories in place
14. International land borders shall remain closed
15. Restricted opening of places of worship based on state government protocols and with
strict guidelines on physical distancing and other non-pharmaceutical interventions
16. Mandatory supervised isolation of person(s) arriving from outside the country for at least 14 days will continue until a new protocol comes into place.
17. Hawking and street trading remains prohibited
18. Reduction of usual occupancy for buses to 50% plus 3 passengers for Taxis, including non-medical face mask for drivers and staff
19. Temperature checks at points of entry and departure and handwashing facilities at bus parks, along with physical distancing
20. The Aviation industry to commence preparation for the resumption of domestic operations from the tentative date June 21
21. Airlines to ensure physical distancing by reducing passenger capacity on flights
22. Provision of sanitisers and appropriate PPEs to all workers (such as face masks, gloves etc.)
23. Carrying out temperature checks at points of entry and departure
24. Ensuring cargo and logistics areas are clean and conducting strict compliance when moving items
25. Carrying out effective tracking of travellers to ensure contact tracing if necessary
26. Only travellers and airport staff to be allowed into airport facilities
27. Restriction of movement in high burden LGAs to essential travel only
28. Government offices/ other corporate offices to work from 9am – 2pm from Monday -Friday
29. Encourage work at home policy for civil/public servants below GL14.
30. Mechanics, artisans, haïr salons, etc. who own their workshop or workstations and can clearly adhere to non-pharmaceutical interventions are permitted to operate
31. Restricted and regulated opening of markets, hotels, restaurants, and eateries
32. Farmers to adhere to physical distancing on site and other aforementioned directives
33. All schools to remain closed till further evaluation.
34. Schools are encouraged to continue with e-learning and visual teaching.
35. Recreational parks closed until further evaluation
36. Attendance at funerals limited to 20 people including close family members
37. All attendees must clean hands before and after attendance including physical distancing
PAY ATTENTION: Download our mobile app to enjoy the latest news update
Legit.ng had earlier highlighted the list of guidelines released the by task force specifically for places of worship.
Coronavirus: Is it time to reopen churches, mosques? | Legit TV
Source: Legit.ng