- Senator Orji Uzor Kalu is still a popular and respected figure in Abia North senatorial district
- This is the position of Honourable Benjamin Kalu, spokesman of the House of Representatives
- Honourable Kalu said those who staged a protest against the senator on Tuesday, June 2 are unknown elements
PAY ATTENTION: Click "See First" under the "Following" tab to see Legit.ng News on your Facebook News Feed
Honourable Benjamin Kalu has condemned the actions of a group that staged a protest at the National Assembly on Tuesday, June 2 calling for the recall of the chief whip of the Senate and former governor of Abia state, Senator Orji Uzor Kalu.
Honourable Kalu alleged that the protesters were hired by aggrieved political opponents of the senator who wanted to embarrass him.
Kalu who is the spokesman of the lower house and member representing Bende federal constituency of Abia state added that none of the protesters were from Abia state.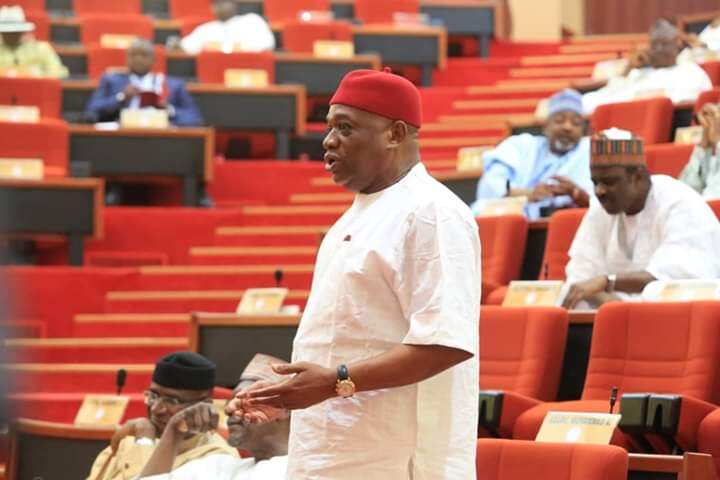 PAY ATTENTION: Install our latest app for Android, read best news on Nigeria's #1 news app
"As the legislator representing Senator Kalu in the House of Representatives, as a member of the House representing Bende in Abia north, and as an eye witness to the phoney protest by the so-called Concerned Citizens of Abia North at the National Assembly complex today, I confirm that none of the demonstrators were recognizable to me as persons of Abia north extraction.
"Furthermore, information reaching me from all known associations of Abia north people in Abuja indicate that the so-distant protesters are unknown elements.
"The foregoing, including the COVID-19 protocols restricting interstate travel from Abia to Abuja FCT, strongly suggest that these picketers are paid protesters hired by an aggrieved opposition desperate for one final ploy to deprive Abia north of the competent representation of Senator Kalu.
"They, therefore, do not represent the voice of the people of Abia North," Honourable Kalu said in a statement sent to journalists on Tuesday, June 2.
He further stated that Senator Kalu has been representing his senatorial district, Abia North, creditably despite his "brief incarceration."
The lawmaker thanked and assured the people of Abia north that despite the challenges faced by the former governor of Abia state, he was able to attract quality projects to Abia north as evidenced in the 2020 budget.
"It must be clearly stated that during his brief absence, Abia north was not deprived of adequate representation as can be seen by the sheer amount and quality of capital projects in the 2020 budget secured by Senator Kalu for the benefit of the senatorial district," the Reps spokesman stated.
Meanwhile, the Federal High Court in Lagos has ordered the Nigerian Correctional Service (NCS) to immediately release a former governor of Abia state, Orji Uzor Kalu from detention.
The court delivered the judgment on Tuesday morning, June 2, after listening to an application filed by the former governor.
In a related development, the NCS has revealed that Senator Kalu has remained in its custody because it was yet to get a valid court order to enable it effect the release of the former governor.
Augustine Njoku, NCS public relations officer, stated that unless the court ruling is transmitted to the service, Kalu will remain in the correctional facility's custody.
Group asks DSS, Police to investigate Omo-Agege | Legit TV