- The federal government has been warned that Nigeria's current debt is not sustainable
- The Centre for Democracy and Development (CDD) issued the warning in a report assessing Buhari's government
- The federal government's current debt stock is currently about N22billion
PAY ATTENTION: Click "See First" under the "Following" tab to see Legit.ng News on your Facebook News Feed!
The Centre for Democracy and Development (CDD) has released a report on its assessment of the Buhari's administration's handling of the Nigerian economy in the last five years.
The report is called Fluctuating Fortunes: A 5-year Economy Assessment under the Buhari Administration.
According to the report, the federal government borrowing has grown by more than 100 per cent since 2015.
This is as various experts continue to warn the Buhari's government of its habitual debt accumulation since coming into office in 2015.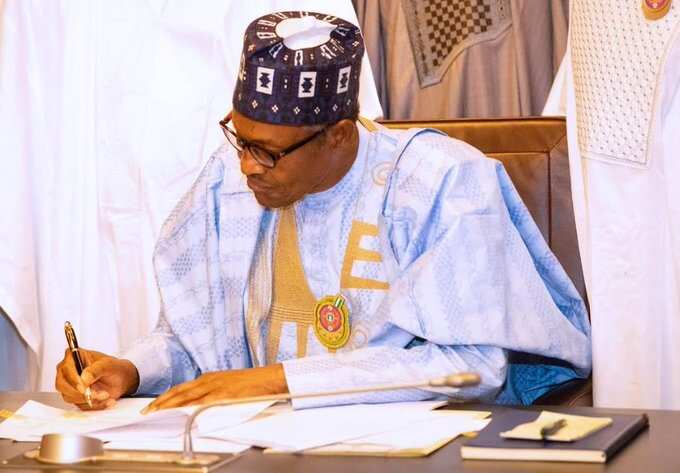 "Although federal government's current debt stock of about N22 billion is less than 20 per cent of GDP, the continuous accumulation of debt appears unsustainable as servicing of the debts is already accounting for more than 60 per cent of government revenue," the CDD warns.
The wobbly shape of the economy, according to the report is further underscored by the recent downgrade in Nigeria's credit rating by key international credit agencies (S&P and Fitch) in the first half of 2020.
It was argued that with the twin shocks resulting from global oil glut and the COVID-19 pandemic, the country's debt burden is expected to further increase in 2020 especially if the government fails to be more decisive in its debt management policies.
The CDD also scored the Buhari administration low for job losses and the increasing poverty in the country.
Data referenced in the report have it that about 4.04 million persons lost their jobs in 2015, as unemployment and underemployment rate increased from 6.4 per cent and 17.9 per cent in the fourth quarter of 2014 to 10.4 per cent and 18.7 per cent in fourth quarter 2015.
According to the assessment, in the period under review, the unemployment rate in the country was high among youths, as about 5.3 million youths within the age bracket of 15-24 could not get a job in 2015.
The report put it on record that "the high rate of unemployment and increased poverty partly triggered the security challenges in the country, which was a key campaign promise of the president. These challenges set a slow start for President Buhari's administration."
PAY ATTENTION: Download our mobile app to enjoy the latest news update
Meanwhile, a recent report by SB Morgen (SBM) Intelligence has revealed that between the year 2011 and 2020, Nigerians paid at least N7 billion as ransom to kidnappers.
The report relied on data collected from the Armed Conflict Location and Event Data Project, the Council for Foreign Relations' Nigeria Security Tracker, newspaper reports and SBM intel's own countrywide network of researchers.
It also contains the breakdown of the name of victims, date, state and amount paid respectively.
5 years after, Nigerians speak about Buhari's administration | Legit TV