- Since the index case of coronavirus, Nigeria has been battling the global pandemic for a few months now
- A report by a newspaper publication claims that wearing face masks and social distancing actually lowers the risk of spreading the disease
- It was observed that the further people stand away from each other, the lower the risk
PAY ATTENTION: Click "See First" under the "Following" tab to see Legit.ng News on your Facebook News Feed!
Amid the escalating spread of the deadly coronavirus in Nigeria, a new study has shown that wearing face masks in public and maintaining social distancing actually lowers the risk of COVID-19 spreading.
Though this news looks like a ray of hope, the best preventive measures to curb the virus are not easy to follow.
However, a study published on Monday, June 1, in The Lancet proves with strong evidence that these measures do contain coronavirus.
An international group of scientists analyzed 172 studies conducted in 16 countries, looking at the connection between social distancing, wearing masks, and wearing eye protection, and the risk of spreading coronavirus.
The study included people who have been infected with the virus and they followed the behaviours between those who did and did not practice the preventive measure.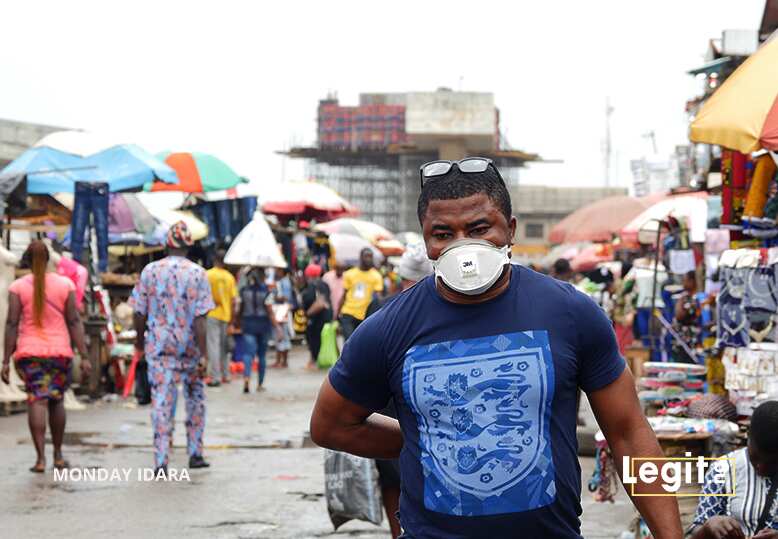 According to the researchers of the study led by Dr. Holger Schunemann from McMaster University in Ontario, Canada, the senior author, it was observed that the further people stand away from each other, the lower the risk.
The researchers in concluding the study explained that the risk of COVID-19 spreading drops by half for every additional meter of distancing up to 3 meters.
PAY ATTENTION: Download our mobile app to enjoy the latest news update
Meanwhile, Legit.ng previously reported that the Nigeria Centre for Disease Control (NCDC) on Monday, June 1, confirmed 416 new cases of the novel coronavirus in the country.
The NCDC in a tweet disclosed via its official Twitter account that twelve deaths were recorded as the number of fatalities increased from 287 to 299, while 115 patients were discharged as recoveries increased from 3,007 to 3,122.
The 416 new cases are reported from 20 states - Lagos-192, Edo-41, Rivers-33, Kaduna-30, Kwara-23, Nasarawa-18, Borno-17, FCT-14, Oyo-10, Katsina-7, Abia-5, Delta-5, Adamawa-4, Kano-4, Imo-3, Ondo-3, Benue-2, Bauchi-2, Ogun-2, Niger-1.
In a related development, the World Health Organization (WHO) has said the increased use of antibiotics in fighting the deadly COVID-19 could ultimately lead to more deaths during the pandemic.
WHO director-general Tedros Adhanom Ghebreyesus revealed this on Monday, June 1, during a virtual press conference from the health agency's headquarters in Geneva. Tedros went on to note that a number of bacterial infections are becoming resistant to the medicines used to treat them traditionally.
Coronavirus: Does the Madagascar cure really work? | Legit TV