- Three Nigerians have led one of the biggest literary prizes on the continent called the Caine Prize for African Writing
- Irenosen Okojie, Jowhor Ile, and Chikodili Emelumadu submitted various short story pieces that position them well to vie for the £10,000 (N4,848,726) prize money
- Others on the shortlist are Erica Sugo Anyadike from Tanzania and Remy Ngamije from Rwanda
PAY ATTENTION: Click "See First" under the "Following" tab to see Legit.ng News on your Facebook News Feed
Nigerians have made the country proud again as three of the five people shortlisted for the 2020 Caine Prize for African Writing are from the country.
The names of the Nigerians are Irenosen Okojie, Jowhor Ile and Chikodili Emelumadu. The winner of the prize would be going home with a whopping prize of £10,000 (N4,848,726) while each shortlisted candidate will get £500 (N242,436.30), The East African reports.
Irenosen's story is titled Grace Jones, while Jowhor's and Chikodili's pieces are Fisherman's Stew and What to do When Your Child Brings Home a Mami Wata respectively.
Other shortlisted candidates for the prize are Erica Sugo Anyadike from Tanzania with short story How to Marry An African President and Remy Ngamije from Rwanda with The Neighbourhood Watch.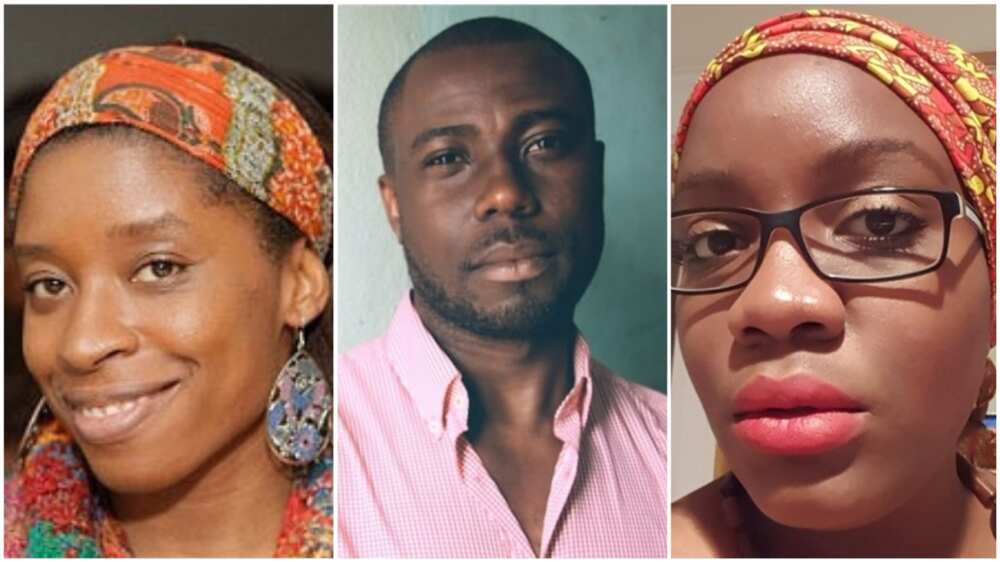 Kennet Olumiya Tharp, the chair of the judges, said that the submitted stories are diverse and they "collectively did much to challenge the notion of the African and diaspora experience and its portrayal in fiction…"
James Murua, Gabriel Gbadamosi, Audrey Brown and Ebisse Wakjira-Rouw are other judges who will be looking at the submitted stories objectively.
Meanwhile, Legit.ng earlier reported that Nigerian writer Lesley Nneka Arimah won the 2019 edition of the prize.
The 36-year-old author defeated writers from other countries in Africa like Cameroon, Ethiopia, and Kenya to win the highly coveted prize.
The short story that got Lesley Arimah the win is titled Skinned. It was published in McSweeney's Quarterly Concern (Issue 53) 2018.
This fictional work visualises a society in which young girls are ceremonially 'uncovered' and must marry in order to regain the right to be clothed.
PAY ATTENTION: Download our mobile app to enjoy the latest news
The story is centered around a young woman named Ejem who is uncovered at the age of 15 and is still yet 'unclaimed' in adulthood. It speaks of her attempts to negotiate a rigidly stratified society following the breakdown of a protective friendship with the married Chidinma.
In other news, six authors were shortlisted for the 2019 Booker Prize, among them two Nigerians, Chigozie Obioma and Bernardine Evaristo.
From 151 submissions, the list was later cut down to 13 longlist and eventual shortlist of six authors, the winner of the prize, £50,000 (N22,051,250) will be announced on October 14.
Top 4 Most Influential Nigerians in the World: Nigerians in Top Positions on Legit TV