- Trump ordered that a church be cleared of protesters so that he can stage a photoshoot there
- The protesters were dispersed by the police with teargas
- Meanwhile, the bishop of the Episcopal Diocese of Washington criticised the president for his actions
PAY ATTENTION: Click "See First" under the "Following" tab to see Legit.ng News on your Facebook News Feed!
President Donald Trump has continued to surprise many Americans and people around the world with his attitude towards values and events as he is now facing criticism for ordering the clearance of protesters from St. John with teargas because he wanted to pose with a bible in front of the church.
During the photo session, a reporter was said to have asked the combative president: "Is that your Bible?" in which Trump simply answered "It's a Bible," hoisting it up for reporters to see.
In reaction to this, Rev. Mariann Budde, the bishop of the Episcopal Diocese of Washington, criticised the president for using the church to serve his own political purpose.
According to him, the president did not pray or do anything during his visit to the church to show empathy for the murder of George Floyd in Minneapolis by a police officer, New York Times reports.
Meanwhile, Legit.ng had reported that some Nigerians took the streets of Lagos to protest the killing of George Floyd an African-American by a 'white' cop, Derek Chauvin, in Minneapolis, United States of America.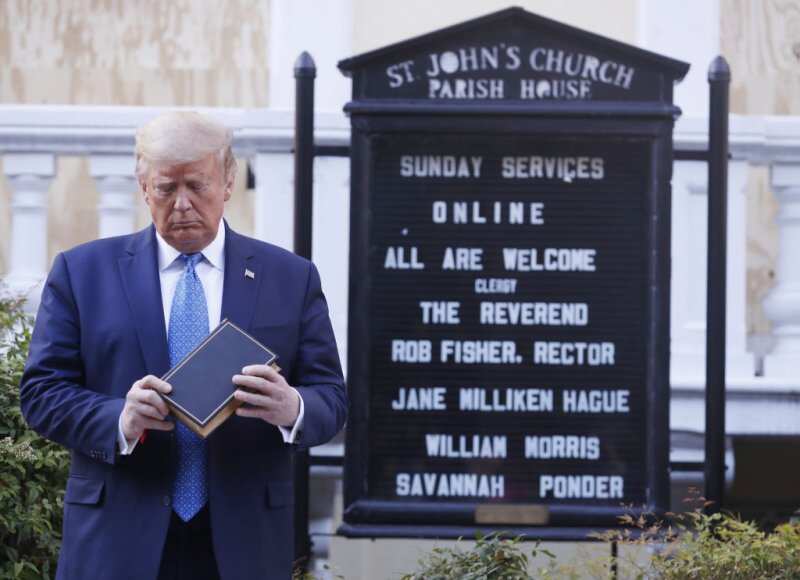 Reacting to the killing of Floyd by Chauvin and the growing protests in the streets of various states of America, the Black Lives Matter Movement in Nigeria (BLMMN) defied the heavy downpour in Lagos in condemnation of racism against coloured people in the US.
Speaking on behalf of the group, convener, Josephine Okpara, said an end must be put to "white supremacy and build local power to intervene in violence inflicted on black communities by the state and vigilantes".
Okpara expressed disgust at the manner blacks are being dehumanised, describing it as "uncharitable and a gross disservice to our intellectual sense of existence in the world".
She said the killing of Floyd is another grim example of how black lives have been disregarded by the state and their affiliates.
The BLMMN expressed total solidarity with the global community in condemnation of the indiscriminate killing of black people.
"Today, the numbers are increasing daily with many George Floyds gone unnoticed. For how long can we continue to watch as many others are cut down in their prime just because of the colour of their skin?" Okpara queried.
Okpara said that their thoughts and prayers are with the families of those that have lost their lives by the shenanigans of the US government who have failed address this menace that has indeed put black people all over the United States of America at risk.
4 implications of Trump's ban on Nigerians from the USA | Legit TV