COVID-19: Bishop Idahosa hands out palliatives to hundreds of pastors
- Respected clergyman, Bishop Isaac Idahosa, is not leaving pastors in his church to their fate at this period of COVID-19
- Idahosa, general overseer of the God First Ministry, says he decided to bless the pastors for a particular reason
The man of God adds that some of the pastors are not having it easy at this time being human beings like every other person
PAY ATTENTION: Click "See First" under the "Following" tab to see Legit.ng News on your Facebook News Feed!
Bishop Isaac Idahosa, the general overseer of God First Ministry, has distributed palliatives to ministers of God to be able to stay afloat in this pandemic which has ravaged the world.
The minister invited thousands of pastors who besieged his Ibeju Lekki church for the distribution process, and they were all smiles as they received the palliatives from the man of God.
After the distribution, Bishop Idahosa spoke with legit.ng.
He said:
Iron sharpens iron. I am a minister so I do know what ministers go through from time to time. It's just like when you have seen God's grace, you share God's grace, if you have seen God's blessings, you share God's blessings.
Those whom God has shown some light should be able to show light to others to make them happy. The gospel is being dispensed by the ministers. Most of the time, we tend to forget that they are flesh and blood too, and they need some succor, some encouragement.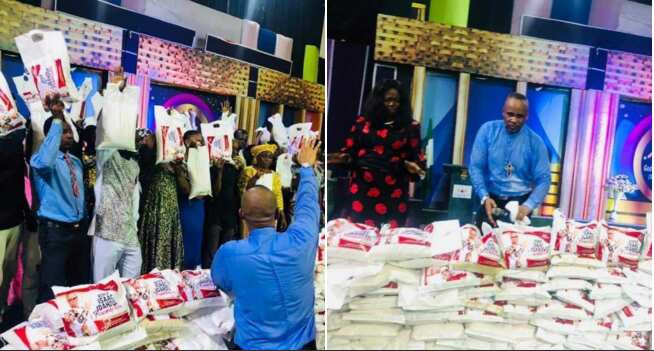 During this pandemic, you can see there are no congregational activities and that's where they work, hence God blesses them. Some don't have other streams of income, some do have some other streams of income, but we must be able to stretch forth our hands to one another. Keep on serving the Lord, keep on doing the best he has put upon you to do. The little you can do here and there can go a long way to help one another to go on.
Of course, we can pray at home, the church is not the building but the individuals. But then, you see, when we come together, we produce a synergy, we produce power.
The fervent prayer of the righteous availeth much and makes power available. So, there's a synergy, there are many forces combined. And when we have corporate worship, it does a whole lot than individualistic prayers or worship.
So, it's a great value for you to understand that man lives in spirit, and once the spirit man is being starved, visual worship can't be the same.
The opening of worship centres is of interest to the nation. We should come together and pray; could be the mosque, could be the church, but let's have service and worship.
Having said all that, there's need too, for us to follow some precautionary measures put in place by the Christian bodies – the CAN and PFN – that way, we can watch and pray. The watching has to do with our senses.
I do know that God is in the business of healing the nations and I'm trusting God to give us a wonderful divine intervention.
Asked for his advice for other ministers on this initiative, he said: "Who knows? They may have done that but didn't make the noise I'm making now.
"It is possible that they may have done much more than what I have done. There are those that are silent achievers. I'm doing this and asking Legit to come because the Bible says 'let's consider one another onto good works and let's provoke one another onto good works' seeing me do this might provoke another person to do, that's why, but there are those who don't publish it."
Some of the recipients also appreciated the Bishop for his kind gesture, stating that it was one of those gestures they least expected from the man of God.
Vivian Moses from RCCG, Ibeju Lekki, said: "In fact, it is wonderful, the man really tried. I pray that the Lord Almighty will uphold him and bless him more because he really surprised me. One pastor in the whole of Lagos to do feed the ministers… the Lord will bless him, he tried."
PAY ATTENTION: Install our latest app for Android, read best news on Nigeria's #1 news app
Apostle Augustine from the Apostolic City Liberation Church said: "What I have seen today is just my imagination. And I see that this is the system that churches should adopt, and not even the churches alone. And I believe that in a time like this, in this coronavirus pandemic, if people can adopt such a system, it can reach the poor.
"There are some people that don't have anything to do, and in a time like this that people are in need, this kind of programme can help people, to relieve them from poverty and so on. I really appreciate what this church is doing here, it is very encouraging."
Legit.ng earlier reported that Bishop Idahosa recently decided to make special provisions for members of his church in the face of the biting situation caused by coronavirus.
Idahosa, whose church is located in the Badore area of Ajah, Lagos state, asked the members of the congregation to halt payment of offerings.
COVID-19: Bishop Idahosa gives pastors palliatives | Legit TV
Source: Legit.ng