Meet the self-educated black man who designed Washington D.C.
- Benjamin Banneker, known to be black, continues to be celebrated and named after many schools, streets, businesses, parks for designing Washington DC
- Banneker was supported by white architects like Pierre Charles L'Enfant and Andrew Ellicott, but the credit goes to the black self-educated man
- Banneker is noted for developing what is to be the first clock in America in 1753
PAY ATTENTION: Click "See First" under the "Following" tab to see Legit.ng News on your Facebook News Feed!
History shows that Benjamin Banneker, a black self-educated man, who later became an accomplished mathematician, scholar, and astronomer, is credited as playing a major role in the designing of Washington, D.C.
Washington D.C. is the capital of the United States.
Face2FaceAfrica reports that while white architects like Pierre Charles L'Enfant and Andrew Ellicott are usually celebrated for the project, the less mentioned Banneker is rated as the hidden face of the success of Washington's beauty.
According to the report, without Banneker, the project would not have happened.
The report claims that being a part of the surveying team for the project, Banneker, who was a free black man in the US at a time of slavery, used his skills to debunk the theory that blacks were an inferior race.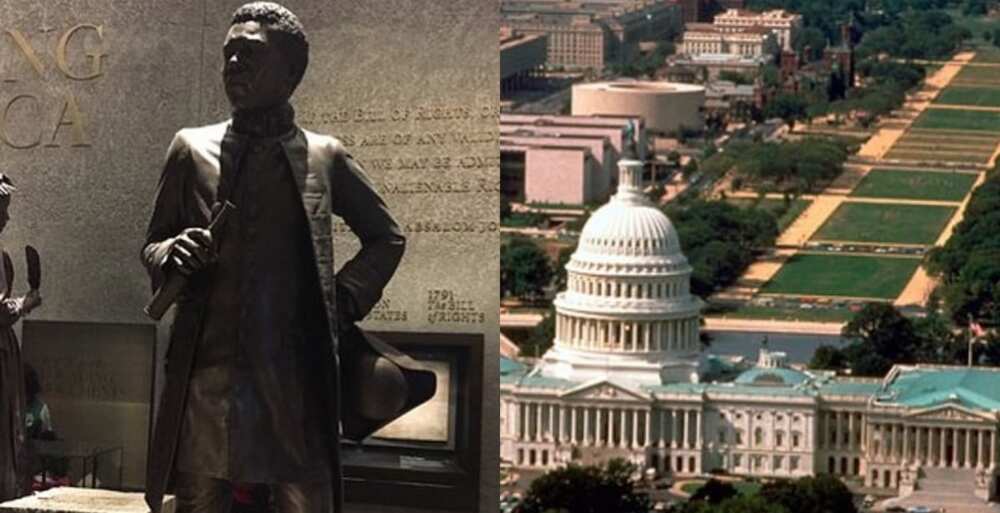 Banneker, it was reported, was among the only 200 free African-Americans among 13,000 whites and 4000 slaves in Baltimore County at that period.
He, however, was able to build what is believed to be the first clock in America in 1753.
Banneker's main role, it was claimed, was surveying the new capital and making astronomical observations so as to understand the starting point for the project.
The survey was to accord him the opportunity to use his calculations to establish the boundary points for the district.
Banneker's talent came to light after Pierre Charles L'Enfant in 1791, developed a grand design for the capital but abandoned the project because of some issues with his superiors.
PAY ATTENTION: Install our latest app for Android, read best news on Nigeria's #1 news app
Pierre Charles L'Enfant had left taking all the designs with him, thus creating confusion for other planners concerning how best to continue.
Banneker came and rescued everyone out of confusion.
He reportedly produced the plans from memory in two days and the project took off again.
He later got recognised for that leading to schools, streets, businesses, parks and awards named after him.
Legit.ng earlier reported recently quoted Africa Facts Zone as naming King Lestsie III is the ninth biggest landowner in the world and he is the proud owner of the huge landmass of 11,720 square miles in Lesotho.
It should be noted that in his country, there is no individual ownership of land as sites are given to people to farm on in the bid to ensure a balanced land distribution. Aged 56, he became king after his father, Moshoeshoe II, went into exile in 1990.
Visually-impaired widow weeps bitterly, says she misses her husband| Legit TV
Source: Legit.ng