Coronavirus: WHO suspends chloroquine trial for treatment
- World Health Organisation said it has ordered a "temporary pause" in the trial of hydroxychloroquine for Covid-19 treatment
- The agency revealed that the decision was made following observation of higher mortality at hospitals allowed to used the drug to treat patients
- A total of 5,567,169 Covid-19 cases have been recorded globally, with 346,887 deaths and 2,350,125 recoveries
PAY ATTENTION: Click "See First" under the "Following" tab to see Legit.ng News on your Facebook News Feed
As the world faces the herculean task of getting solution to novel coronavirus, the World Health Organisation (WHO) said it has suspended the "solidarity trial" of hydroxychloroquine for Covid-19 treatment.
The global health agency announced the decision on Monday, May 25, through its director-general, Tedros Ghebreyesus.
Citing the study carried out and published by The Lancet, which had examined the effects of the use of hydroxychloroquine alone or with macrolide, Ghebreyesus in his address said WHO is unable to confirm the effect of chloroquine when used for Covid-19 treatment.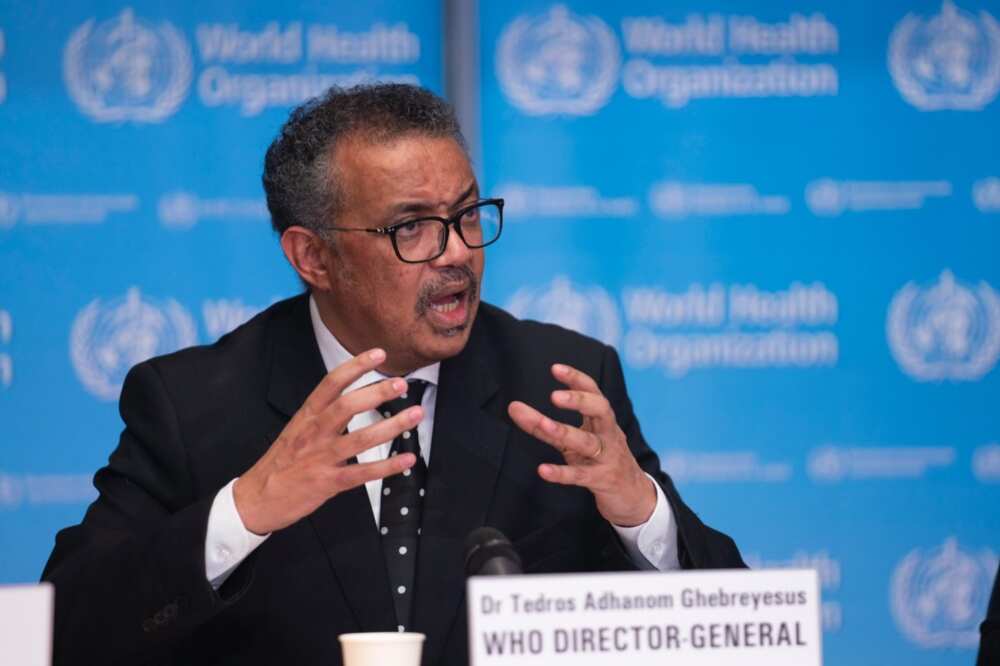 "We were unable to confirm a benefit of hydroxychloroquine or chloroquine, when used alone or with a macrolide, on in-hospital outcomes for COVID-19.
"Each of these dru'g regimens was associated with decreased in-hospital survival and an increased frequency of ventricular arrhythmias when used for treatment of COVID-19," he said.
It would be recalled that two months ago WHO initiated the "solidarity trial" to evaluate the safety and efficacy of chloroquine and three others dr'ugs and dru'g combinations against the pandemic.
But in its address, Ghebreyesus said that WHO discovered more fatalities were recorded across 400 hospitals in 35 countries where hydroxychloroquine was permitted to use for coronavirus treatment.
"Over 400 hospitals in 35 countries are actively recruiting patients and nearly 3500 patients have been enrolled from 17 countries.
"On Friday, the Lancet published an observational study on hydroxychloroquine and chloroquine and its effects on COVID-19 patients that have been hospitalised.
"The authors reported that among patients receiving the dr'ug, when used alone or with a macrolide, they estimated a higher mortality rate," the WHO director-general said.
PAY ATTENTION: Download our mobile app to enjoy the latest news
Meanwhile, Legit.ng reported that the federal government has raised alarm over Nigerians stockpiling chloroquine in large quantities for the treatment of treat the novel coronavirus.
The presidential task force on COVID-19 warned on Thursday, May 21, said chloroquine had not been approved for COVID-19 treatment.
The chairman of the task force, Boss Mustapha, disclosed that the government has obtained reports about Nigerians buying hydroxychloroquine in large quantities.
Coronavirus: Does the Madagascar cure really work? | Legit TV
Source: Legit.ng