Coronavirus: China tells US to stop wasting time in Covid-19 battle
- China's foreign minister Wang Yi has called on the US to stop spreading lies and attacking China while precious time to fight Covid-19 is being wasted
- Yi said the US should rather work with China to defeat the ravaging virus
- The minister also expressed his deep sympathies to the US for the pandemic which has claimed hundreds of thousands of American lives
PAY ATTENTION: Click "See First" under the "Following" tab to see Legit.ng News on your Facebook News Feed
China says the United States should stop wasting time in its fight against the coronavirus and collaborate with the Asian powerhouse to combat the pandemic.
CNBC reports that a top diplomat of the Chinese government, Wang Yi, said this on Sunday, May 24.
Legit.ng gathers that Yi also asked the Donald Trump-led US government to stop spreading lies and attacking China.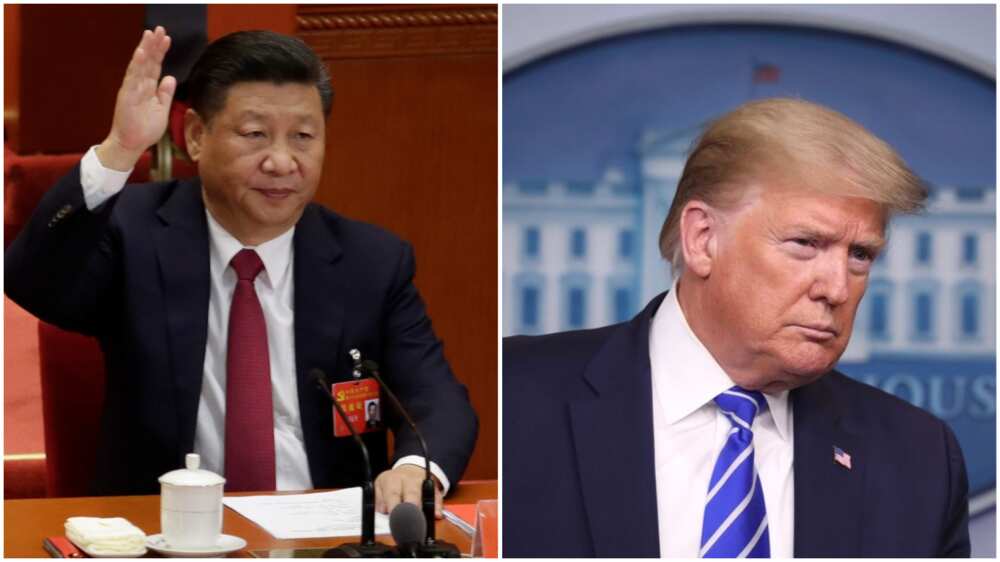 The Chinese diplomat, however, expressed his deep sympathies to the US for the pandemic.
The US is one of the most badly hit by the pandemic as the country's death toll is expected to surpass 100,000 in the coming days.
The coronavirus pandemic has worsened the fragile relationship between the administrations of President Trump and President Xi Jinping, with Trump repeatedly accusing China of cover-ups and lack of transparency.
Yi who is China's foreign minister said the US is not only battling the coronavirus but also "a political virus".
"Regretfully, in addition to the raging coronavirus, a political virus is also spreading in the United States. This political virus is using every opportunity to attack and smear China.
"Some politicians have ignored the most basic facts and concocted too many lies about China and plotted too many conspiracies," he added.
The minister asked the US to stop wasting precious time while lives are being ignored. He also said the country should work with China to fight the pandemic.
"I want to say here: Don't waste precious time any longer, and don't ignore lives," he said.
"What China and the United States need to do the most is to first learn from each other and share their experience in fighting against the epidemic, and help each country fight it."
PAY ATTENTION: Download our mobile app to enjoy the latest news update
Earlier, Legit.ng reported that President Trump claimed he had seen evidence that gave him a "high degree of confidence" the novel coronavirus originated in a laboratory in Wuhan, China.
The US president who made the allegation on Thursday, April 30, however, declined to provide details to substantiate his claim.
Trump's claim contradicted a statement from the Office of the Director of National Intelligence.
The US intelligence office had earlier stated no such assessment has been made, adding that it is still examining whether the outbreak "began through contact with infected animals or if it was the result of an accident at a laboratory in Wuhan."
When asked if he had seen evidence that would suggest the virus originated in the lab, Trump simply said: "Yes, I have."
He, however, declined to speak further on the alleged evidence.
"I can't tell you that. I'm not allowed to tell you that," he said.
Coronavirus: Nigerians take advantage of every situation | Legit TV
Source: Legit.ng