COVID 19: Making case for SMS voting system for party primaries by Joseph Philip
Editor's note: Joseph Philip, a good governance advocate, writes on how the COVID-19 pandemic will likely affect political activities in Nigeria as the country prepares for some off-cycle elections in the coming months.
PAY ATTENTION: Click "See First" under the "Following" tab to see Legit.ng News on your Facebook News Feed
Read below:
The COVID-19 pandemic has exacted a devastating toll on human lives, economies, and health systems around the world. With no known cure or vaccine in sight, most countries have adopted full or partial lockdown and restriction of movement in major cities in an attempt to curb the spread of the virus. This situation is currently putting the ability of countries to conduct periodic, free and fair elections to facilitate of peaceful transition of power to a litmus test.
Recently, the Independent National Electoral Commission (INEC) declared through its chairman, voter education and publicity, Mr Festus Okoye, its intention to go ahead with the conduct of the upcoming Edo and Ondo states gubernatorial elections as earlier scheduled. The governorship elections in Edo and Ondo are scheduled for September 19th and October 10th, while electioneering activities are to commence on June 1st and July 2nd, respectively.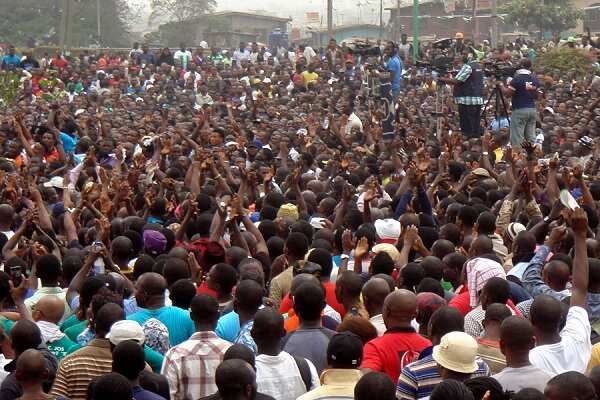 Electoral activities usually involve large gatherings, not only on election day but also, for example, during campaign rallies and voter registration drives. These events increase human-to-human contact and the risks of direct and indirect disease transmission. Managing these activities is challenging which will be even more difficult in the face of the current pandemic.
While many may disagree with the commission's decision to go ahead with the elections, others will posit that democratic processes cannot be indefinitely held to ransom by the pandemic. The current pandemic exposes the weaknesses and fault lines of our current modus operandi. It is obvious, the restrictions currently in place have grave implications on preparatory activities that require in-person interaction. The primary driving force of most inventions is a need and as such the current challenges posed by the COVID-19 pandemic presents the unique opportunity to explore alternatives and try a new way of doing things.
There are existing global lessons to guide this process. Most countries have adopted some form of technology in their election process especially for biometric registration, identification and verification of voters. Nigeria for example, since 2011 have deployed the use of Direct Data Capturing (DDC) machines during voter registration and card readers to enhance the efficiency of voter accreditation during the voting process. There was also an attempt for electronic transmission of results during the 2018 Ekiti and Osun gubernatorial elections with over 70% success rate based on the report by Yiaga Africa. Thus there is a need to explore technology in conducting other election activities.
For instance, packed stadiums, as well as long queues of party members or stakeholders, is a typical scenario during political party primaries in Nigeria. Needless to say, this is not feasible in the COVID-19 era when the World Health Organisation (WHO) has advised that physical distancing measures are critical to the containment of the coronavirus. As technology continues to evolve, electoral processes are being retooled globally in tune with the times. Technological solutions for voter education, as well as electronic voting and counting measures, would certainly reduce the risks presented by the human to human interaction. E-voting and e-counting technologies that employ remote procedures such as mobile SMS based voting would serve to allow political parties to conduct their primaries while maintaining physical distancing.
PAY ATTENTION: Install our latest app for Android, read the best news on Nigeria's #1 news app
Across Africa, since 2008, election observation groups have used online databases with the aid of text messages that are sent via mobile phones to observe and aggregate election reports in near real-time. This technology has been used for election observation in Mali, Sierra Leone, Senegal, Liberia, Ghana, Guinea Malawi, Kenya, Zimbabwe, and Zambia. It has also been used in Nigeria for 2011, 2015 and 2019 general elections and has been adopted for the observation of over 15 off-cycle state elections since then. All that is required is a functional database and willing volunteers with a functional mobile phone to send feedback in near real-time.
As political parties are still trying to decide over which model to adopt for the forthcoming primaries in Edo and Ondo states, serious consideration should be given for the adoption of an SMS voting system. This will allow delegates to vote from the comfort of their locations and could reduce the need for physical interaction. The process is set up to accept only one entry at a time and will ensure the credibility of the process. With this approach, a database can be set up and managed at the party's headquarters or any location of the party's choice, where all votes will be collated, and results are aggregated and produced instantaneously.
Perceptions of fraud and unfairness, whether founded or not, can shake the very foundation of confidence of electorates in a process and the legitimacy of the political system. Beyond ensuring social distancing, adopting such a methodology can help political parties to ensure that such primaries meet the requisite standards of universal and equal suffrage, secret ballot, and free from intimidation or undue influence and whoever emerges as the party's flag bearer would be the true reflection of the will of the delegates, thereby entrenching internal democracy. The integrity and fairness of the processes will further help in earning the trust of the electorates.
Your own opinion articles are welcome at info@corp.legit.ng— drop an email telling us what you want to write about and why. More details in Legit.ng's step-by-step guide for guest contributors.
Contact us if you have any feedback, suggestions, complaints or compliments. We are also available on Twitter.
Follow LEGIT to keep pace with the latest news!
COVID-19: Nigerians speak on effects of ease of lockdown| Legit TV
Source: Legit.ng