Chiagozie Nweke: How Legit.ng brings smiles to faces of the downtrodden
Chiagozie Sunday Nweke is a child of destiny. And, indeed, destiny smiled on him. The young boy was not born without a leg. But that morning, on the date he could not remember, he woke up, took his bath, dressed up and bid his parents 'bye' as he headed to school.
The boy got to school, but did not return in the same. He was hit by a speeding vehicle on his way home. The result was amputation of one of his legs. Then, his life took a different curve. After what they could afford to care for him, his struggling parents could no longer afford his education. At a tender age and supported by crutches, Chiagozie started selling sachet water on a daily basis, not for himself, but for the family.
His father, ailing mother, and siblings, all living in an uncompleted building, depended on whatever he sold daily. This is how they kept body and soul waiting for God's intervention which came with the support of Legit.ng. In a series of follow-ups, Legit.ng issued useful reports that and followed up the story until the happiest moment for Chiagozie and his family.
It all started on April 3, 2020, when Ipoola Omisore, a former member of the Lagos state House of Assembly, posted the photograph of the boy armed with a crutch and with a bowl of sachet water on his head. Omisore urged Nigerians to help him search and find the boy because he was touched by his condition and was ready to help.
Legit.ng picked the story, called Omisore for a little detail and he explained that he was just going through posts randomly when he came across the photograph. He said even though he does not personally have all that the boy would require, he was ready to adopt the boy.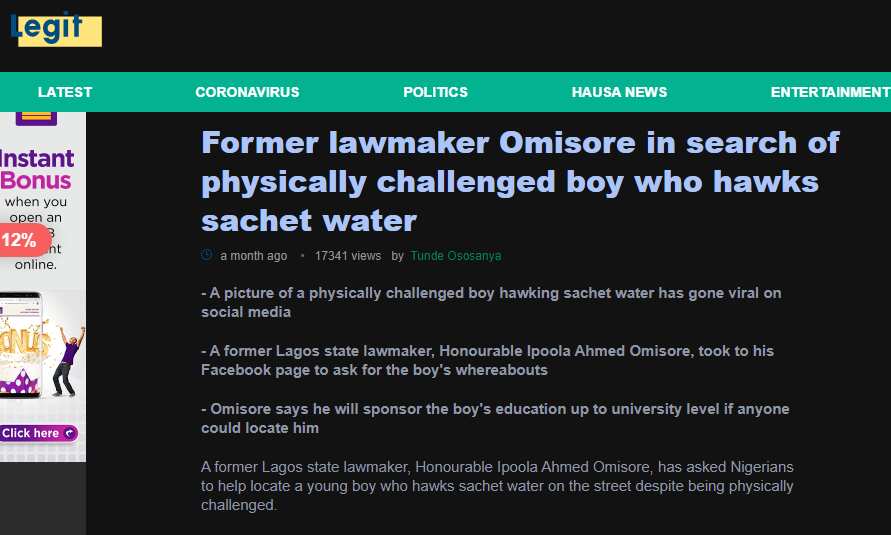 Moments after Legit.ng's story went viral, the former lawmaker called in to announce that Chiagozie, whose name was hitherto unknown, Nigeria's most populated and economic capital where Omisore lives.
The advertising guru said he was contacted and told about the boy and the condition of his parents. Photos were sent to him to prove that the boy and his parents truly needed help. He also explained on the phone how Legit.ng's story had helped spread the news about Chiagozie.
"My friends in different parts of Nigeria and in the diaspora are now seriously interested in the issue since they read it on Legit.ng. They have been calling me and promising to join me in ensuring that the boy goes back to school and live a good life," he said.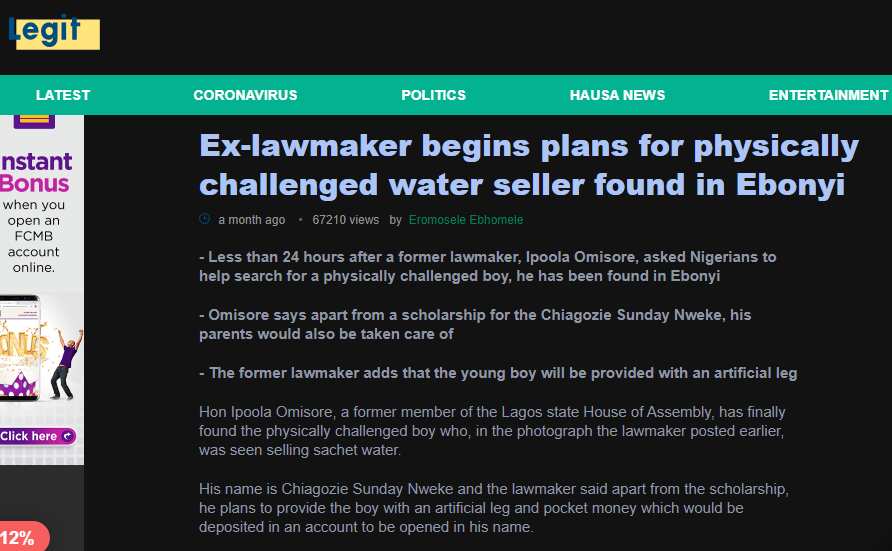 But a challenge cropped up. His parents could not afford to leave him with anyone for adoption. Omisore was left with no other option than to instruct that a special bank account be opened for the young Chiagozie for all donations.
Through his foundation, Omisore also promised to get a Prosthetic leg for Chiagozie.
"From my discussion with the parents, I got to know that they survive mostly on the sachet water the young boy sells and that he had been doing this diligently not minding his condition. All he wants is to see that they can eat.
"I have therefore asked them to go open an account in the boy's name because I got over 20 people, some from outside Nigeria, who have volunteered to help him and his parents," Omisore told Legit.ng.
Days after his discovery, Legit.ng published an update with photographs showing a happy and excited Chiagozie inside a banking hall moments after an account was opened for him. In an accompanying video, he spoke confirming to Nigerians that he had truly opened the account as dictated by Omisore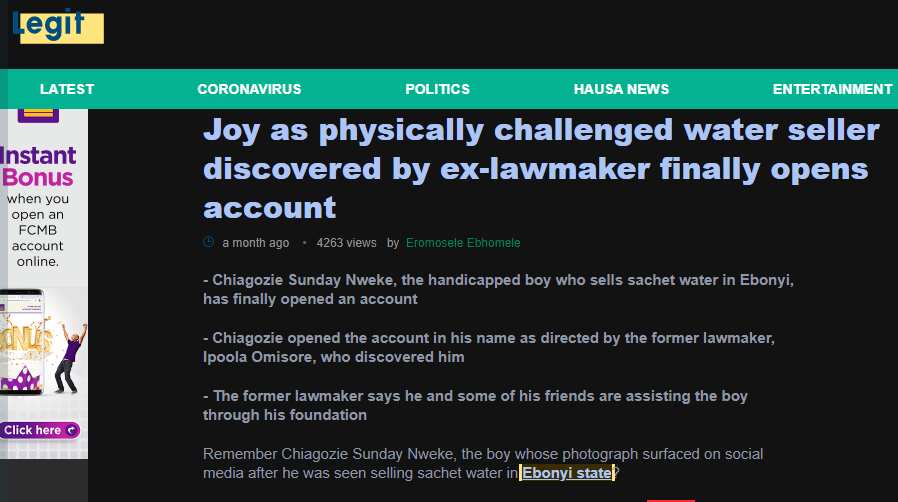 Then the gestures started coming. First was by an individual who got foodstuff to the family. Donations also commenced.
While Omisore approved an education scholarship from primary 4 to tertiary institution, the Anyichuks Foundation came into the picture announcing its intention to build a two-bedroom apartment for the family which will commence almost immediately.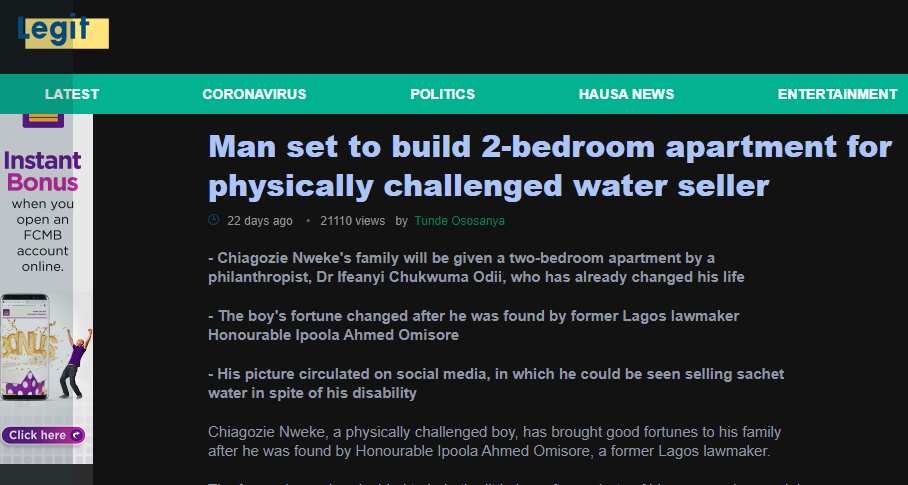 Ifeanyi Chukwuma Odii also gave the parents of Chiagozie N1 million to start a trade with professional supervision and advice from business experts.
I used to scavenge with my children - Slumdweller | Legit TV
Source: Legit.ng