Got talent? Legit.ng will spot it
For several years, Legit.ng has remained the leading name in digital content creation in Nigeria. From creating trending videos to shaping social media topics, influencing the decisions of policymakers through in-depth reportage and analysis of current events that matter to the people, we are unchallenged.
One other aspect of content creation where Legit.ng excels far above competitors is talent-spotting. If you have got skills, we have got your back. No matter where you are in Nigeria or overseas, we will find you.
Our readers now believe so much in our excellence at the creation of this kind that they always look forward to seeing which new talents we have spotted.
Some of those we have spotted and publicised include:
1. Rufus Oyelami
After going blind suddenly years ago, Rufus Oyelami has taken to sharpening his mind. He now has a rapier mind with which he faultlessly recites bible chapters and verses.
While several people try to cram words they see, Oyelami easily remembers the words of his favourite book, the bible.
Legit.ng found Oyelami at his Kajola base in Oyo state.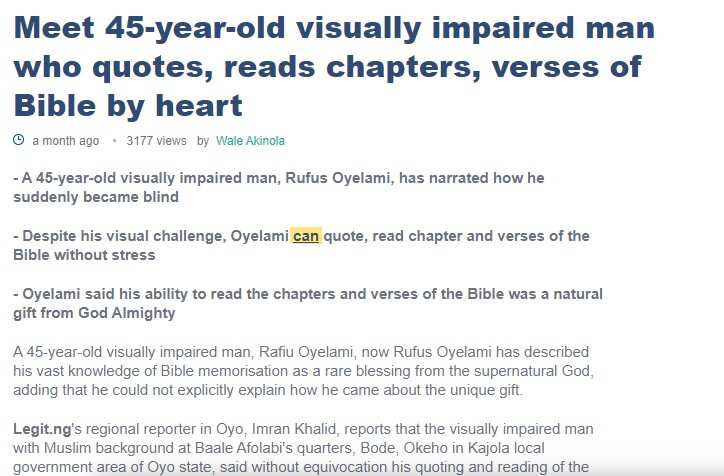 2. Abdul-Wahab Hassan:
He might only be a young boy but Abdul-Wahab Hassan has a technical ability that several people would love to have. Despite having no physical training, Hassan can repair damaged electronics without a problem.
He is much loved in his Kajola base in Oyo state where he uses his skills to help the community and of course, make some money for himself.
His skills were sniffed out by Legit.ng crew during our talent hunting season.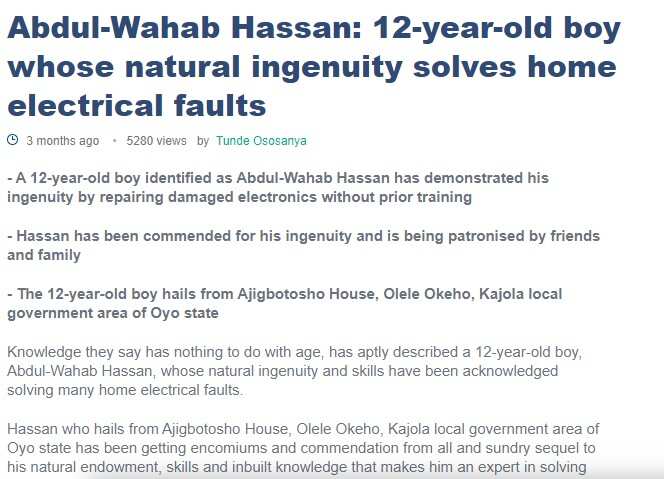 3. Ganiyu Ganiyat Ayanronke and Ganiyu Basirat Ayanfunke
The Ganiyu twins, Ganiyat and Basirat love music and they have outstanding skills at playing the drums.
As inborn talents go, the identical twins' drumming skills are excellent. They did not learn their skills for even a day.
The twins were discovered in Okeho in Oyo state by Legit.ng.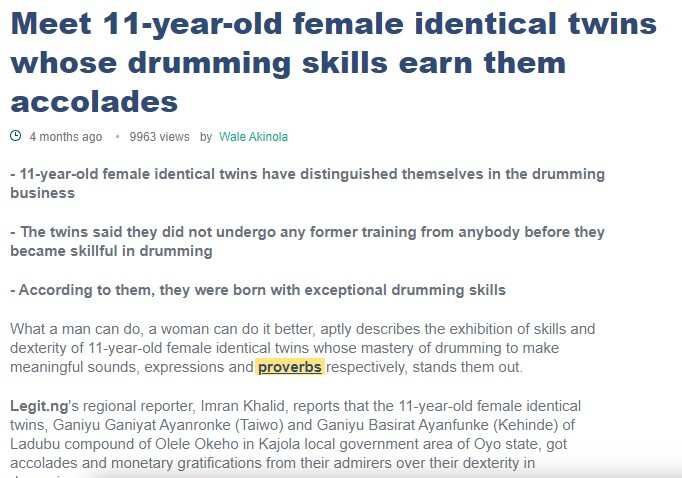 4. Ibrahim Sodeeq
Riding a bicycle is a skill that some people never learn. That is not the case with Ibrahim Sodeeq who can ride blind, literally.
Sodeeq, a native of Isale-Oke in Saki, Oyo state, may have lost his sight for a while but he can still ride a bicycle just like any able-bodied person can.
He is well known in his Isemi-Ile road area where he goes about his business riding to and fro without any help.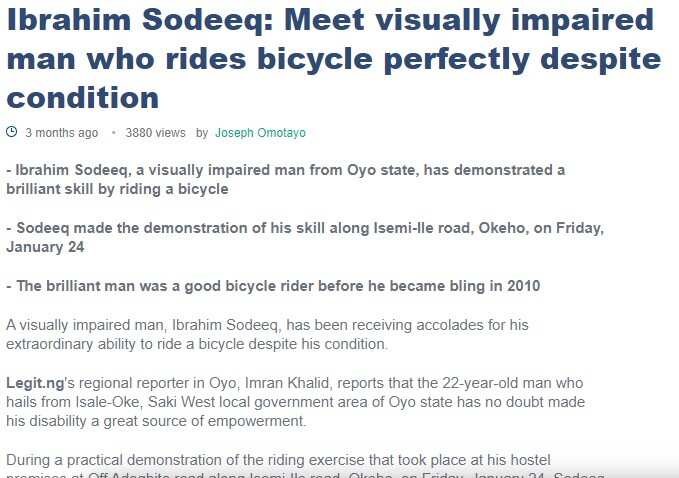 5. Jesse Nwodo
While nervousness makes some people barely able to string words together let alone deliver it before even an audience of two, Jesse Nwodo has no such problem.
The 200 level student of English language at the University of Ibadan is a star at speaking in front of large audiences.
Legit.ng visited Nwodo's school to see him excel for the 6th time at what he loves to do best - public speaking. This feat earned him a 2-year scholarship.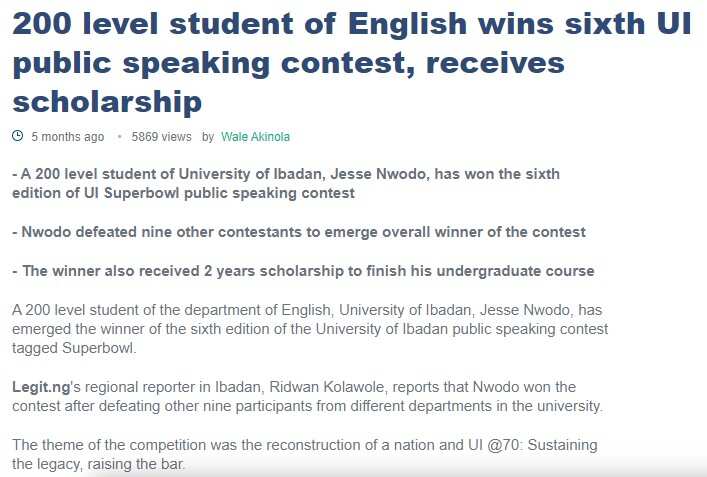 There are many more of these kinds of inspiring stories of ordinary people doing great things at Legit.ng. If you've got talent, we will spot it!
4-yr-old boxer: I want to become a world champion | Legit TV
Source: Legit