Williams and Iyanu: Two people Legit.ng's report helped get a new lease of life
For close to a decade of existence now, Nigeria's leading online newspaper, Legit.ng, and it's groundbreaking reports and exclusive videos have not only caught the attention of the masses, but have also helped change the lives of Nigerians.
Legit.ng has not only kept Nigerians informed but also offered solution-based journalism as we tell their stories to well meaning compatriots that render life-changing help; this was the case of Williams Zanu and Iyanuoluwa Akintunde.
1. Iyanuoluwa Akintunde - The Libya returnee who was sold with pregnancy by a Nigerian
In an interview with Legit.ng, 24-year-old Iyanuoluwa explained how a Nigerian sold her with pregnancy as a slave in Libya.
Having spent three (3) months in prison in Libya and rescued back to Nigeria, Iyanuoluwa doesn't know where to start from, but after Legit.ng's exclusive video went viral, Iyanu got help from well meaning Nigerians.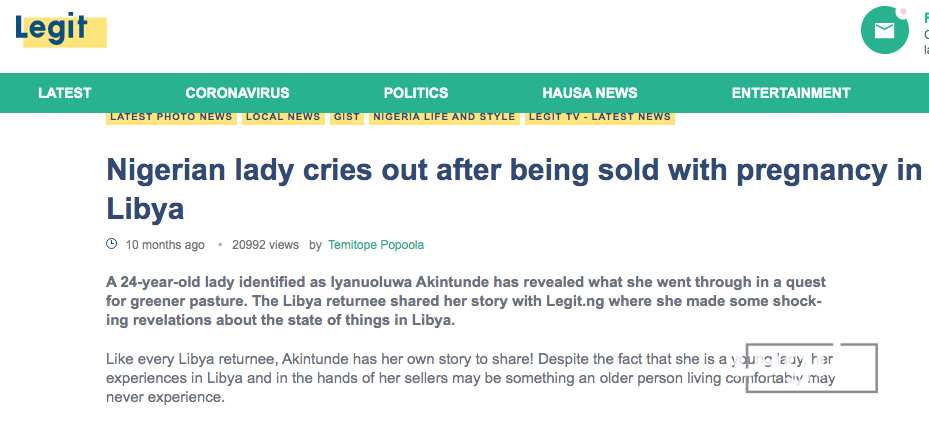 The lady received a sum of N180,000 someone sent to us to rent an apartment and shop, someone gave her money to buy equipments while other Legit.ng readers sent money to her directly.
Iyanu was excited and she appreciated her helpers with prayers.
2. Williams Zanu gets sponsored to the University after Legit.ng interview
But if Iyanuoluwa Akintunde's story was emotional, the story of a certain young man Williams Zanu was inspiring.
Help came for Zannu after Legit.ng spoke to him; he opened up on his challenges and was fortunate enough to find kind-hearted Nigerians who were willing to change his story and help him grow despite the lack of finances that has stalled his educational progress.
After people got exposed to Zannu's interview, many promised to help him. However, only two persons went the extra mile by reaching out to the correspondents at Legit.ng and coming through with their promises. The two sponsors who came to the young man's aid begged to remain anonymous.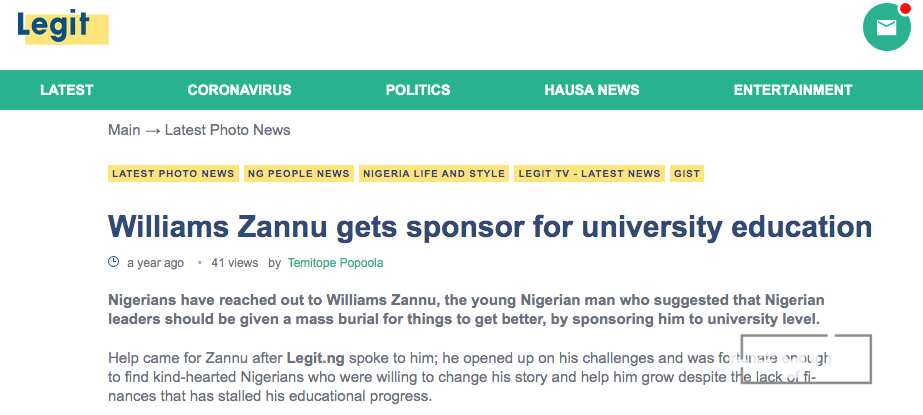 Zanu's father who was present as at the time of the interview expressed his sadness over the situation of things. He said that his children have not been able to go far academically. Speaking about Zanu, he said that the young man has always shown certain dexterity towards all things legit in a quest to make it in life.
Zannu promised to study hard and not to let anyone down with the opportunity placed before him. He considers all these to be the divine intervention of God and the breaking of limiting chains in the family.
Here at Legit, we will continue to make a strong impact in the lives of Nigerians as we thank you for sharing your stories with us.
Source: Legit.ng