Zemfira, whose personal life is the subject of intense media scrutiny and admirers of her talent, burst into the music world of the 2000s as a bright star. The singer puts her own freedom and right to be herself above all social rules and norms. This is why she has repeatedly become the subject of various media speculation and scandals. In particular, they concerned her personal life. We suggest to understand what secrets Zemfira conceals from the public.
Zemfira: private life, orientation
Zemfira, whose songs are the real musical discovery of the new millennium, has long been a cult singer. Her songs appeal to people of different ethnic groups - those who love rock, those who were raised on Victor Tsoi's music, those attracted to the singer's sincerity and rebellion against stereotypes.
Zemfira Ramazanova is a symbol of the birth of youth rock culture. It is in this role that she is written about in school textbooks. The singer is among the top 100 richest women in Russia. A talented, unusual, outspoken but laconic when off-stage personality, Zemfira has attracted the close attention of tabloids and yellow journalism reporters.
The singer puts her personal freedom above all else. Her work is proof of this. In songs she opens a soul, but about herself, her hobbies and her personal life, the singer prefers not to spread recently. So journalists are left to presume and guess what is actually going on in Zemfira's life and who won her heart.
The fact that the performer still has no family, never expressed any desire to create one, never talked about wanting to have children, and given her style of dress and behavior (masculine rather than feminine), her proximity to famous women, has given rise to rumors of Zemfira's non-traditional sexual orientation.
We suggest to find out whether this is really the case or such behavior is just provocation of society, a PR move and a protest against social dogmas.
Much has been written about Zemfira's love affairs. Some of them did become part of the singer's biography, while others were invented herself for curious journalists. We suggest comparing the facts and making a conclusion about where the truth is and where the illusion has been created skillfully.
Here are the romantic stories of Zemfira which are usually talked about in press:
The fact that a former classmate at the Ufa Music School was Zemfira's first love was long written in a lot of publications.
They performed together in a restaurant in the capital of Bashkortostan in 1995-1996. In 2016, however, Vlad Kolchin published an autobiographical book, "Music as a Chance to Overcome Multiple Sclerosis", in which he told the truth about their relationship.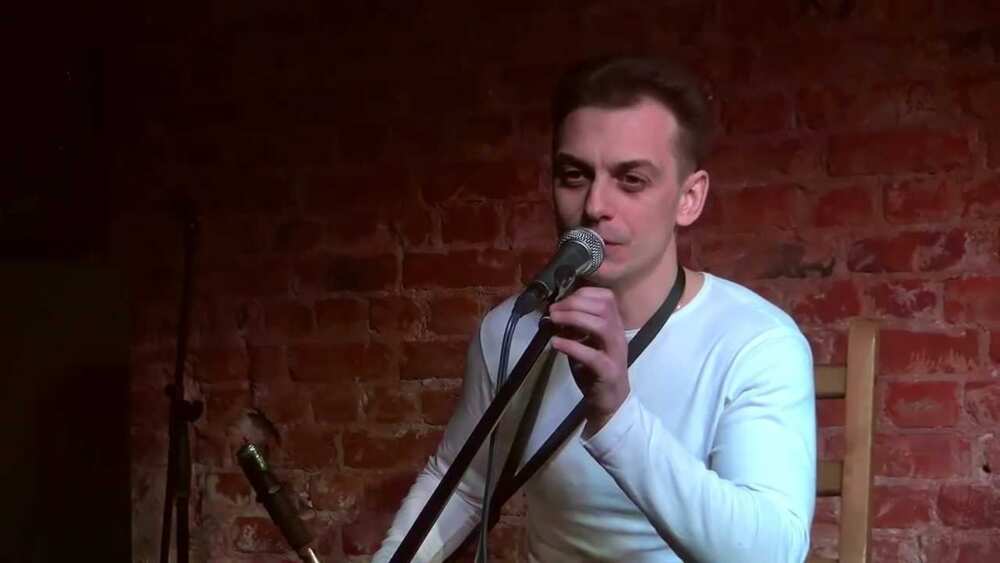 As it turned out, Zemfira agreed to play out love with Vlad because the owner of the restaurant "Gespar" was showing attention to him. The girl helped the saxophonist escape persecution and harassment. Soon Vlad left for St. Petersburg, and Zemfira remained to pursue a career in Ufa. Even then, Kolchin spoke about the singer's masculine features, her rigidity and sharpness.
Common friends claimed that Zemfira had fallen in love with the black-eyed lead singer of the band and could not forgive him for his betrayal. Vlad is now battling a serious disease called multiple sclerosis. The singer continues to communicate with him and helps him. As the musician himself says, what brings them together is that they are both self-sufficient in their solitude.
In 1996, Zemfira began her career as a sound engineer on Europe Plus, a popular radio station in Ufa. The girl is patronised by the director of the studio, Sergei Anatsky.
Zemfira took her workplace romance seriously, and she began to talk about living together. But dreams quickly fell apart: Anatsky was married and did not want to disturb his status quo. Once again, Zemfira's heart was broken.
To finally get rid of her love feelings, she moves to Moscow, where she quickly becomes mega-popular and mega-closed. There, Zemfira avoids answering questions about her personal life and romantic feelings.
In the early 2000s, a report appeared in the press about the upcoming wedding of Zemfira and the group "Tantsy minus" leader Vyacheslav Petkun. Zemfira has hinted at her fondness for the musician.
But this love story was a routine PR move. Zemfira thus satisfied the craving for hot news about her personal life felt by fans and journalists.
Another love myth was invented by journalists. The well-known billionaire has made no secret of the fact that he is a fan of Zemfira's works. He has appeared at her concerts and album launch parties, as in 2005, when the singer presented her compilation, "Vendetta," to the public.
Abramovich was a maecenas, financially supporting the rock performer. Their relationships were friendly and businesslike, but the tabloid press decided to play on this fact and created a story about a rich man's romantic affair with a singer.
In 2000, Anastasia Kalmanovich became Zemfira's producer and director. In the meantime, a piquant gossip about the intimate relationship between the two women is born. It is fueled by the fact that Kalmanovich left her husband Shabtai.
Now the famous actress and producer denies this connection and cites other reasons for her divorce, all the more so because in 2009 Zemfira betrayed Anastasia.
After her ex-husband's death, Kalmanovich sought for custody of their daughter, Daniella. Zemfira did not support her in this struggle, despite Anastasia's pleas and appeals. Moreover, the singer deleted from her official biography all the mentions of Kalmanovich's participation in her music career.
The story of the affair went away on its own: Zemfira declined to comment on any facts that might suggest she had an affair with the producer. Soon more revealing facts about her relationships with women emerged: Renata Litvinova burst into Zemfira's life.
Renata Litvinova and Zemfira: relationship
Renata Litvinova and Zemfira began appearing in public together in 2005. Journalists and fans of these talented and eccentric women immediately had questions about their relationships.
That's because their appearances at parties, film festivals, weekends together and vacations looked more than extravagant. Zemfira and Renata behaved like an unconventional couple. The slightly angular and coarse singer and the beautiful, feminine actress resembled the couple.
They were brought together by joint creative projects. Zemfira wrote music for Renata Litvinova's films and productions and continues to do so, and the actress helps the singer to direct videos. In interviews, the women repeatedly emphasized their friendship and called each other close people.
On Zemfira's birthday in 2015, Renata Litvinova was the first to congratulate her on Instagram. She wrote a touching, tender post. Some followers later claimed the word 'loved' was present at first but then deleted by the author.
The public behavior of Renata and Zemfira also revealed the women's close relationship. In 2008, a verbal skirmish between the actress and Ksenia Sobchak ended with a tirade by the singer, full of obscene language, which resolved the conflict in Litvinova's favor.
In the same year, a journalist for Muz-TV was slapped by Zemfira for asking Renata at a press conference about a relationship with the singer. It is known that Litvinova is raising a minor daughter, whom she studiously protects from all gossips and journalistic speculations. It is likely that, in her usual extravagant way, Zemfira decided to protect and support her friend.
Renata Litvinova's scandalous same-sex love story with Zemfira gained momentum in 2017 when news of the marriage between the women appeared in the press. Allegedly, this event occurred in Stockholm. After the wedding, the ladies, according to the journalists, went on a honeymoon trip to the Estonian capital.
The reason for this speculation was the identical rings on Litvinova's and Ramazanova's annulars, which the journalists noticed. However, the actress' assistant quickly denied the rumors. Besides, simple logic refutes this version of events. To get married in Sweden, at least one from the couple must be a citizen. Neither Litvinova nor Zemfira is.
The creative tandem evokes a lot of gossips. This upsets Renata and irritates Zemfira. But it is conceivable that they, too, are supporting the legend to draw attention to their activities. Zemfira's popularity is fading, and any scandal fuels interest.
The question of whether or not Zemfira has romantic relations with men or women is in no way reflected in the emotional and spiritual potential that her songs have.
Zemfira is an accomplished musician. She has gone down in the history of rock music as a talented and original performer.