TV presenter working from home accidentally broadcasts husband's privates
- Melinda Meza, a journalist at KCRA, happily filmed a hair tutorial that would serve women as they stayed home and away from salons
- Little did she know her hubby's goodies were also part of the informative segment, thanks to her mirror-filled bathroom
- The reporter had no idea her video captured her husband in their shower cubicle busy bathing without a clue that his privates were serving as entertainment for thousands of viewers
A TV presenter working from home has been left red-faced after exposing her husband's joystick by mistake on live TV.
Melinda Meza, a KCRA reporter, decided to air a segment on how to care for hair at home during lockdown when the oops moment occurred.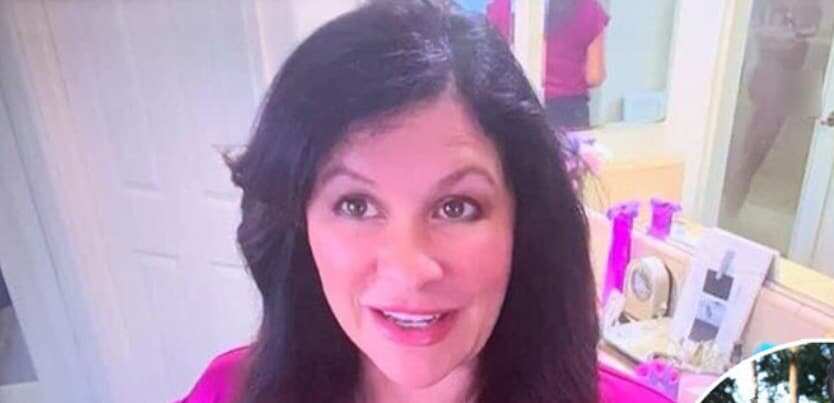 The smiling journalist went to her bathroom mirror to get a better view of what she was doing to her mane and ended up recording her hubby's shower time.
Her viewers got a front row seat to a free movie and chased away their dry spell as soon as they spotted the wonder hidden in the video.
All through her segment, the TV girl had no idea her hubby's privates were free for all and she continued speaking as her mortified workmates watched in pain.
She went on with her narration as she clipped her hair and smiled at the camera not knowing women were busy admiring how lucky and blessed she was to have a well-endowed hubby.
And instead of focusing on what Melinda was saying, viewers feasted on the free show and hoped the segment would last a little longer.
"Oh she is brave," one of her workmates in studio exclaimed as she tried to digest the eyeful she had just consumed.
As soon as the segment was over, Twitter was awash with new fans who could not help but appreciate the sight that had met their eyes earlier on.
PAY ATTENTION: Install our latest app for Android, read the best news on Nigeria's #1 news app
Melinda and her hubby had a new fan base that consisted of women who wanted what they could not have.
To them, it would be hard to focus on work when such a distraction was staring right at them.
In other news, no soul-crushing commute, no manager or co-workers hanging over your shoulder, nobody stealing your lunch from the office fridge; remote work is good but it is not without its challenges.
And as the pandemic spreads across the globe, more and more people have been forced to go to extreme measures to protect themselves, and this includes working from home.
I can train dogs to detect Coronavirus carriers - dog trainer | Legit TV
Source: Legit.ng