Dominique Mcelligott bio: Age, height, movies and TV shows
Dominique McElligott is one of the familiar faces in Hollywood streets. She is a renowned independent actress who has made appearances in films that went on to become great hits. She is of Irish descent. She has been in the industry for quite a while and is known for popular films such as the Moon. Apart from this movie, she has also been on several TV shows, including Hell on Wheels, The Astronaut Wives Club, as well as House of Cards. Her appearance in these shows makes her an excellent actress. Furthermore, she has recently been recognized for her role in Queen Maeve's, The Boys TV series.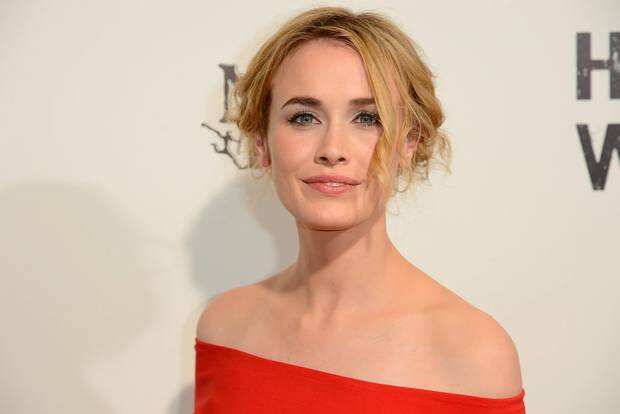 The Irish actress starred in the 2009 movie, which is one of the movies that propelled her to stardom. She was also part of the RTÉ television series Raw before she left the film Leap Year in 2010. She went on to take roles in 2011 to 2012 when she played the lead role in the AMC series Hell on Wheels.
A lot of her fans know her from the 2015 film where she starred in ABC's The Astronaut Wives Club. She is also remembered for the role she played in 2016 where she acted as Hannah Conway, the wife of the shows Republican presidential nominee. She took the role in the fourth and fifth season of the Netflix show House of Cards.
Dominique McElligott profile summary
Name: Dominique McElligott
Date of birth: 5.03.1986
Age: 34 years old
Place of birth: Dublin, Ireland
Profession: Actress
Dominique McElligott bio
Having been around as an actress who takes roles in independent movies, her brilliant acting skill has put her on the map. However, there is a lot more to learn about the actress.
Dominique McElligott age and early life
Even though she loves to keep a low profile about life, Dominique McElligott was born on March 5, 1986, in Dublin, Ireland. She was born in Ireland, which makes her an Irish by nationality. She is also of white ethnicity. As it appears for most of her personal life details, the actress prefers to keep things under wraps. She has not revealed any details about her parents or family.
Career progression
Dominique McElligott began her career in 2001. This was when she took up a role as Cora Collins in the On Home Ground TV series. She went on to work in the Whiskey Echo TV movie.
As a renowned talented actress, she also got the opportunity to work in various movies back in 2008. Some of these films include the Dark Floors, Satellites & Meteorites, and Being Human TV series. She also acted as Tess Bell in the movie Moo. She also appeared on the television series, The Philanthropist, which came in the next year. The different roles she has played in cast her as a versatile and extremely talented actress.
But that is not all there is to know about Dominique. She also got featured alongside Ben Esler, Phil Burke, Christopher Heyerdahl, and Jake Weber in the television series Heel on Wheels from 2011 to 2012. She also appeared in two more movies, such as The Guard and Blackthorn, both in 2011.
Dominique McElligott movies and TV shows
While many know her as Dominique McElligott The Boys actress, she has appeared in a lot more films. These include:
The Boys as Queen Maeve in 2019
Hell on Wheels as Lily Bell from 2011 to 2016
The Astronaut Wives Club as Louise Shepard from 2015 to 2016
Blackthorn as Etta in 2011
Leap Year as the bride in 2010
Moon in 2008
On Home Ground as Cora Collins in 2003
Dominique McElligott husband
A lot of fans can testify that she is a great wife, at least according to movies in which she has featured in. If you are a die-hard fan, there is a chance that you have seen the beautiful and talented Irish actress Dominique McElligott married a couple of times.
However, in real life, a lot about her relationship remains unknown. In fact, her actual relationship status is one of the many questions that fans have to ask themselves. It is a subject of curiosity.
Dominique McElligott, who portrays the role of Hannah Conway in the TV series 'House of Cards,' acts as the wife of the New York Governor and Republican presidential nominee, Will Conway. She does such a good job in this role that it is impossible to imagine her as anything less than a wife in real life.
While she is an excellent wife in most of the roles she plays, her relationship status remains a mystery for many. She continues to keep things close to her chest. This means that no one can ascertain whether or not she is dating anyone. It is also not clear if she has ever been married before. She is the kind of actress that loves to keep everything about her private life out of the public eye.
Dominique McElligott measurements
Dominique McElligott height is impressive. If you check out any of Dominique McElligott hot pics, you can tell that she is an extremely beautiful woman. She is 5 feet, 8 inches or 1.72 m tall. She also has other striking measurements that include:
Weight: 55 kg /122 lbs
Body measurements: 34-24-35 inches.
Bra Size/breast: 32B.
Waist: 24 inches.
Hips: 35 inches.
Body type: Hourglass.
Dress Size: 5 (US)
Dominique McElligott Marrie is an excellent actress. Even though she keeps a lot about her life private, Dominique McElligott goes down history as an actress whose skills and presentation will capture your attention every time.
Source: Legit.ng