- Following the 14-day lockdown by the federal government, the demand for some goods increased leading to hike in their cost price
- Legit.ng checked out the list of some goods whose demand have risen following the directives by the Federal Government, as they tend to top the shoppers list in Lagos market
- Interestingly, these goods listed below became expensive few hours before the commencement of the lockdown and the tide was turned in the favour of the traders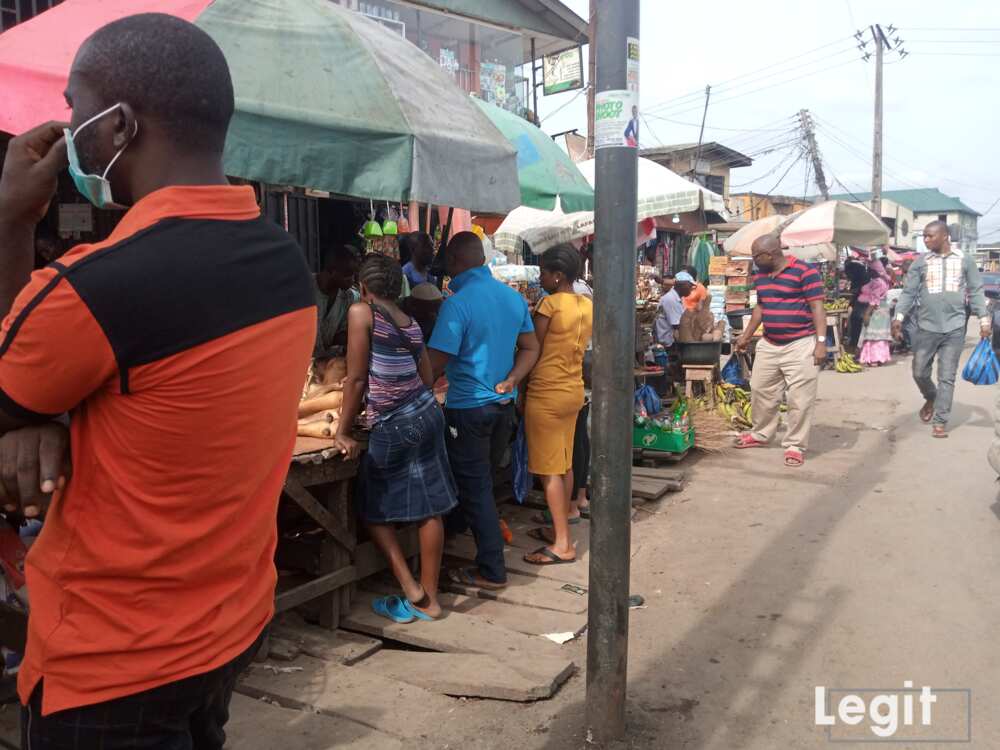 With the emergence of new cases of Coronavirus, the Federal government issued a 14-day lockdown enforced in Lagos, Ogun and the nation's capital, Abuja.
Having declared the virus an infectious disease, the directive was part of its efforts to protect the citizens and prevent further spread of the virus, after recording its second death.
Meanwhile, the announcement triggered panic among the residents in aforementioned states resulting to panic buying. The pandemic has disrupted businesses both small and large as well as the modern society leading to further threat on the overall well-being of the people at home and abroad.
At the market, food items like rice, beans, garri, and more are basic items that were shopped for in high demand this period. Before the lockdown, the prices of these goods were low but few hours after the directives by the federal government, the prices increased drastically with some traders running out of stock of the goods.
In view of these happenings in the market, Legit.ng came up with goods whose demand increased following the lockdown and why.
RICE AND BEANS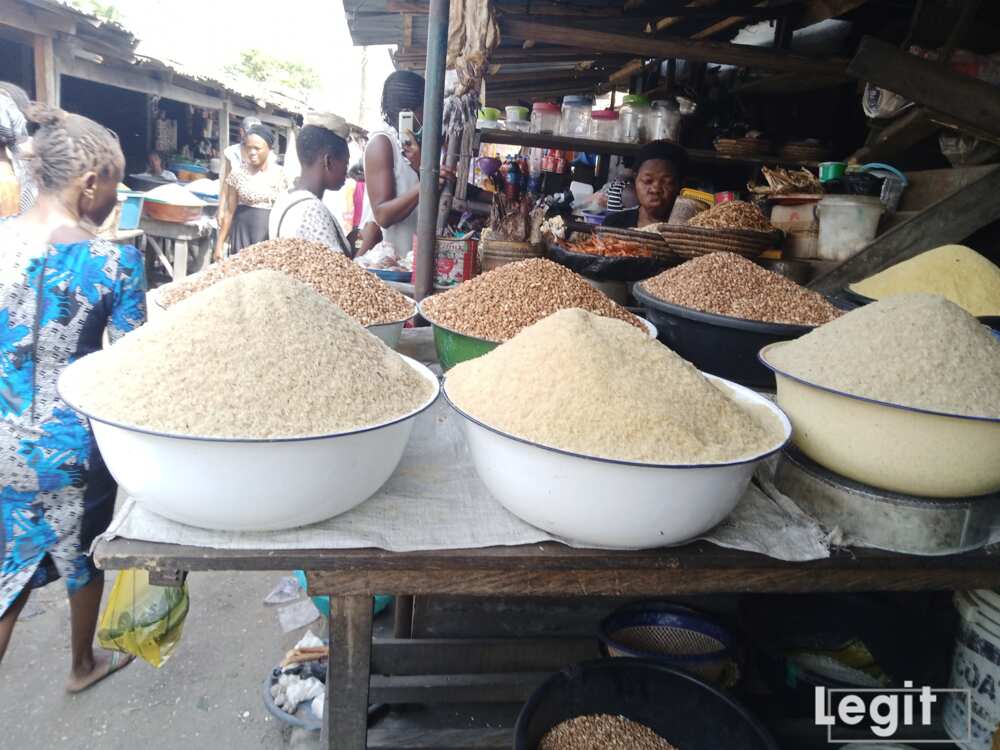 Rice can be prepared in various ways and all the delicacies prepared with rice are absolutely delicious. Its preparations are tasteful and nutritional, it makes one feel satiated even when consumed in small portions; this makes it easy to keep a tab on calories.
Beans are very healthy. They are rich in protein, fiber, copper, folate, iron, magnesium, potassium and zinc.
Beans are considered to be one of the best sources of anti-oxidants. It is incorporated into the diet in many ways making it one basic food item with increased demand in markets across the country. These items are considered to be among the top list of buyers in the country.
In recent times, there's been fluctuation in the cost price of these goods due to the border closure, weather conditions and security issues in the co untry.
As buyers engaged in panic buying, these items were top on the list of most shoppers in the market because of their nutritional value as well as the preference by most buyers.
Few hours to the lockdown, the cost price of rice and beans increased a bit. A bag of local rice depending on the type was sold from N18,000 upwards and foreign rice cost N30,000 while a bag of beans ranges from N18,000 upwards now.
In the course of our findings, rice sellers expressed satisfaction over the level of sales in less than 24-hours as buyers purchase the food items according to their purse.
Both white rice and whole grain brown rice are gluten-free and make for a perfect staple to go for if you are on diabetic diet especially if you are scared of consuming it daily this period.
It is therefore important to note that these goods are of high demand in various markets across the state due to the preference of most buyers hence their supply in the market is always very high.
Prior to this period, rice has been the most expensive food item in the market and consumers have not stopped lamenting due to its unstable price- especially those produced within the country.
GARRI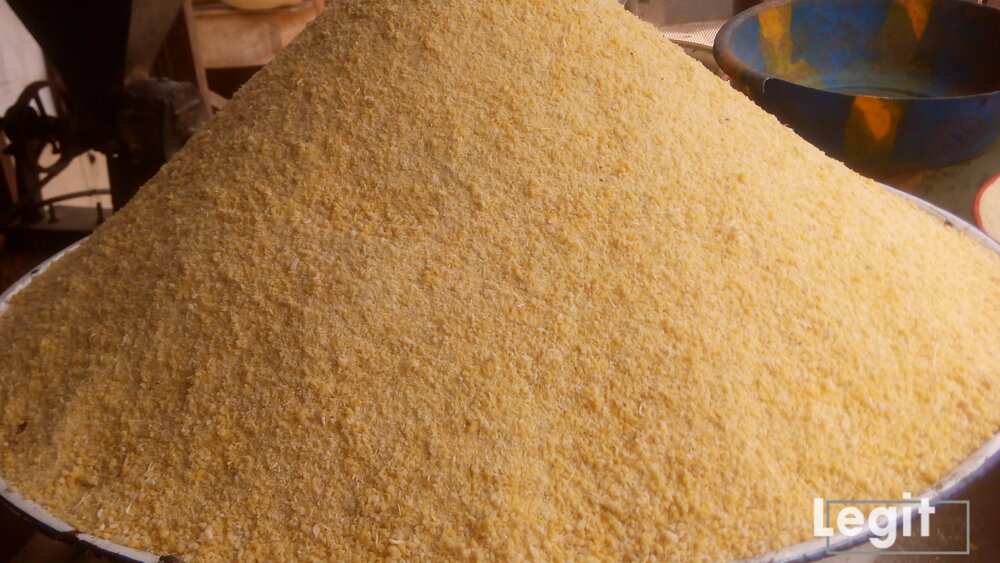 When listing one food item on the list of a good Nigerian woman, garri is one foodstuff item in the kitchen. It is loved by the young and old, the rich and poor.
Derived from cassava tubers by many tribes, due to its affordability, the consumption pattern of this item continue to rise leading to its increasing demand from buyers in various markets across the state as it is one of the quickest meals you can prepare. Some prefer drinking it while others enjoy it with delicious soup. It is a must have in a Nigerian home.
This staple food is one that every one craves for and it is produced locally. Despite this assertion, buyers lament over the inflating price of this item in previous weeks. Few hours before the lockdown, a bag of garri was sold from N14,000 upwards while its paint bucket was sold from N1,100 upwards as against its old price of N10,000 and N500.
So presently, garri is one item whose price remains unstable in various markets across the state due to its increasing demand, seasonal factors and the outbreak of the virus.
OGBONO, MELON (EGUSI), CRAYFISH AND DRY PEPPER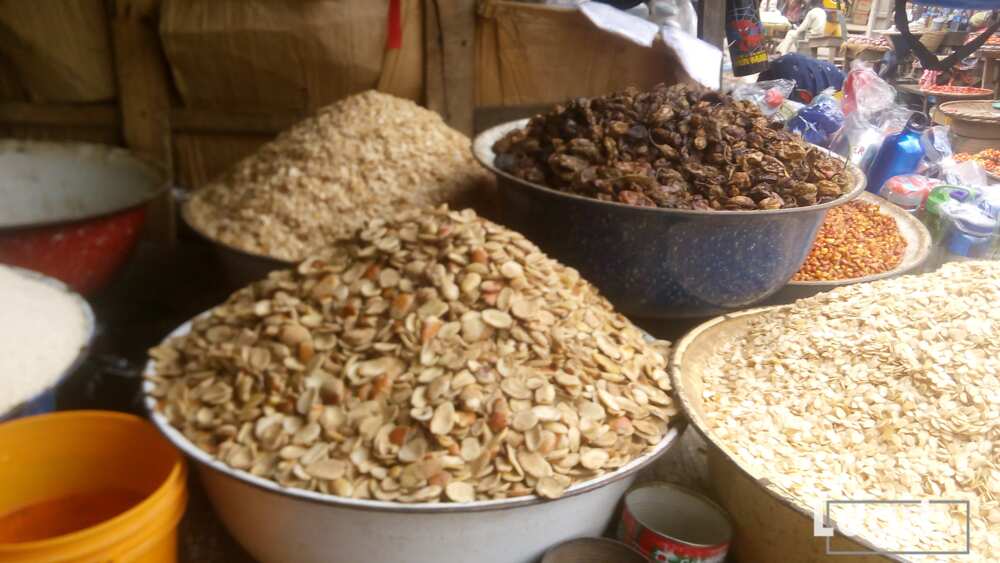 These popular items are rich in protein and several vitamins that are great for fighting for the skin, digestion and fighting inflammation.
The love for swallow by many leads to the preference of these two foodstuff items. Ogbono and Egusi are foodstuff items that are of high demand in markets across the country.
Often tagged as expensive items in the market, ogbono and egusi are enjoyed with whole wheat, semolina, pounded yam and even garri (eba). These two items are unarguably the most popular foodstuff item in the market and the most sought after in the market.
Produced within the country, the price of egusi and ogbono has been one that was stable this period despite its increasing demand by buyers who engaged in panic buying before the lockdown.
Their prices are often influenced by seasonal factors, weather condition and most importantly, the economy.
These foods listed above may not be edible if palm-oil and vegetable-oil is not added to them. The cost price of these items were stable and the demand was high at the market visited.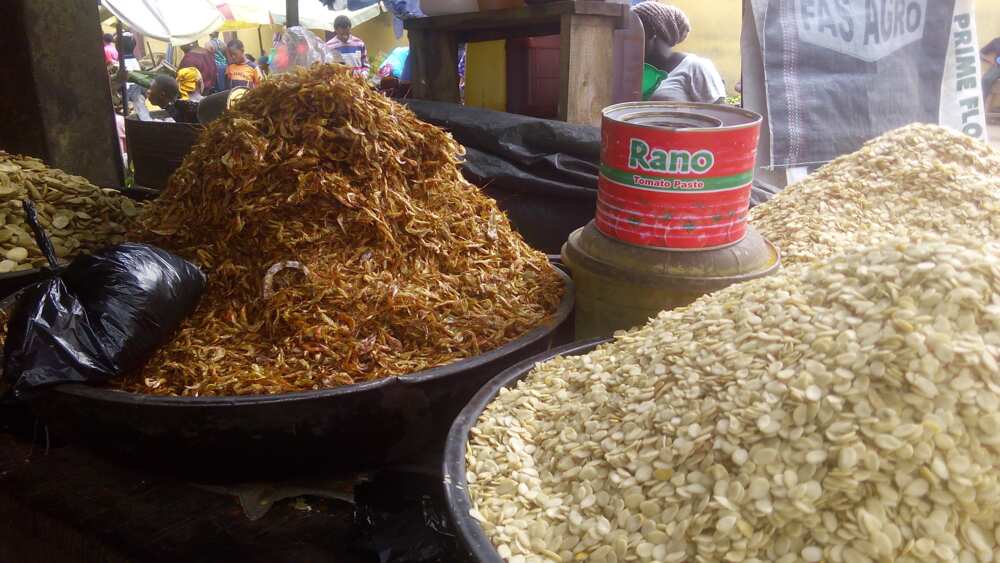 The demand for these items increased before the lockdown because their cost price reduced with high supply as informed by the traders. A bag of egusi cost N45,000 while that of ogbono ranges from N80,000, N90,000 respectively as the that draws well is very expensive and mostly demanded by buyers.
They both maintained stability in prices despite the rush by buyers few hours before the lockdown.
Moreso, the demand for crayfish and dry pepper was very high yet; their cost price was relatively low at the market.
PERISHABLE GOODS (tomato, pepper and onions)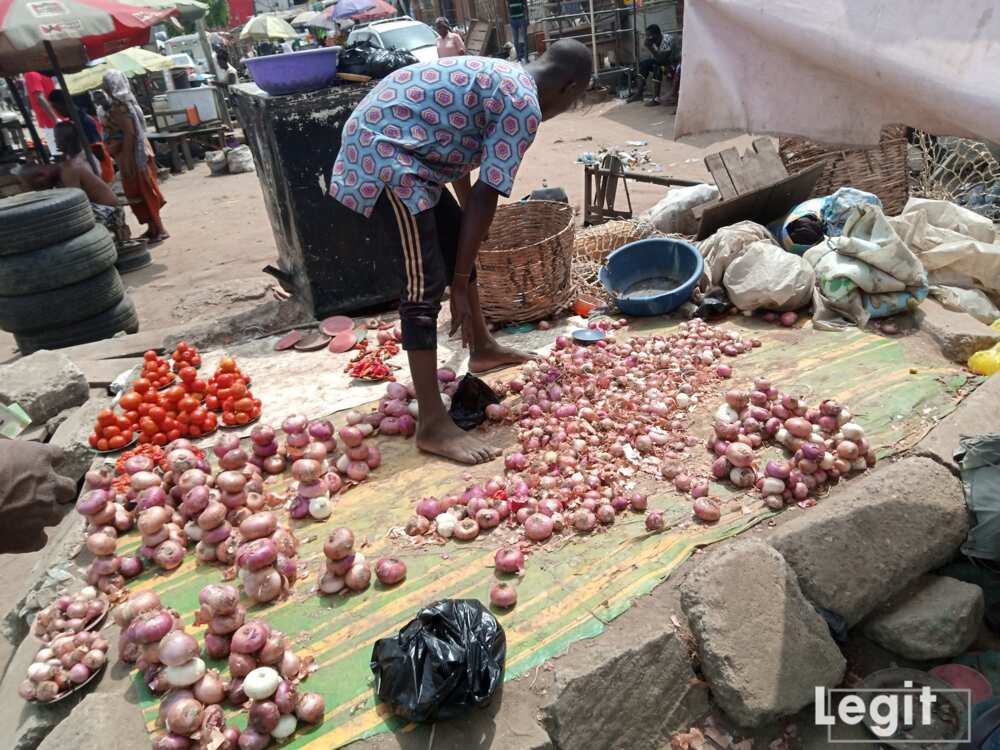 Some meals are not complete without these items. It would be interesting to note that the cost price of these goods remain stable. They were still sold at affordable rates even after the directives by the federal government.
The demand for these items before the lockdown was high in the market, yet the produce maintained its old prices.
At the market, these goods were sold from as low as N100 as the supply was high and the demand higher. Due to its perishable nature, traders reduced the cost price drastically so as not to run at a loss following the lockdown.
A basket of fresh tomatoes was sold from N8,000 upwards and the smashed ones from N5,000. A big bag of pepper was sold from N10,000 and small ones are sold from N3,000 upwards. For onion, it is very affordable and the demand was high following the health benefits relating to the virus. A bag cost N15,000 and the big was sold from N26,000 upwards.
Also, the demand for fish, cow hides (ponmo) and stock fish was very high because most buyers cannot prepare a delicious meal without these items hence their cost price was higher beyond buyers imagination.
Fish when compared with meat, appears to be a healthier alternative. There are hundreds of fish species in Nigeria; catfish, tilapia, cod and mackerel to mention but a few. Interestingly, you can cook, grill, fry or roast them. For some buyers, they adjusted their preference as they opted for affordable ones rather than quality ones in the market.
Housewives and even married men, adopted new strategies in other to cope with the escalated prices of the goods; a higher number of buyers purchase panla fish, (stock and dry), kote and sawa fish rather than Titus or croaker fish. While few go for turkey and chicken.
Traders who sold these items recorded huge sales following the lockdown and they were really amazed at the level of demand within hours.
A carton of Titus fish was sold from N16,000 and N18,000 respectively, a carton of panla fish, was sold from N10,000 upwards while croaker fish is very expensive amongst them all. A carton goes from N28,000 upwards. For chicken, turkey is also not left out as a carton before cost about N9,000 and N10,000 but now, has risen to N12,000 and N11,000 respectively.
It is advisable for you to consume more chicken and fish with less red meat.
PROVISIONAL ITEMS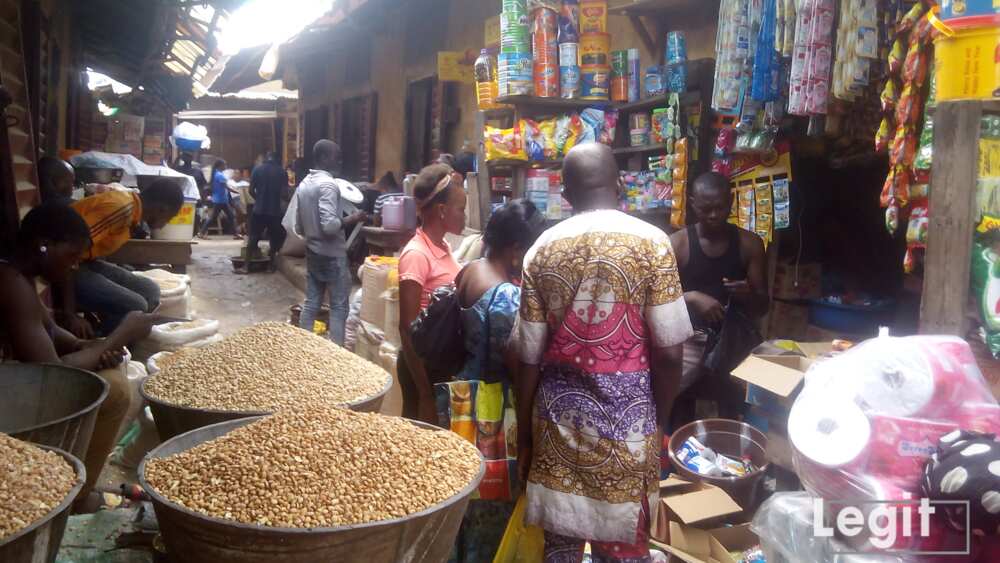 Provisional items like dairy products, detergents, flakes, cereals, bath soap, toiletries and more, were in high demand following the lockdown.
Milk is rich in bone-building nutrients such as calcium and Vitamin D, but it may also help your body use fat for energy instead of storing it. Milk will be great as part of a healthy diet which makes its demand high in the market lately. Mothers and guardian purchased this item in large quantities so as not to be caught off-guard in the next fourteen days.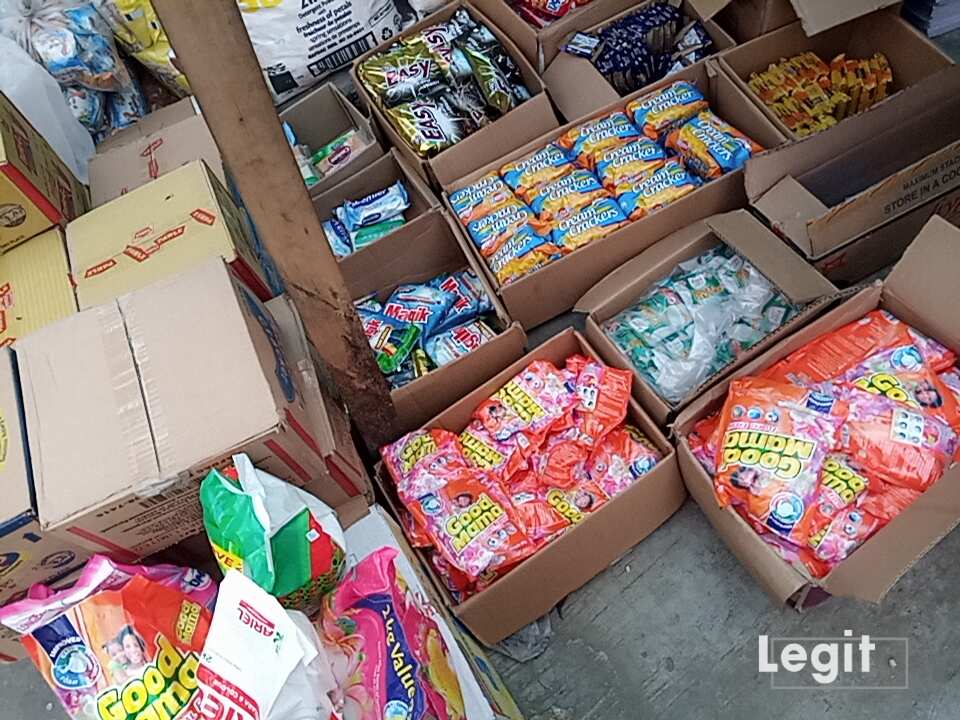 At the market, dairy products increased by three percent while goods like tissue, noodles, detergent, and bath soap maintained stable prices.
VEGETABLES/FRUITS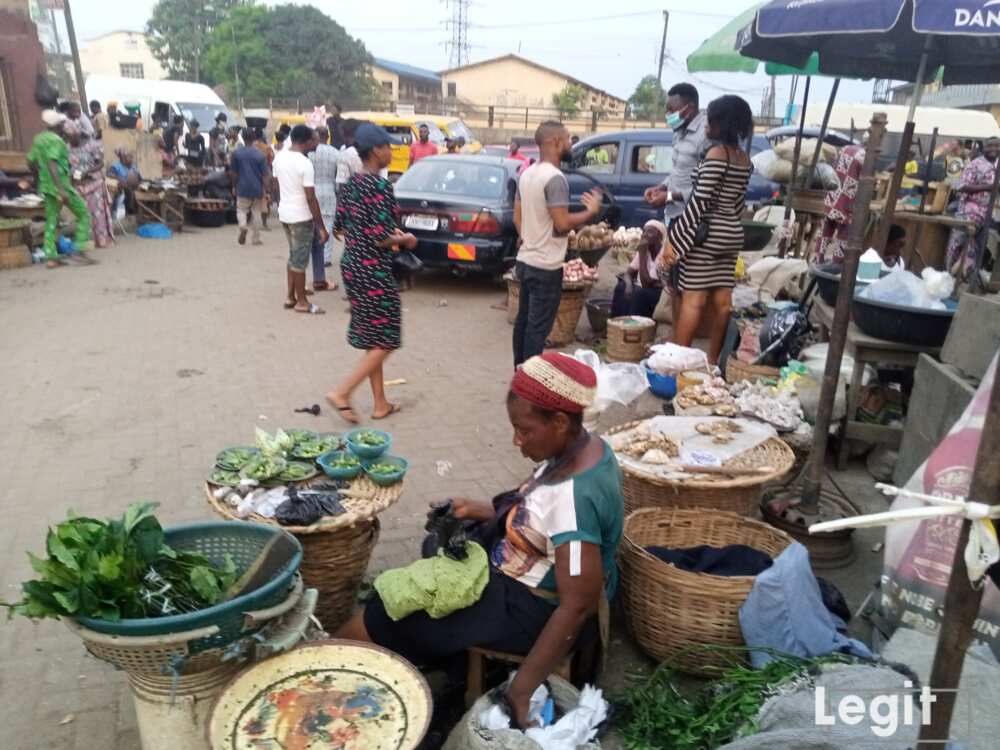 Vegetables are perfect combinations and pretty cheap in this part of the world.
This is one item most housewives cannot do without because of its nutritional value. It is not really difficult to get this item but the increasing demand of the item this period, not only influences its cost but affects its quantity.
Vegetables like pumpkin leaves, waterleaf, and bitter leaf to mention but a few are rich in antioxidant that help prevent illness by boosting blood production and promotes fertility. It also serves as an anti-diabetic agent that can help regulate the blood glucose level.
Due to their health benefits, fruits were in high demand at the market few hours before the lockdown and their prices were not inflated by the traders. As some were sold from as low as N50; this affordability in its prices, led to higher demand by the buyers. Fruits and vegetable like garlic, ginger, aloe-vera, mango, African star apple (agbalumo), ginger, oranges, avocado, carrot, apple, banana and more are tasty and high in fiber and folate that can be incorporated into our daily diet.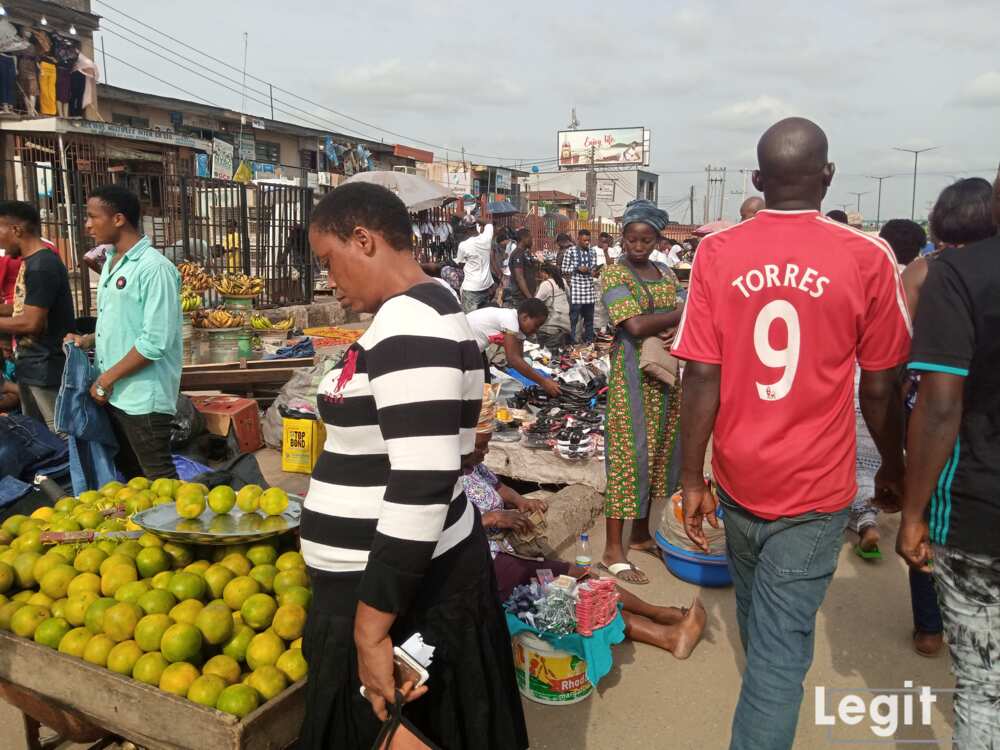 Meanwhile, from the findings by Legit.ng in popular Lagos market, the reduction in the cost price of these goods led to their increased demand. Not leaving out traders who intentionally hike the cost price of their goods. These goods are only sold at the aforementioned prices above in major markets.
Also, in some state, the goods are quite expensive and purchased in higher rates by consumers as well as traders. It is therefore imperative to note that the cost price and selling price of these goods varies and changes, depending on the market visited.
Health is wealth, and the importance of eating healthy foods cannot be over emphasized this period. The benefits outweigh the snags.
The government has appealed to the people to abide by the rules and take precautionary measures and as well practice good hygiene following the 14-day lockdown.
Street gist: President Buhari orders Lagos, Abuja lockdown over Coronavirus; Nigerians react via Legit TV