30 inspirational spring quotes to shake off the winter blues
After you have witnessed the cold and wet days that winter comes with, the next thing is to enjoy the newness and freshness that the spring season has to offer. However, before this happens, the climate would have dropped, which could lead to winter blues to some people. If you are one of such person, there is nothing to worry about that. These inspirational spring quotes will help you cope with this time of year well and also enjoy the best that it offers.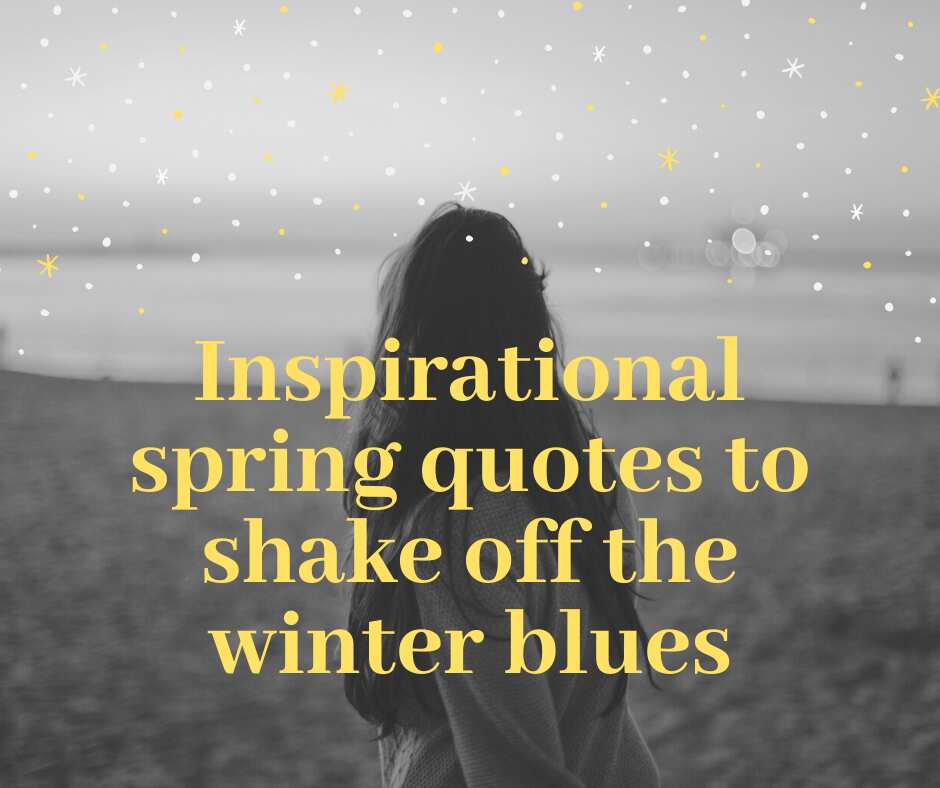 Are you looking for quotes about April and quotes about May that will get you prepared for the spring season? The following are some spring inspirational quotes that you will fall in love with. Apart from the fact that you can refer to the quotes regularly, you can also share them with your friends and workmates to inspire them as well.
What do you write in a spring card?
If you need some May quotes to help you motivate you for the month or the season, you will find this compilation of spring sayings worth the while. You can also incorporate any of them into your card if you are preparing one, or you read them personally in this season.
1. Winter is an opportunity to see how strong you can be on the inside. It reveals the invincible summer on the inside, while spring is the season of freshness.
2. If there was no difficulty, we might never know the beauty of prosperity. If there was no winter, there would be no spring.
3. Lighten up, shake off the winter blues. It is just a sign that spring is very close and not far behind.
4. Spring is the time to socialise, have fun and party. Winter is the time for comfort, chimney, and time to stay indoors.
5. What good is the chill of the winter without the warmth and fun of summer? Spring is here.
6. Shake off the drowsiness and welcome spring with an open heart. Don't ponder too much on what you need to do; just celebrate every day.
7. You can never have too much fun during spring, so do whatever makes you happy and enjoy every bit of it.
8. Spring is the time of the year where you don't have to worry about winter, or summer because you have both. It is summer in the sun, and winter in the tint. Hurray!!!
9. Spring is like love; it makes the world a happy place and puts a smile on every face. Flowers blossom and creatures live.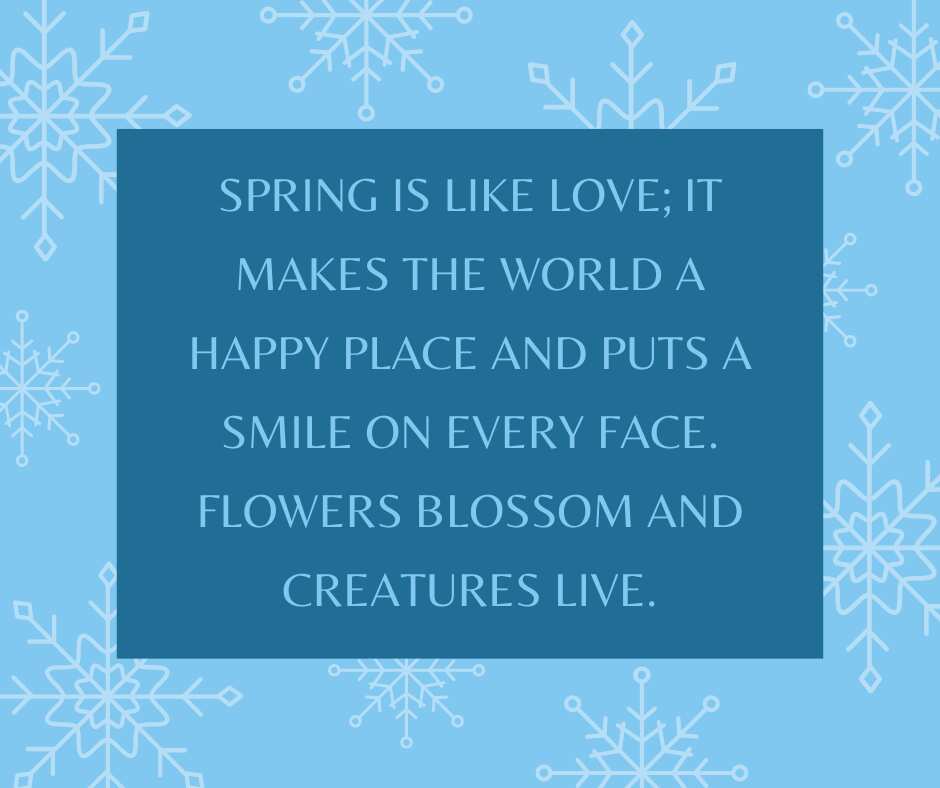 What are some happy quotes?
Who does not like the spring and all the goodness it brings along? It leaves a glow on the face and happiness to the world. Choose from these happy spring quotes to express how great you feel about the season.
10. Keep calm, raise your shoulder high because spring is here.
11. Who does not like spring? It breathes freshness and newness into nature around us.
12. Spring is the mother of inspiration; it spices up everything and lit a dull mood.
13. Spring always comes with its alarm clock, reminding us every day it's worth celebrating and inviting us to have fun.
14. Brace up, relax and laugh out loud because no winter lasts forever and no spring would skip its turn.
15. Spring is proof that God makes all things beautiful, no matter how dried or withered it could have been.
16. Either the flowers blossom or not, either the trees sprout out or not, one thing is sure. Spring will surely come.
Funny spring quotes
You do not have to journey through the season in boredom when there are interesting and funny quotes that can make you laugh when you read them. Check out the ones below:
17. The only thing that could spoil a day was people. People were always the limiters of happiness except for the very few that were as good as spring itself. – Ernest Hemingway
18. It's spring fever. That is what the name of it is. And when you've got it, you want – oh, you don't quite know what it is you do want, but it just fairly makes your heartache, you want it so! – Mark Twain
19. If spring came but once a century instead of once a year, or burst forth with the sound of an earthquake and not in silence, what wonder and expectation there would be in all hearts to behold the miraculous change. – Henry Wadsworth Longfellow
20. If we had no winter, the spring would not be so pleasant: if we did not sometimes taste of adversity, prosperity would not be so welcome. – Anne Bradstreet
21. Despite all I have seen and experienced, I still get the same simple thrill out of glimpsing a tiny patch of snow in a high mountain gully and feel the same urge to climb toward it. ― Edmund Hillary
Quote about spring
The day gets warmer, and beautiful flowers shoot out of the soil because it is spring. Great essayists, poets, and imaginative minds have written quotes about spring due to how stunning it is. Glean from their work as the spring approaches.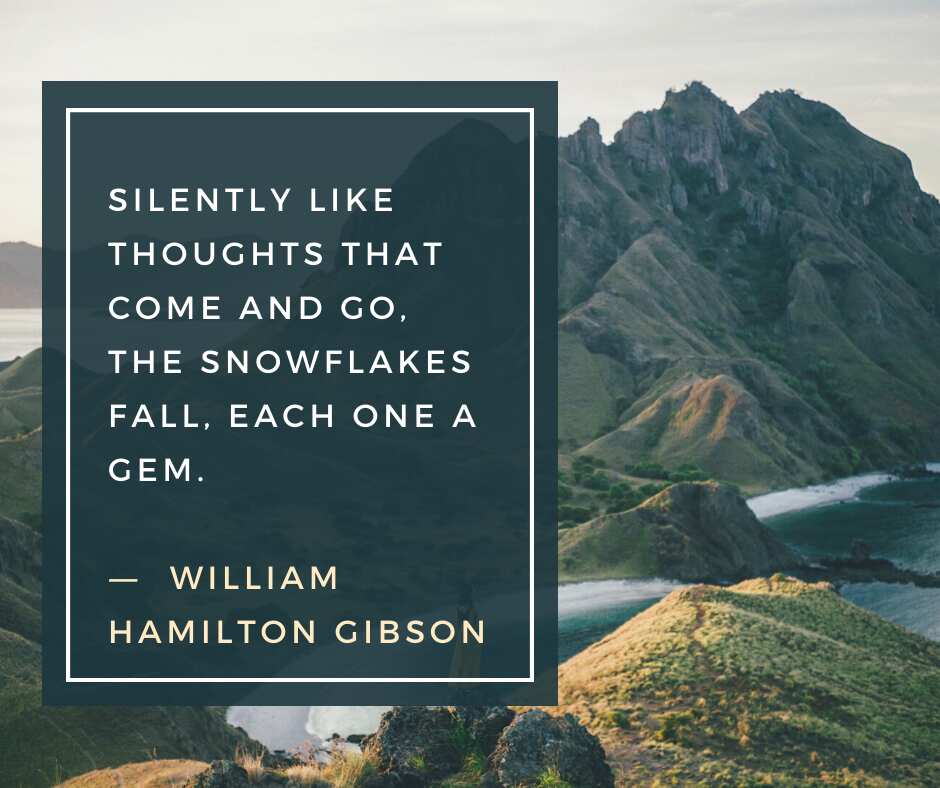 22. Silently like thoughts that come and go, the snowflakes fall, each one a gem. ― William Hamilton Gibson
23. The future lies before you, like a field of fallen snow; be careful how you tread it, for every step will show. ― Unknown
24. When it snows you have two choices: shovel or make snow angels. ― Unknown
25. Earth teach me to forget myself as melted snow forgets its life. Earth teach me resignation as the leaves which die in the fall. Earth teach me courage as the tree which stands all alone. Earth teach me regeneration as the seed which rises in the spring. — William Alexander
26. The first fall of snow is not only an event, but it is also a magical event. You go to bed in one kind of a world and wake up in another quite different, and if this is not enchantment then where is it to be found? ― J.B Priestley
27. Never cut a tree down in the wintertime. Never make a negative decision in a low time. Never make your most important decisions when you are in your worst moods. Wait. Be patient. The storm will pass. The spring will come. — Robert H. Schuller
28. Winter is the time for comfort, for good food and warmth, for the touch of a friendly hand and for a talk beside the fire: it is the time for home. ― Edith Sitwell
29. Expect to have hope rekindled. Expect your prayers to be answered in wondrous ways. The dry seasons in life do not last. The spring rains will come again. — Sarah Ban Breathnach
30. In springtime, love is carried on the breeze. Watch out for flying passion and kisses whizzing by your head. — Emma Racine Defleur
From what you have read so far, I hope you find this spring quotes funny and helpful? The interesting aspect of it all is that you can use it as a caption on your social media platforms or add any of them to your happy spring images as you share with family and friends.
Source: Legit.ng