Funny (and harmless) April fools pranks for kids and adults alike
Whether you are planning April fools pranks on friends, colleagues at work, family, or your children, there are multiple choices before you. You also should bear in mind that April fool day is a day that presents everyone with the chance to live out the humorous part of their life. The central aim is to arouse laughter by tricking a person or group of people. To rise above the usual tricks we already know, it is essential to be creative in choosing your prank.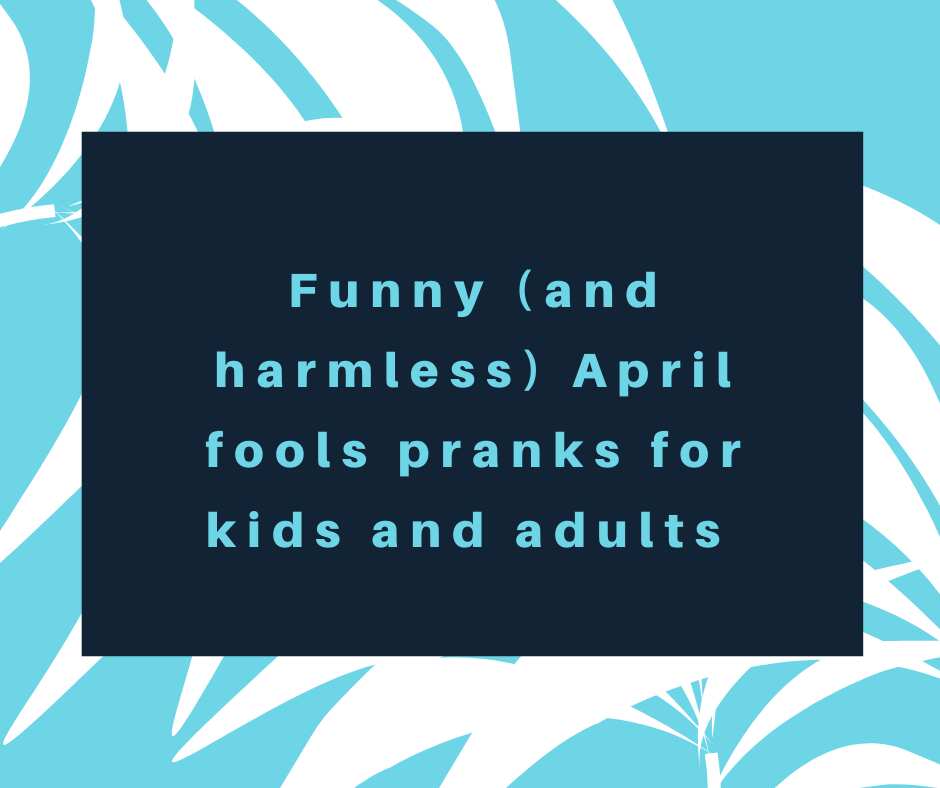 On the April fool day, people devise many ideas to prank their loved ones. It can range from technology tricks to making fake calls. Sometimes, some people can choose a surprise gift to mark the date, which is the 1st of April, and it comes once in a year. We have prepared a list of good April fools pranks to make this year's April fool day memorable for you. This list has a whole of them, and you will choose rightly if you pick any one of them.
April fools pranks
April fools' day is near. This implies that playing a prank is permitted and anticipated. You and your friends deserve a whole lot of fun while the day lasts. The good news is that there are many April fools pranks ideas to pick from. Most of these pranks are harmless and friendly too.
You can put the "Please honk and wave" sign at the backside of your car. It will leave people close to you in utter confusion.
You can imagine what bringing chocolate chip cookies into your workplace full of raisins will look like. Your colleagues' reactions will freak you out.
Though it is stressful to rearrange their room and make it a closet, it is one of the best pranks ever. Do it only if you have the time and materials needed.
Send them coded messages of a subscription package to keep them wondering if they subscribed to a product they are not aware of. You can add glamour to it by narrowing it down to what they like.
One of the craziest April fool pranks is to jump out unexpectedly; it will scare those who are unaware.
One of April fools day pranks that will see your friends rolling on the floor is to send automated fun cat facts to their phones using the Cat Facts application. Their responses will amuse you.
Put a picture of a known celebrity on the printer; whoever prints from there will have his picture staring at him. Watch as they freak out when the paper comes out.
In your place of work, put a tape beneath your friend's mouse. Watch and laugh while he tries to find out why the computer mouse is not working.
Rearrange your friend's desktop by removing all the icons and set an awkward picture as his background.
Find a Windows computer, simultaneously press the Ctrl, Alt, and downward arrow key to spin your display screen upside down.
You can make a bud pops of cake that will appear attractive but full of surprises when the person bites it.
When you want to write to your friends, get a GIF with many typing dots, they will wonder why you are typing for such a long time.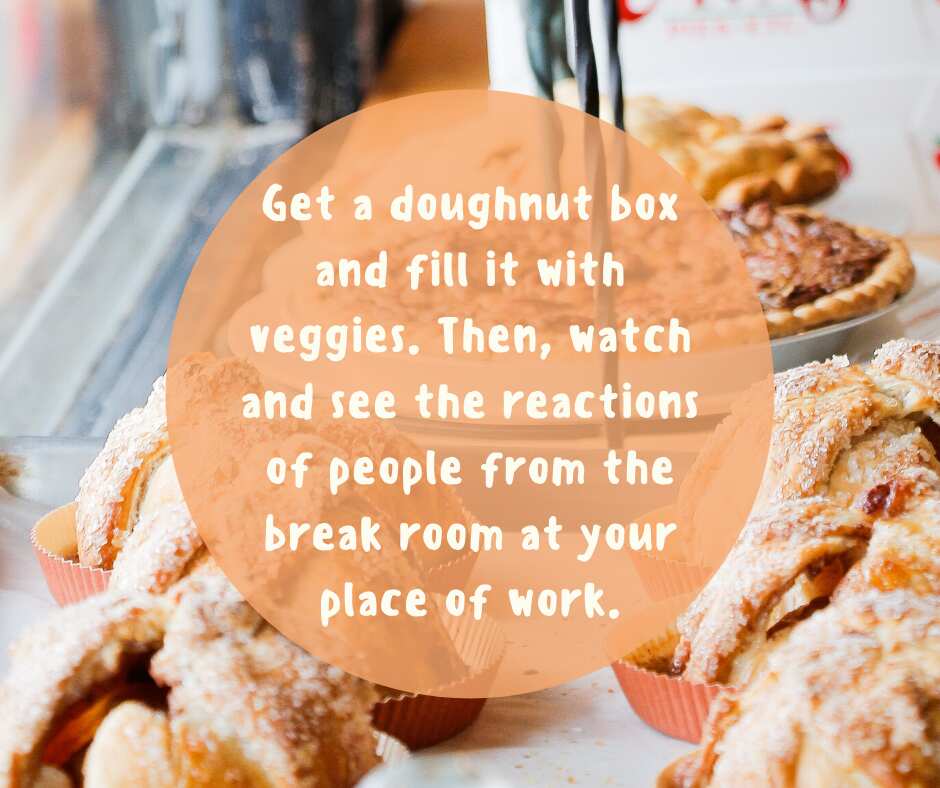 Get a doughnut box and fill it with veggies. Then, watch and see the reactions of people from the break room at your place of work.
Get a doughnut and mix it with mayo. The reaction from people will be out of this world.
Begin the prank by putting coins in many different places where they can easily be found. Then put more coins after your people have passed through the old ones.
Put some plastic wraps across the toilet, then get ready for a funny clean up afterward.
What are some of the funniest pranks of all time?
Who said you can not prank your kids? You can, but do not scare the life out of them. These are some of the best April fools pranks for kids. I bet you that they will never expect it.
When you hide a rubber snake under kids' clothes, you will be wowed by their screams.
Put enough toilet paper in the toe of the shoes of your kids. It will take them a long time to discover that they have been pranked.
Set their alarm clock to ring an hour ahead of the usual. Make sure you reset all the clocks in the house too. Get them ready and rush them out of the house. Take them for breakfast instead of heading to school.
Get access to their someone's phone and adjust their autocorrect shortcuts.
You can scare kids by putting a baby walkie-talkie in a hidden spot like the ceiling and make a meow sound into it. You can decide to make a horror sound from the movies also.
You can prank your children by putting googly eyes to their items. This will be perfect on their lunch pack.
Put a bowl of cereal and milk in your freezer and allow it to stay overnight. Your child will wonder about the difficulty of coming out the next morning.
What are some good April fool jokes?
Are you interested in cracking up your loved ones on the D-day? You need some inspiration to make it unique and intriguing. Here are a few of the best April fools pranks to scare them for some minutes and make their day remarkable.
Find an absent-minded friend, tap him on the back with a sticky paper that reads, "I am a fool."
Write "I am sorry about the damage I caused to your car" on someone's car and watch him from a distance to see his mad reaction about the imaginary damage. Put fake roaches into a lampshade while the light is on. Then watch the drama unfold.
Get a fake poop and place it in a position your friends can see it. It is one of the easy April fools pranks.
Help your friend to rearrange his dresser drawers. He will come back to meet a new space. You can go on to bring in female clothes and add them to his drawer.
Photoshop the photo of an unknown person into your family photo on the wall. It can be the photo of a celebrity your family likes. Your mum will be wowed at the sight.
Put some coffee grounds into your toilet tank and flush a few times. Your friends will be shocked by the awkward brown water that springs up from it.
Get one jar of a mayonnaise jar and fill it with yogurt. You can go ahead and use your spoon to eat it before your friends.
Try to get your friend's login details to Facebook. You can go ahead to his posts visibility and change to private. You will leave him wondering all day why no one is liking his posts anymore.
Get some counterfeit cracked glass decals on your friend's windows. They will be scared to death until they realize it was a joke.
Get multiple alarm clocks powered by a battery and hide them in different locations of their house. Set the alarm at different times and watch your friends jump on their toes while they go off.
Prepare a squashed potato with gravy sundae that will have an appearance of ice cream, though they will enjoy it, it would not be the ice cream they expected.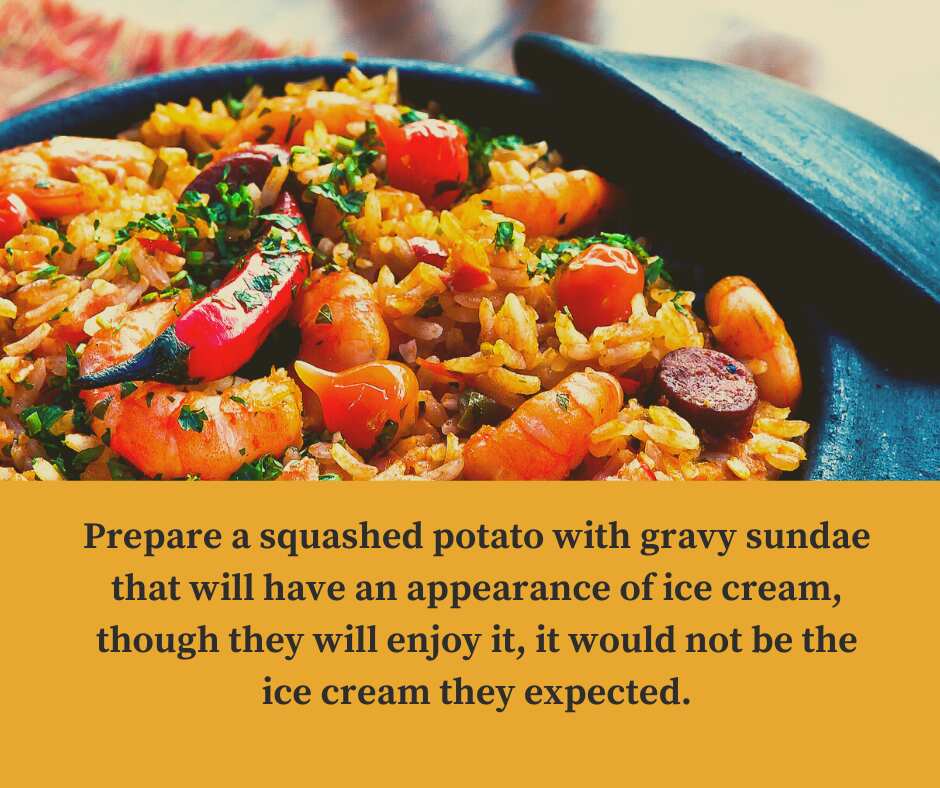 You can shock your visitor by pouring beans into your ice dispenser. They will receive the shock of their lives as they go to get a glass of water. Your surprise package will spill into their cups.
Create a post on your social media page that is ridiculous but imaginable. But you need to tell your friends there it was all a joke after some time.
Put a straw into a yellow mustard pack, place the pack into a friend's can of soda, then watch for the next show from him.
This is one of the hilarious pranks for April fools for your work partner. As you go to your workplace, buy a box of donuts with any other tantalizing food. Put a sign on it that says, "April Fool's!" You will be laughing at the manner they will make an effort to unravel what is there.
You can get a pack of 50 rubber ducks on Amazon for about $20. Pick one friend or family member and start hiding the ducks everywhere that person might find them: cupboards, drawers, desks, car glove boxes. The sky's the limit!
What are some April fools tricks?
The April fool's day is around the corner, and many people are already anticipating some tricks to play on their family and friends. Look through the list below to see some harmless April fools pranks to choose from.
Interchange a few bags of cereal from your friend's boxes to keep them in awe by the time they wake up.
Put up a jolly rancher or two in your showerhead and watch as the water gushes out sticky and more colorful.
Screenmunch your friend's computer and let the picture be up. It will be very difficult for them to discover why nothing is opening on his computer.
Get a dollar bill and put it in a book. Allow a bit of it to poke out and put a little paper before a bigger paper that reads "April Fools!"
Try a mixture of M&M's, Reese's Pieces, and Skittles in a bowl. Keep it at a spot where people can find it. They will get the biggest shocking treat of their life when they take a few spoons.
Interchange the clothes drawer of your family members. You will leave them more confused than they woke up to. Watch them as they scramble for their space.
Write a note sealed with a transparent envelope to your friend. The note should read, "do not be a fool again."
Put a cream cheese for your friend instead of her deodorant in her closet. She will wonder for minutes before noticing the prank played on her.
Prepare counterfeit scratch-off cards to hand over to many of your colleagues, saying they have won 1 million USD.
When you are looking for funny April fools pranks, a few things come into your mind. That is, you are trying to be creative. Make your April fools prank trickery by applying some creativity to it. Prank them with food, unpopular scaring moves, technology, and other simple ideas outlined above. It is advisable to keep them as harmless as possible.
Source: Legit.ng