Every day, life throws its curve-balls at each human being regardless of their age, gender, race or even social status. Maneuvering through life can be difficult if a person fails to enjoy the little things that make life better. In the best Seinfeld episodes ever, we get to laugh our hearts out and also get reminders that a full life is one in which we make the best out of every situation.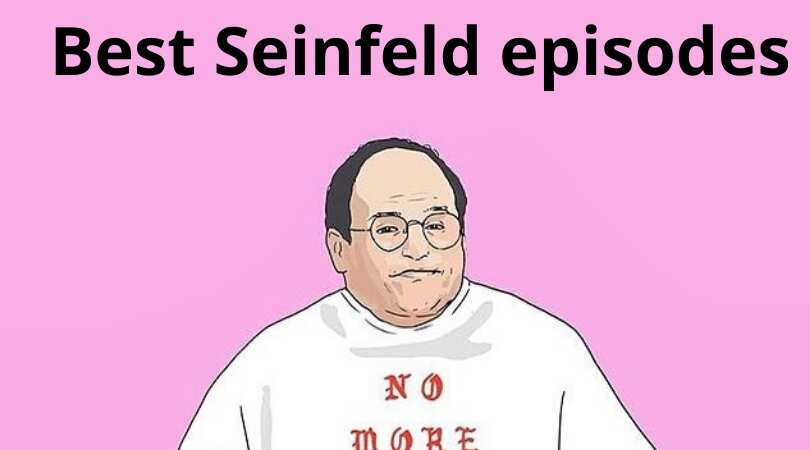 Is Seinfeld the greatest show ever? This comedy show ran from 1989 to 1998, and a good share of people who watched it believe that it is among the best comedies ever. Did Seinfeld write ? Yes, the show featured comedian Jerry Seinfeld and his life in New York together with his quirky friends. In the best Seinfeld episodes, the story-lines are full of both humor and life lessons.
Why was Seinfeld cancelled? The series ended after nine seasons because of Jerry's fascination with the number nine. Almost every significant thing in his life featured the number, and he later learned that the number signified completion. For this reason, he decided to end the show after nine successful seasons.
Best Seinfeld episodes to watch
Which season of Seinfeld is the best? Well, this is a tough question to answer, but it is indisputable that each season had some fantastic moments which are a must-watch. The compilation of Seinfeld best episodes below guides you on the shows to re-watch or binge-watch during your free time.
15. The Bubble Boy (Season 4; Episode 7)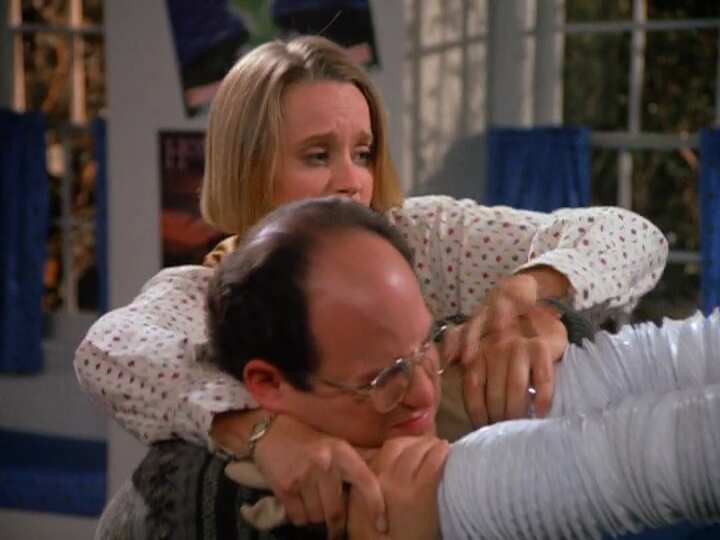 George and Susan invite Kramer, Elaine, Jerry and the latter's girlfriend to their parents' cabin house for the weekend. Naomi opts out after Jerry mocks her laugh while Kramer is not interested.
On their way, Elaine convinces Jerry to make a stop to see a boy who loves in a plastic bubble due to an autoimmune disease. They use separate vehicles, but George drives so fast that Jerry and Elaine lose track of him completely.
Since Jerry and Elaine do not have the address to the boy's home, they get lost and end up in a diner. Kramer and Naomi go to the cabin, where they light a fire. Unfortunately, the fire ends up burning down the entire cabin.
14. The Bris (Season 5; Episode 5)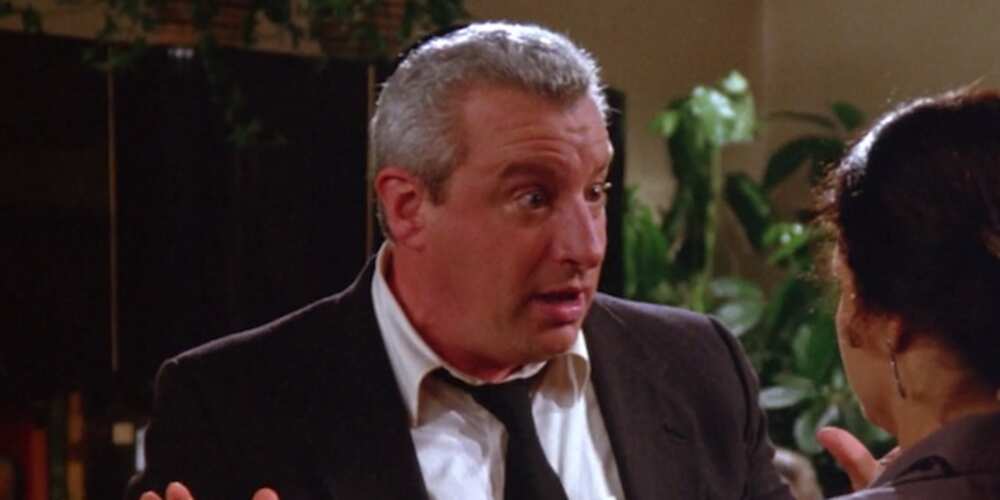 This is one of the hilarious Seinfeld episodes. Elaine and Jerry are asked to become godparents for Stan and Myra's new-born child. This great honor is short-lived because Elaine uses a drunken rabbi for the child's Bris ceremony.
On the other hand, Kramer is involved in a conspiracy to hide the existence of Pigman at a New York-based hospital. A patient who has mental illness jumps to his death and lands on George's car, and this messes up his life.
13. The Dinner Party (Season 5, Episode 13)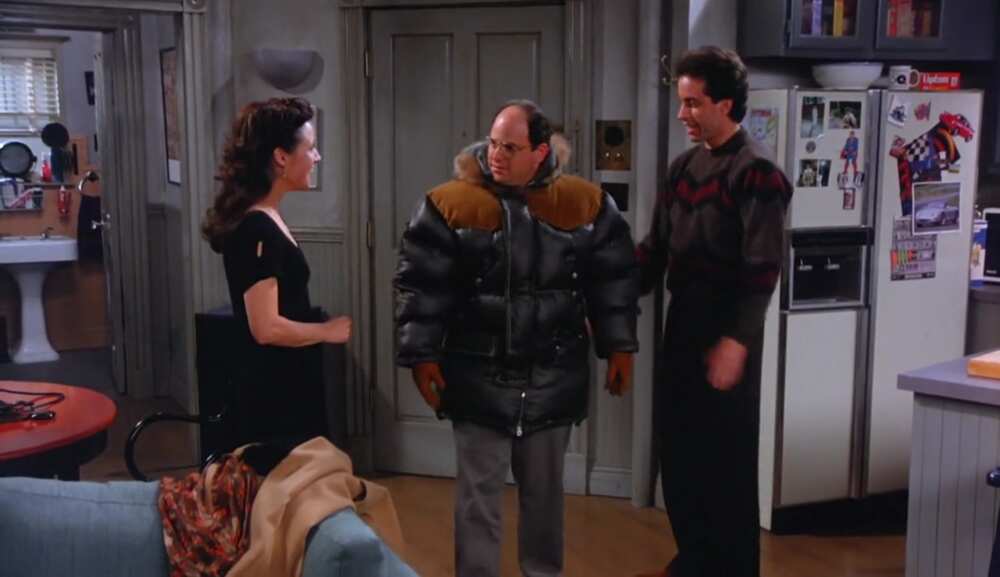 Jerry and Elaine are on their way to a dinner party when they decide to make a stopover at a bakery. They end up spending a lot of time there because the bakery is out of what they want to purchase.
George and Kramer who are also en route to the same party, make a stopover at a liquor outlet but they cannot decide what to buy. George wrecks the store and is kicked out in the cold.
After the wine-buying fiasco, George and Kramer realize they cannot leave the place because someone double-parked, so their car is blocked. It turns out that the double parker is none other than Saddam Hussein, but he has thick British accent.
12. The Library (Season 3; Episode 5)
In the list of Seinfeld episodes that are a must-watch, this must not miss. Jerry discovers that he has a library fine from his high school days for the book, Tropic of Cancer. He recalls that he returned the book in the company of Sherry Becker.
He is accompanied by Kramer to the library to sort out the matter only to find out that the case has been handed over to the library investigations officer. Kramer hits it off with the librarian as Jerry and Bookman argue over the book.
Jerry invites Sherry Becker as a witness, but she has different memories of that day. She says that she accompanied him to return Tropic of Capricorn and not Tropic of Cancer. At this point, he remembers that he loaned the latter to George. Elaine finds out that she is about to get fired.
11. The Limo (Season 3; Episode 19)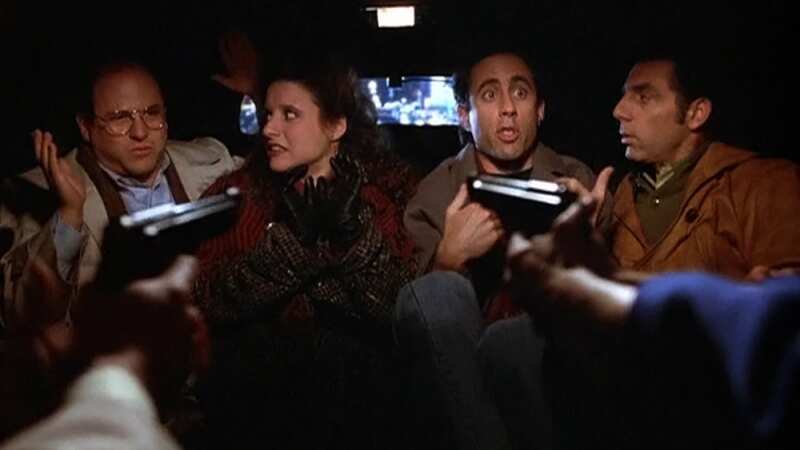 This is among the best Seinfeld episodes for beginners because, at this point, the plot is not too developed. George goes to the airport to meet Jerry as planned, but his car breaks down along the way, so the two have no means home.
When Jerry spots a limo that is sent there to collect O'Brien, he immediately recalls that O'Brien will not show up because he did not board the flight. He quickly gets a solution to his problem by telling the driver that he is O'Brien.
The two men get a free ride in the limo to Manhattan when the driver says he will drop them off at Madison Square Garden. They assume they will go to see a Knicks-Bull game, only to be joined by bodyguards.
Soon, it dawns on them that they will not be watching any basketball game. They are in trouble.
10. The Chinese Restaurant (Season 2; Episode 11)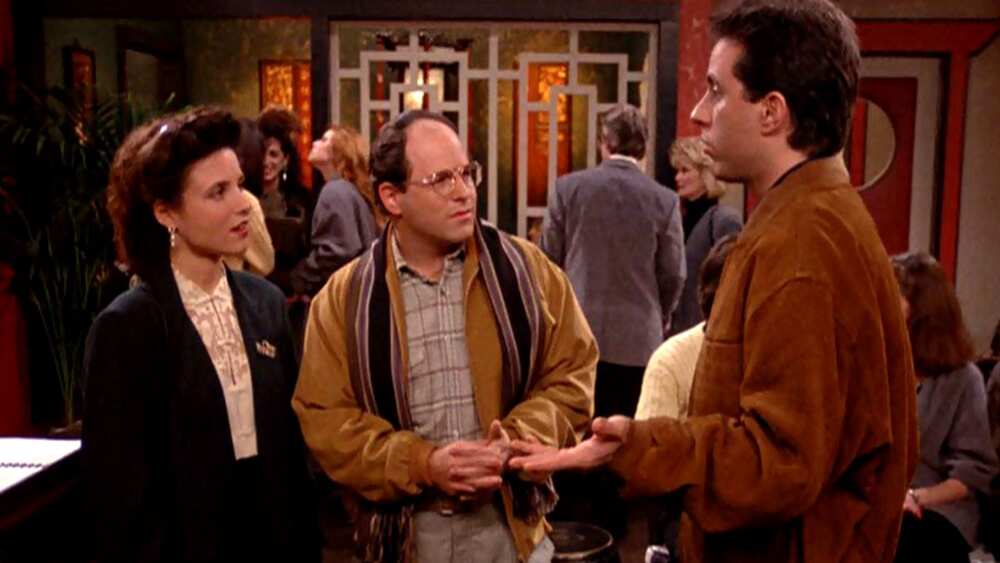 Jerry, George, and Elaine make a dinner reservation at a Chinese restaurant before they go to watch Plan 9 from Outer Space, a film that is showing for one night. The server tells them over and over that their meal will be served in five or ten minutes.
Jerry lied to his uncle to see the movie, so he begins feeling guilty. He meets his uncle's receptionist in the same hotel and becomes certain that she will tell on him.
George also has his worries and Elaine is extremely hungry. Elaine tries to bribe the server to offer them immediately, but the server does not get her hints.
George changes his mind about watching the movie and Jerry decides to have dinner with his uncle instead. They agree to leave, but just as they go, the server is ready with their order.
9. The Cheever Letters (Season 4; Episode 8)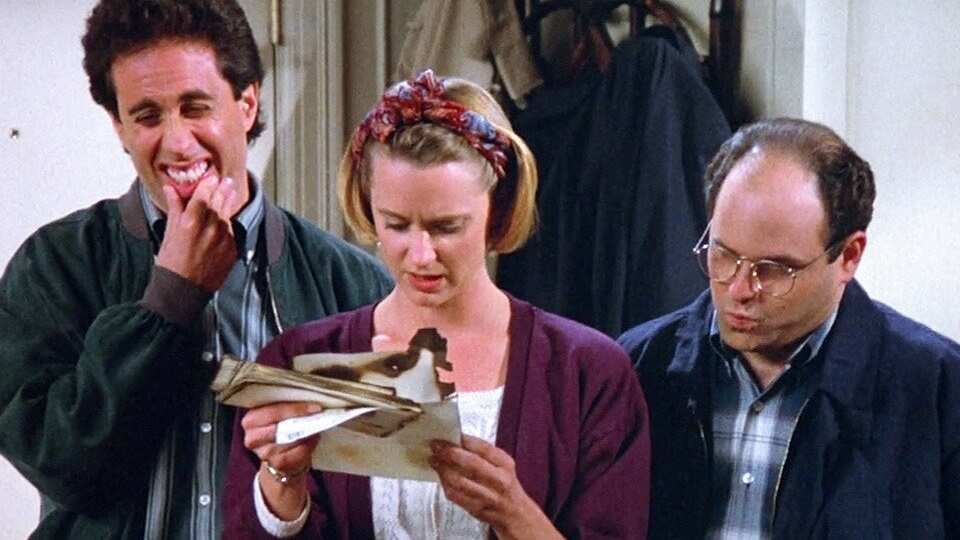 The Cheever Letters is one of the best episodes of Seinfeld because it is fun to watch George and Jerry struggling with their sitcom's script. Jerry feels that his secretary is too chatty and when Elaine intervenes, the secretary quits.
Kramer looks for access to more Cuban cigars to help him gain access to the Westchester Country Club golf course. The secretary and Jerry try to reconcile, and she asks him out. During the date, he says something offensive to her.
Susan's father learns that the cabin burned down. Soon, his affair with another woman is unravelled. He goes on to compare his affair with the relationship he has with his wife.
8. The Hamptons (Season 5; Episode 20)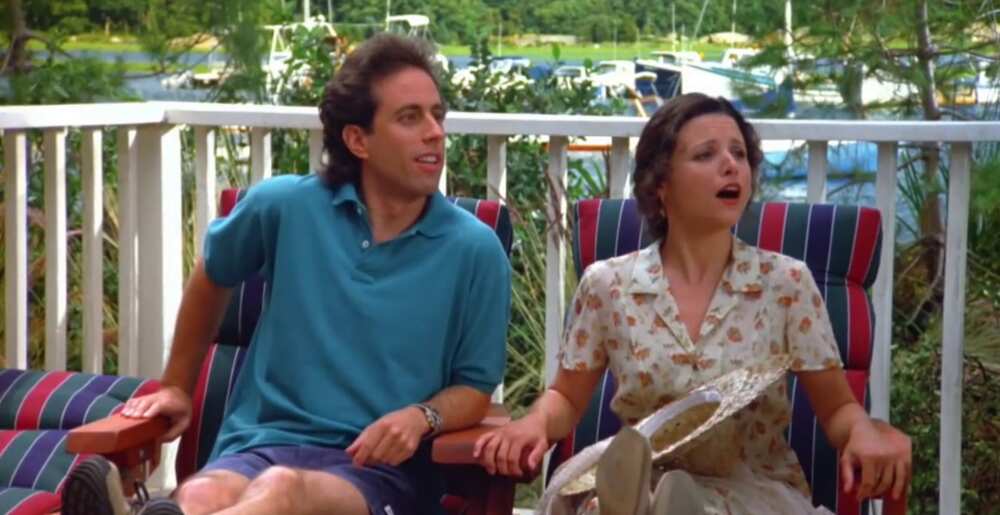 This Seinfeld episodes list is not complete without the trip to The Hamptons. The four main characters are accompanied by George's girlfriend and Rachel on the journey to see a baby.
Elaine is delighted when the baby's doctor calls her breathtaking. He uses the same word to describe the baby, but she thinks that the baby is ugly.
During the trip, Rachel accidentally sees George's privates and laughs at the size. He tries to explain that the shrinkage in size happens after one has been in the pool.
Elaine asks the doctor in private about the word breathtaking to which he responds that it is just a mere word he uses to be kind to people. Eventually, George gets to see Rachel's nakedness.
7. The Busboy (Season 2; Episode 12)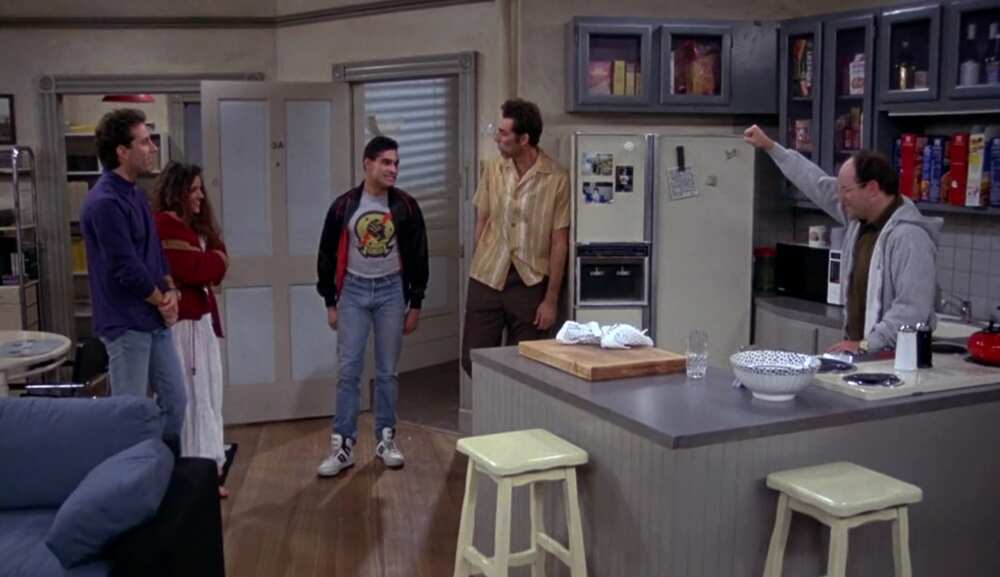 Jerry, Elaine, and George are at a restaurant when a menu on the next table catches fire. George puts it out, and Elaine says she will never eat there again.
The busboy is fired for leaving the menu too close to the candle. Later, the boys visit the busboy to apologize.
They leave the door open, and his car gets out. A lamp also gets broken in the process. A few days later, the former busboy visits George to inform him that a gas line explosion in the restaurant killed five people, including the busboy who replaced him.
He also says that he secured a better paying job after being fired.
Elaine's boyfriend is visiting for a week, and she is increasingly annoyed with the live-in situation. She unsuccessfully tries to ship him back to Seattle and has to halfheartedly deal with the situation as is.
6. The Airport (Season 4; Episode 12)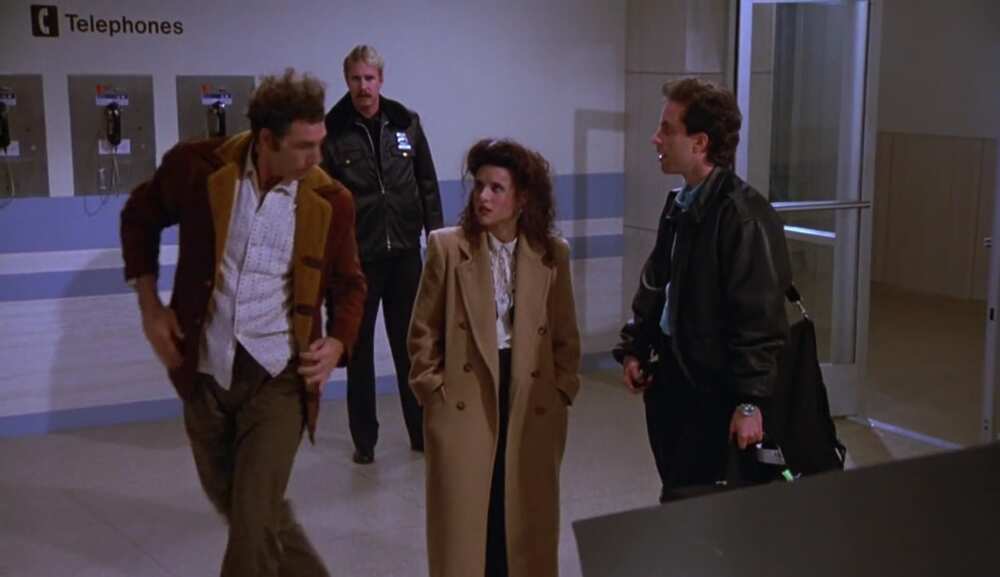 Elaine and Jerry are flying back home after Jerry's show. She objects to Jerry paying the skycap his tip, so the skycap sends her luggage to Honolulu. Their flight is then cancelled, and they book an alternative one.
George and Kramer have to pick the two from a different airport. After a lot of hullaballoo, Elaine and Jerry finally land, and Tia gives Jerry her phone number.
He met model Tia in the plane and he notes that the paparazzi follow her after landing. Elaine's bags arrive in Honolulu.
At the end of the episode, all the friends but George are reunited. George is seen on the plane flying to an unknown location.
5. The Parking Garage (Season 3; Episode 6)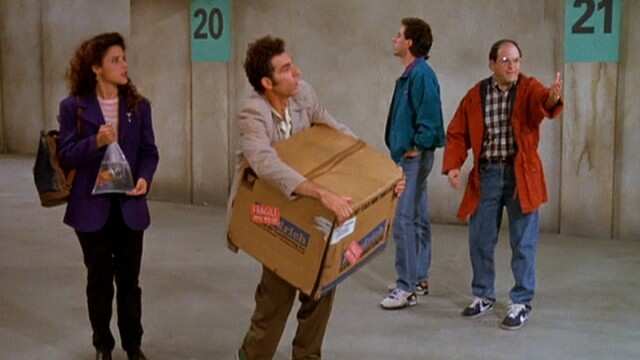 This is one of the funniest Seinfeld episodes ever. After buying an air conditioner in New Jersey, Krammer cannot recall where he parked his car.
He leaves his air conditioner behind a car and tries to memorize the number of the parking slot. Each of the other characters have different things to do back at home.
Elaine tries to beg different people to drive her around to that she can find their car. Jerry urinates in the corner of the garage and is caught by the security guards. The other three split up to find him.
George is also caught by the guards for urinating in the garage. He and Jerry are fined and set free. After a very long day, the four main characters are finally reunited, but their car engine will not start at all.
4. The Marine Biologist (Season 5, E.14)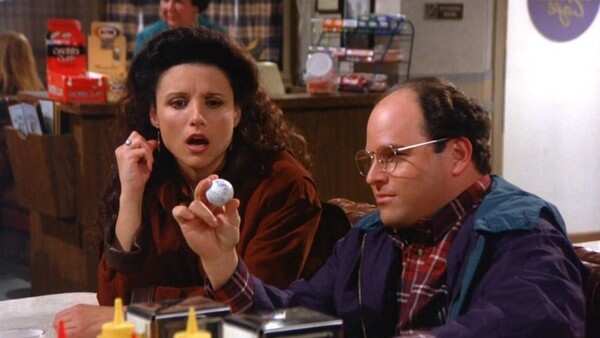 While it is hard to tell which the best Seinfeld season is, it is easy to know that The Marine Biologist was one of the best story-lines. Jerry and Elaine are having a random conversation about war and books. Kramer gives Elaine an electric organizer.
Later, Jerry runs into George's crush in college and tells her that he is now a marine biologist. She asks for George's number because she is impressed.
Later, George is annoyed because he does not think he can pretend to be a marine biologist when he meets her.
Elaine gets into an argument with Yuri Testikov, a renowned author. When her organizer does not stop beeping, the author tosses it out the window of the limo they are riding in.
Unfortunately, it hits a woman in the head. The woman refuses to give back the organizer until she is compensated for being assaulted.
Elaine feels that the author should pay for the damages. As they try to solve the matter, the same woman is hit again when the author tosses a tape recorder from Elaine's bag.
Kramer has had a rough day at the beach. George, who is also at the beach, tries to save a blue whale during his date with his college crush. However, he is not a marine biologist.
He realizes that he cannot save the beached whale and confesses to his date that he is not a marine biologist. She dumps him immediately.
3. The Invitations (Season 7; Episode 22)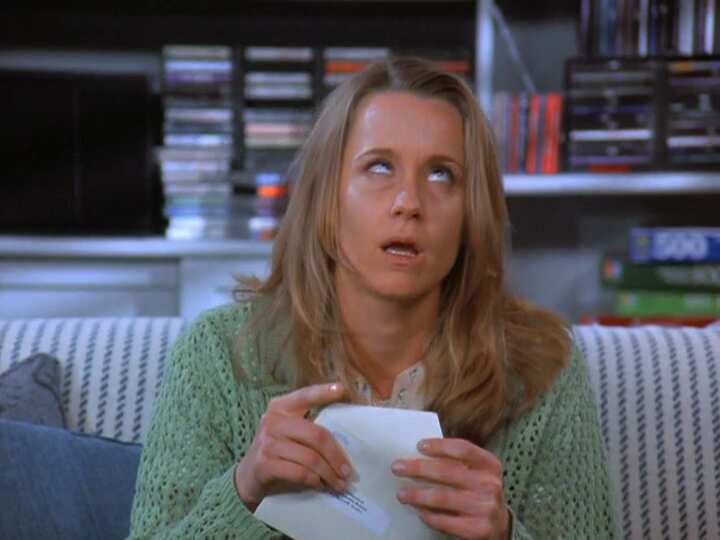 In this compilation of Seinfeld episodes ranked, The Invitations comes in the third position. Susan and George are out buying wedding invitations, and he chooses the cheapest ones. They bump into Kramer, who does not recall her name.
Susan decides that both Kramer and Elaine cannot be ushers at the wedding. Jerry is absent-minded, and he walks in front of a moving car but is saved by a woman, whom he falls in love with.
He later proposes to her. Soon after she accepts to marry him, he realizes that she is not his type.
George also admits that he does not want to marry Susan but is afraid to call off the wedding. He tries to make her sign a prenuptial agreement to put her off, but she agrees.
During the wedding preparations, Susan refuses to use glue for the invitations and instead prefers to lick envelopes to seal them. She eventually passes out.
When George finds her and rushes her to the hospital, she is declared dead. George calls another lady to ask her out on a date since his fiancé is now gone. She hangs up the call.
2. The Contest (Season 4; Episode 11)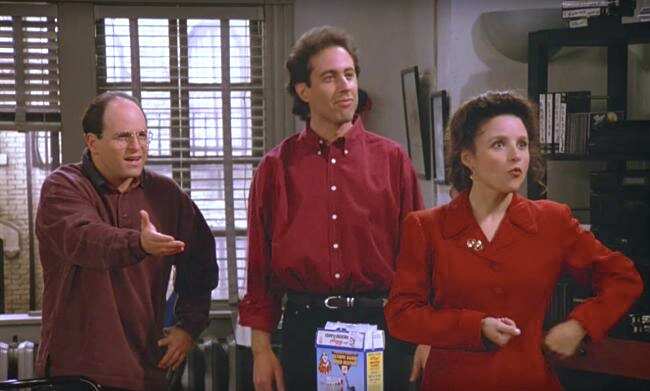 This is one of the best Seinfeld episodes with George's parents. George's mother catches her son doing a personal act, so he explains the ordeal to Kramer and Elaine, who falls over in shock.
The four friends then decide to hold a contest to see who can stay the longest without engaging in sexual activity.
Temptation kicks in and Kramer falls first after ogling at a woman who walks naked in her apartment. George falls next, followed by Elaine.
Jerry's girlfriend is finally ready to lose her virginity, but he has to explain the contest to her.
1. The Subway (Season 3; Episode 13)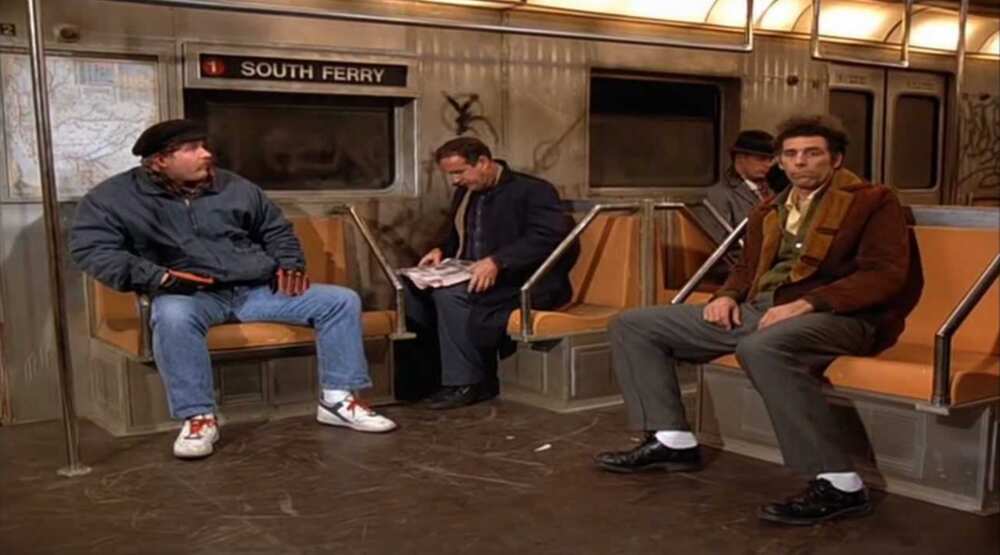 The four leading characters go their separate ways within the subway system. Jerry is on the way to Coney Island, George to a job interview, Elaine to a lesbian wedding and Kramer to court for traffic violations.
Jerry has a hard time finding company to Coney Island, George meets a beautiful lady who robs him off everything, and Kramer wins a lot of cash in a betting shop after leaving court. On the other hand, Elaine takes a train whose power goes out, so she curses away.
Coming up with a list of the best Seinfeld episodes is challenging because the series had numerous fantastic episodes. Nonetheless, the list above gives you those that are a must-watch for everyone. They are all entertaining and will leave you in stitches.