Drew McIntyre bio: net worth, wife, age, height, weight
Fans of WWE's Raw brand know Drew McIntyre from the numerous appearances he has had on the wrestling ring. Since he started his career, he has recorded many wins and losses as well. Like any other determined athlete, his losses have never killed his passion for the combat sport. He has held the Intercontinental Champion belt once and the WWE (Raw) Tag Team Champion belt twice in his career.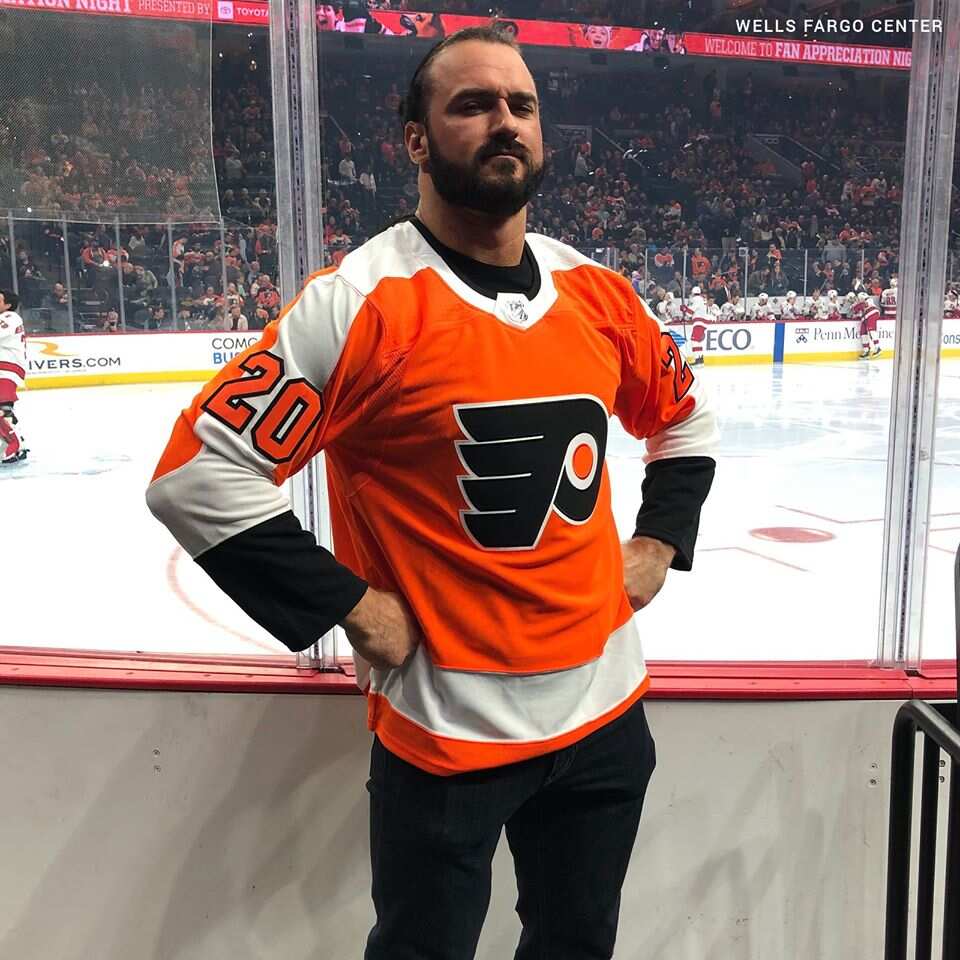 Is Drew McIntyre really Scottish? Yes, he is. He was born in Ayr, Ayrshire, Scotland, United Kingdom, but currently resides in Tampa, Florida, United States of America.
What surprises many people about the Scottish wrestler is that he is a family man outside the ring. Most assume that he is always rough and rugged as he appears on the wrestling ring, but there is a soft side to Drew McIntyre that most people do not know.
Profile summary
Name: Andrew McLean Galloway IV
Stage name: Drew McIntyre
Age: 34 years
Date of birth: 6th of June 1985
Place of birth: Ayr, Ayrshire, Scotland, United Kingdom
Current residence: Tampa, Florida, United States of America
Zodiac sign: Gemini
Nationality: Scottish
Height: 6 feet 5 inches (196 centimeters/ 1.96 meters)
Weight: 265 lbs (120 kilograms)
Mother: Angela
Wife: Kaitlyn Frohnapfel (m. 2016)
Ex-wife: Taryn Terrell (2009 – 2011)
Alma mater: Prestwick Academy; Glasgow Caledonian University
Profession: Wrestler
Drew McIntyre background and early life
Drew McIntyre WWE was born on the 6th of June 1985 to a Scottish family and he was given the name Andrew McLean Galloway IV at birth. He is a Gemini and his nationality is Scottish. Currently, Drew McIntyre age is 34 years.
He spent most of his childhood years in Prestwick, Ayrshire, where he also went to school. On the next Drew McIntyre birthday, which will be on Saturday, the 6th of June 2020, the professional athlete will turn 35 years old.
On the 3rd of November 2012, the athlete lost his beloved mother, Angela, when she was only 51 years old.
In his childhood years, Galloway considered becoming a professional football player. He joined the youth club at his school, Prestwick Academy, where he excelled in the defensive position. Later, he shifted his focus from football to wrestling, and Bret Hart is his favorite wrestler.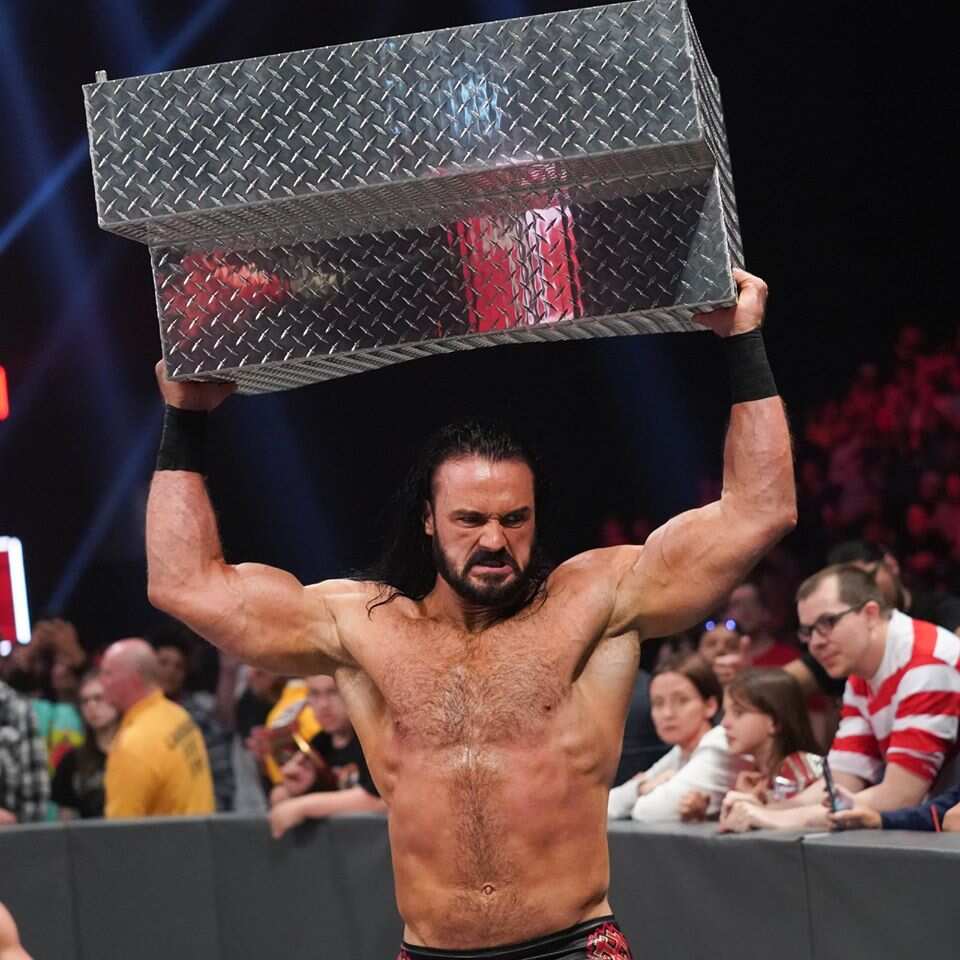 When he shifted his attention towards wrestling, his parents fully supported him on the condition that he would give due attention and excel in his school work as well. He became a wrestler at the age of 15 years.
Did you know that Galloway has a Bachelor's degree in Criminology from Glasgow Caledonian University? When the athlete was ten years old, he read the X Factor magazine whose content was mostly about ghosts and conspiracy theories.
He then decided to address a letter to the FBI under the Freedom of Information Act. The FBI responded by sending him a file that contained several documents. This incited a curiosity in him to pursue criminology, which he successfully did.
Drew McIntyre height and weight
Drew McIntyre height is 6 feet 5 inches (196 centimeters/ 1.96 meters), and he has a gigantic body build. On the other hand, Drew McIntyre weight is 265 lbs (120 kilograms.)
Training and early years in wrestling
Galloway began his training to become a professional wrestler when he was 15 years old at the Frontier Wrestling Alliance Academy. This was after his family relocated to Portsmouth from South England.
James Tighe and Mark Sloan were some of his trainers in the academy, and interacting with established wrestlers motivated him to do his best to become prominent like them. Some of the athletes he interacted with were Paul Burchill, Doug Williams, and Alex Shane.
In 2003, Galloway made his wrestling debut in the opening show of British Championship Wrestling in the Greater Glasgow region. There, he sharpened his skills under the mentorship of Colin McKay and Spinner McKenzie.
In his first contest, No Blood, No Sympathy: Night 1, he lost to Stu Natt. On the second night, however, he defeated Blade and Stu Pendous together with Wolfgang in a tag team game.
He was later placed under the mentorship of Charles Boddington, who walked with him for the next four years. On the 5th of December 2003, BCW Heavyweight Champion, Spinner McKenzie, was fired, so he left his title to Galloway.
This move did not go well with Stevie Knight, who challenged him to a game dubbed Bad Tidings: Night 1 in which Galloway lost. In February 2004, he defeated Knight in a non-title game, but Knight retaliated by beating him out of the King of BCW competition.
In 2004, Galloway played against several American veterans. He was defeated by The Honky Tonk Man and later by Marty Jannetty and Highlander in a tag team game in which he was paired with Sabotage.
In March 2005, he defeated Jay Phoenix, and in May 2006, he lost in an Irish Whip Wrestling fight. He then beat his long-term rival, Sheamus O'Shaunessy.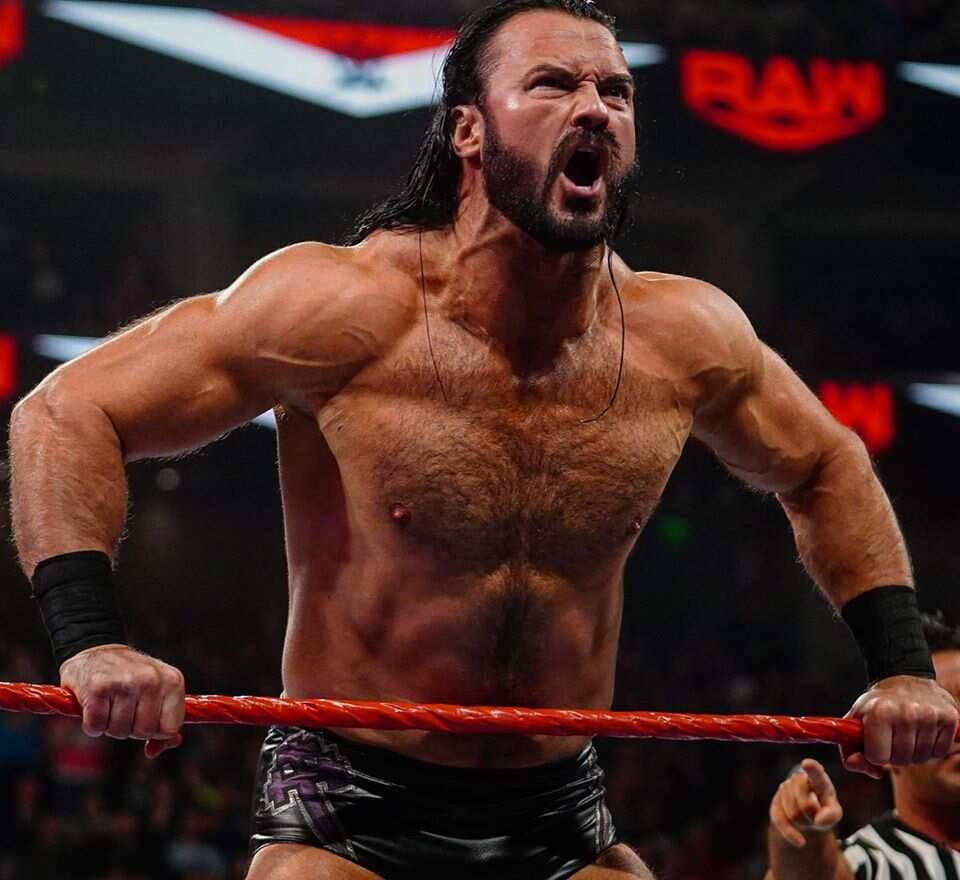 Professional years
In his professional years, Galloway has participated in many matches and has also made critical career-related decisions.
Independent circuit
The wrestler teamed up with Lionheart in November 2006 for the Live in East Kilbride event, where the duo pinned Wolfgang and BCW Heavyweight Champion Highlander. This made Galloway eligible for December's No Blood, No Sympathy IV, in which he won the BCW Heavyweight Championship title and held it through almost the whole of 2007.
He then relocated to the United States of America in September 2007. Soon, he was booking wrestling dates with Irish Whip Wrestling (IWW) across the Republic of Ireland, and at the time, "Thee" Drew Galloway was Drew McIntyre nickname.
In his next matches, he lost to both "SOS" Sheamus O'Shaunessy and Mad Man Manson. Although he lost twice, he was still booked to play the Ten-Man Gauntlet game, in which he lost to Vic Viper. The following day, he faced O'Shaunessy again, but the game ended in a double count-out.
The next few months involved a couple of tag team games and facing Manson to whom he lost again after a spirited fight. He was allowed a chance to fight in the IWW International Heavyweight Championship after facing Manson.
On the 28th of January 2006, he faced Sheamus O'Shaunessy in his first title competition. He later defeated Brian Roche and JC Williams in a handicap game in March. Although he lost several games, the athlete remained focused on his career.
On the 28th of August 2006, he won the IWW International Heavyweight Championship and later successfully defended the bet against Go Shiozaki. He relinquished the title after failing to defend it against Jody Fleisch due to other homeland and academic commitments.
At the time, BCW was his main promoter, but he still made appearances in the Independent Circuit. Although he was still a student, Galloway went on the All-Star Wrestling tour and competed in the Insane Championship Wrestling (ICW) show, Fear & Loathing, in which he beat Allan Grogan and Darkside.
He was named the first ICW Heavyweight Champion, a title that he held for 280 days before losing it to Darkside on the 22nd of July 2007. He fought in several games before being placed in Real Quality Wrestling's Not Just For Christmas game.
He has his concluding game in the United Kingdom against Summer Brawl to whom he lost. He later appeared in the debut Insane Championship Wrestling show, where he won a triple threat game over Allan Grogan and Darkside.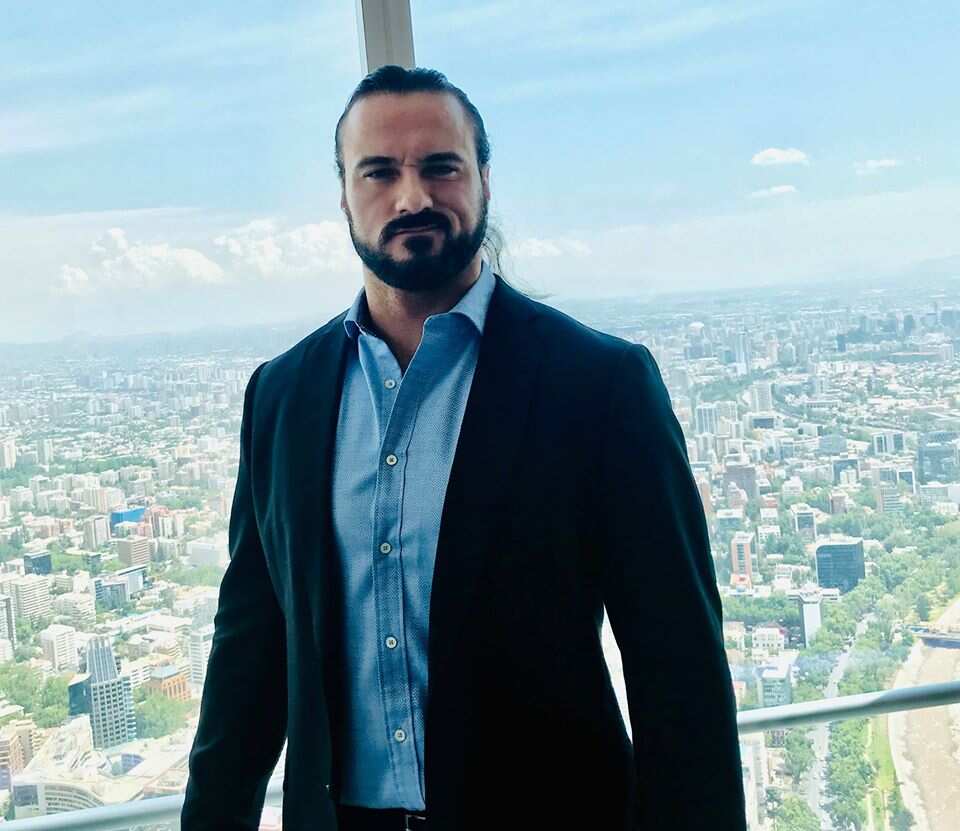 World Wrestling Entertainment (WWE)
Drew McIntyre contract with WWE was signed in late 2007, and he made his debut WWE appearance on the 12th of October that year on SmackDown! His official ring name was Drew McIntyre, and in his debut game, he beat Brett Major.
The following weak, he defeated Brian Major. He moved to the Raw brand, where he made his debut on the show Heat on the 6th of January 2008. In his debut game, he beat Charlie Haas.
Florida Championship Wrestling
WWE moved him to the Florida Championship Wrestling (FCW) developmental territory, where he teamed up with Stu Sanders to form a group called The Empire. In April 2008, The Empire faced Eric Pérez and Eddie Colón (The Puerto Rican Nightmares), but it ended up losing to The Puerto Rican Nightmares.
The Empire was given two chances to redeem itself, but it lost. The duo broke up when Galloway faced Sanders in a singles competition, and the match ended in a time limit draw in September 2008.
On the 7th of October that year, he joined the FCW Florida Heavyweight Championship. He defeated Tuft to make it to the finals but lost to Eric Escobar, who emerged the overall winner. In 2009, the wrestler started a feud with Joe Hennig, but their first contest ended up in a double count-out.
In February 2009, he was beaten by Hennig, who snatched the FCW Florida Heavyweight Championship title from Escobar. The feud between Galloway and Hennig ended when the latter lost his title after an injury, and Galloway became eligible to contest for it.
Galloway beat Escobar and won the title on the 19th of March 2009. He defended his new title until the 11th of June when he lost it to Tyler Reks. Later in the month, Galloway failed to regain it.
The Chosen One
In late August 2009, the wrestler re-joined the SmackDown brand, where he created his reputation as a villain. He tacked R-Truth severally using the famous Drew McIntyre finisher double underhook DDT move. On the 25th of September, Mr. McMahon, the then chair of WWE, introduced Galloway as the "future world champion," a move that made R-Truth attack Drew.
Drew formed a habit of attacking parties, and later, he faced R-Truth, whom he defeated using the DDT finisher move.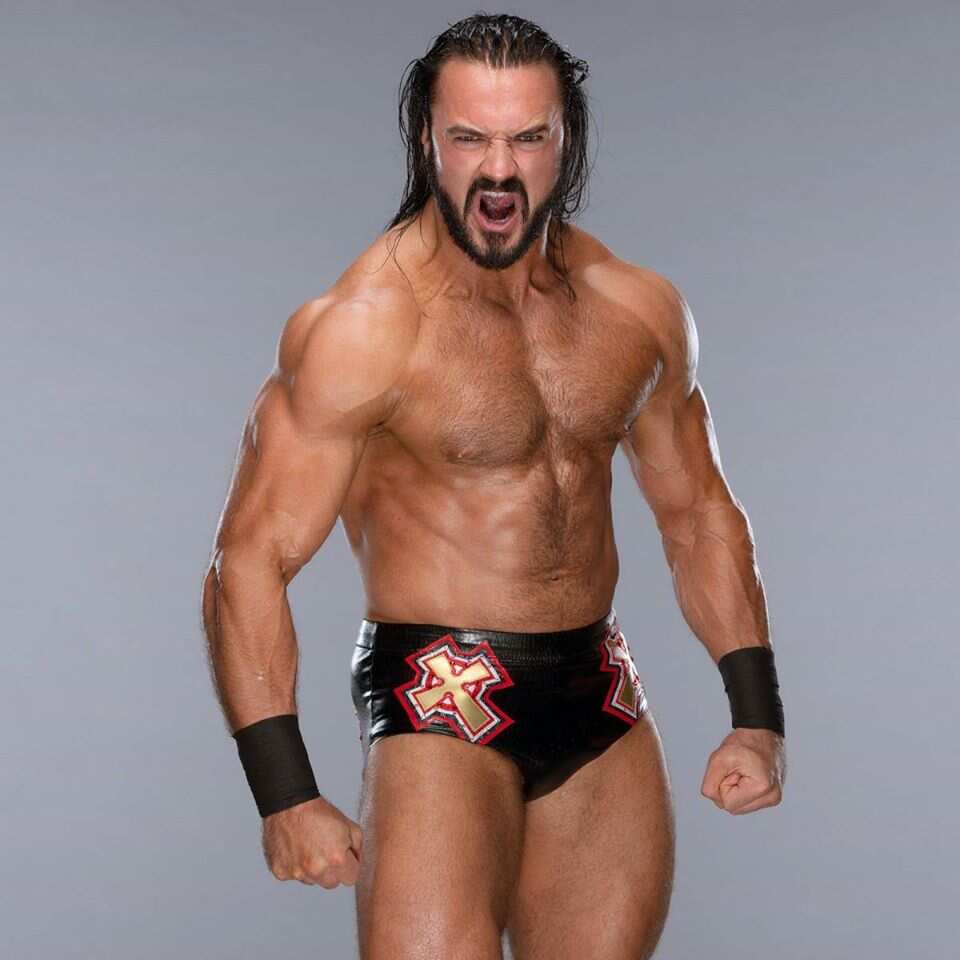 His next feud was with Finlay, whom he defeated in under two minutes of their contest. In the Survivor Series that was held on the 22nd of November, he eliminated Matt Hardy and Evan Bourne.
He became the sole SmackDown superstar to face and beat John Morrison, so he qualified to compete in the Intercontinental Championship at TLC: Tables, Ladders & Chairs. In the game, he pinned Morrison and won the Intercontinental title. He retained his title after facing both Morrison and Kane at a later date.
His reign ended after he lost to Kane on the 26th of February the following year in a Money in the Bank qualifying contest. He also lost to Matt Hardy and to The Undertaker on the 29th of March.
The wrestler continued feuding and facing other famous wrestlers on the ring. On the 25th of June, it was determined that Galloway's work visa had expired, so he was taken off the WWE television shows. He was back after two weeks and was reinstated in the WWE brand, where he has many different storylines.
3MB
On the 21st of September 2012, Galloway allied with Heath Slater and Brodus Clay to form the Three Man Band (3MB.) Unfortunately, he suffered a wrist injury that pushed him out of the ring until the 7th of December.
3MB challenged Alberto Del Rio and The Miz to a contest. The two announced that their third member was Brooklyn Brawler, and the three defeated 3MB. The following day, 3MB was beaten by Del Rio, The Miz, and Tommy Dreamer.
In the next few matches, 3MB kept losing to their opponents. In late 2013, the members started using different names, maybe for better luck, but they still lost continuously. On the 12th of June 2014, Galloway's contract with WWE came to an end, so 3MB died.
Re-joining the ICW
On the 27th of July 2014, the wrestler joined ICW for the second time, and he went back to using his real name on the ring. He feuded with Jack Jester whom he defeated at the Fear & Loathing VII event.
He then made his first-ever international ICW title defense on the 20th of December in Demark against Michael Fynne and Chaos, and he defeated both. He went on a winning streak most of the time. After a series of impressive performances, an announcement that he would be inducted in the ICW Hall of Fame was made on the 1st of February 2018.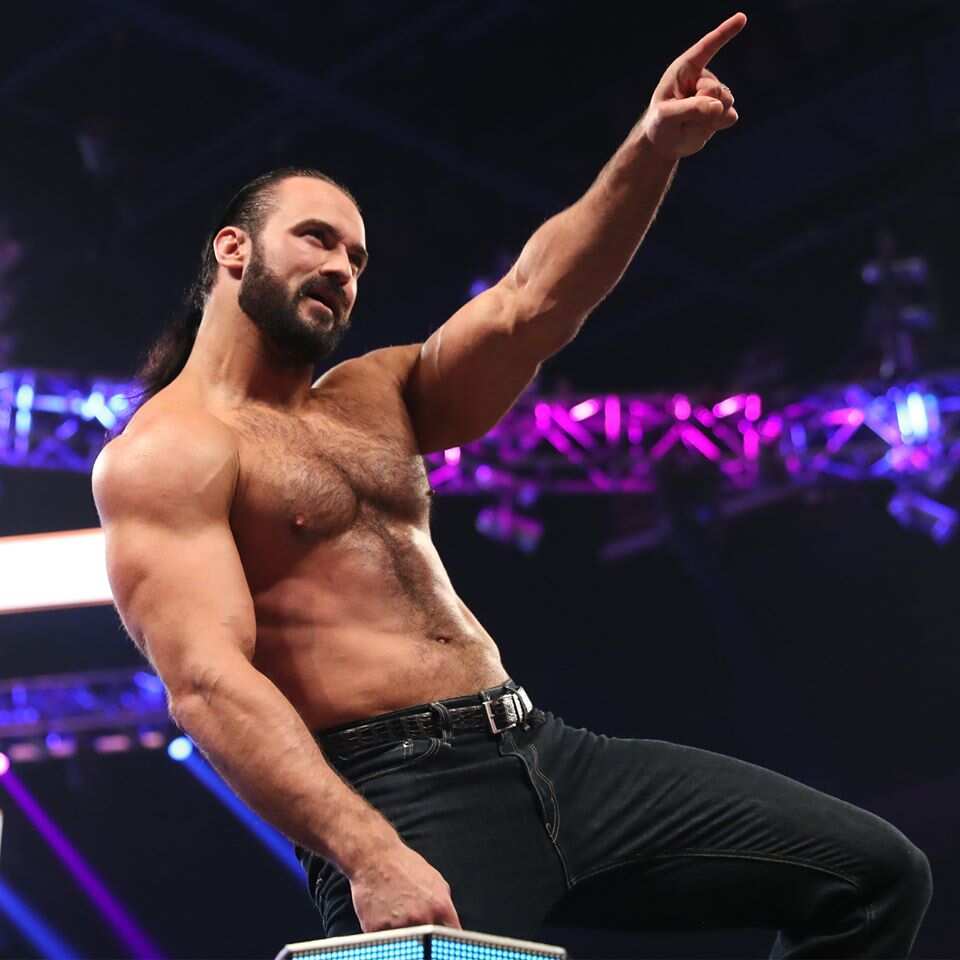 Evolve
The wrestler was signed with Evolve from August 2014 to late 2017. In his debut competition, he defeated Chris Hero and won the Evolve Championship. He experienced his first loss at Evolve 33 when Ricochet beat him. Even so, he continued to defend the Evolve Championship title against many other famous and talented wrestlers. He won most of his matches.
In one of the matches, he attacked Andre, assaulted the referee and threatened SoCal Val, so he was suspended from Evolve. He came back to the company in November 2015, and he started with a winning streak in his first contest before being beaten in the second.
He worked with the company until late 2017. Between 2014 and 2017, he also worked with the Independent Circuit for the second time.
Years with Total Nonstop Action (TNA)
In late January 2015, Galloway made his debut with TNA using his real name. He assisted Grado and entered a feud with The Beat Down Clan. In his inaugural competition, he defeated Kenny King and later defeated MVP through disqualification.
He then teamed up with Micah and Eli Drake to form The Rising, which defeated The Beat Down Clan by disqualification. Galloway then challenged Low Ki to a contest, and Ki beat him. During the Slammiversary, he participated in the King of the Mountain match for the TNA King of the Mountain Championship title, but he lost.
The Rising also lost to The Beat Down Clan in a handicap game, so The Rising collapsed. On the 15th of July, he competed for the TNA World Heavyweight Championship title but lost after Eli Drake attacked him.
In the subsequent game, No Surrender, he defeated Drake and later maintained his win after a rematch was ordered. In the next few months, he had successes and losses almost in equal measure. The wrestler parted ways with TNA on the 26th of February 2017.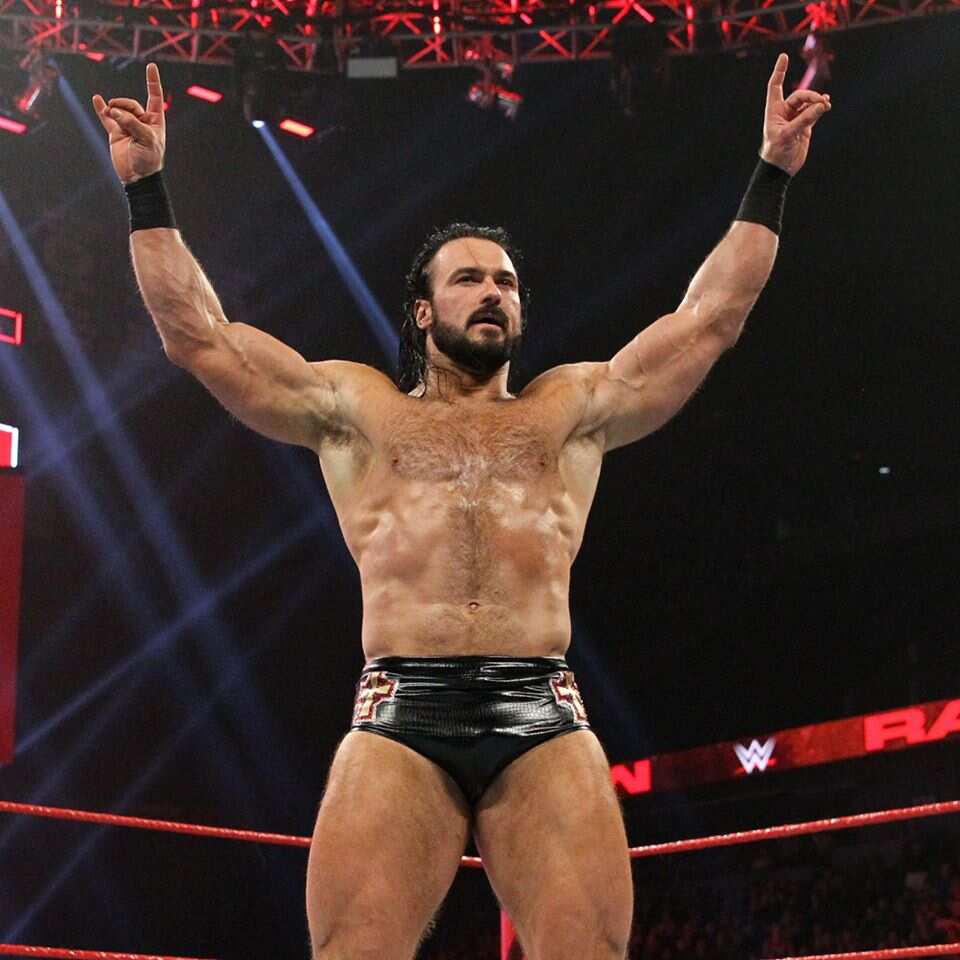 Pro Wrestling Guerrilla
In August 2015, the wrestler made his debut under Pro Wrestling Guerrilla when he competed in the Battle of Los Angeles tournament. He was eliminated by "Speedball" Mike Bailey on the second night.
He then teamed up with Aero Star, Chuck Taylor, and Drew Gulak to win in a ten-man effort against the rival team. On the 2nd of January 2016, he faced Jack Evans, whom he defeated. He then unsuccessfully faced Roderick Strong for the PWG World Championship title.
Later, he faced both Trevor Lee and Trent at the All-Star Weekend 12, but he lost both matches. On the 20th of May 2016, he won against Michael Elgin in an open challenge.
WWE return
Galloway appeared as Drew McIntyre at NXT TakeOver: Orlando, and it was later confirmed that he had resigned with WWE under the developmental territory NXT brand. On the 12th of April 2016, he made a face appearance, and the Drew McIntyre theme song was different.
In his first match, he defeated Oney Lorcan, and on the 19th of July, he defeated Killian Dain. He then got a chance to face Bobby Roode at NXT TakeOver: Brooklyn III. In the match, he defeated Bobby Roode and won the NXT Championship title. He successfully defended his title against Roderick Strong on the 4th of October.
His next feud was with Andrade "Cien" Almas, whom he faced in the NXT TakeOver: WarGames but lost his title to Almas. After the match, the officials revealed that he had suffered a bicep injury during the game.
Teaming up with Dolph Ziggler
On the 16th of April 2018, Galloway returned on the Raw brand after healing from his injury, and he allied with Dolph Ziggler. On the 18th of June, he assisted Ziggler to win the Intercontinental Championship title. He helped him on several occasions to retain his title.
On the 27th of October, the two lost the Raw Tag Team Championship to Dean Ambrose and Seth Rollins. Galloway then competed at the Survivor Series as a member of Team Raw. Braun Strowman and Bobby Lashley were the Team Raw survivors.
On the 3rd of December, the alliance between Ziggler and Drew came to an end. At the TLC: Tables, Ladders & Chairs event, the wrestler lost to Bálor, and on the 31st of December, he faced Ziggler, and Galloway emerged the winner. On the 27th of January 2019, he lost the Royal Rumble game to Ziggler.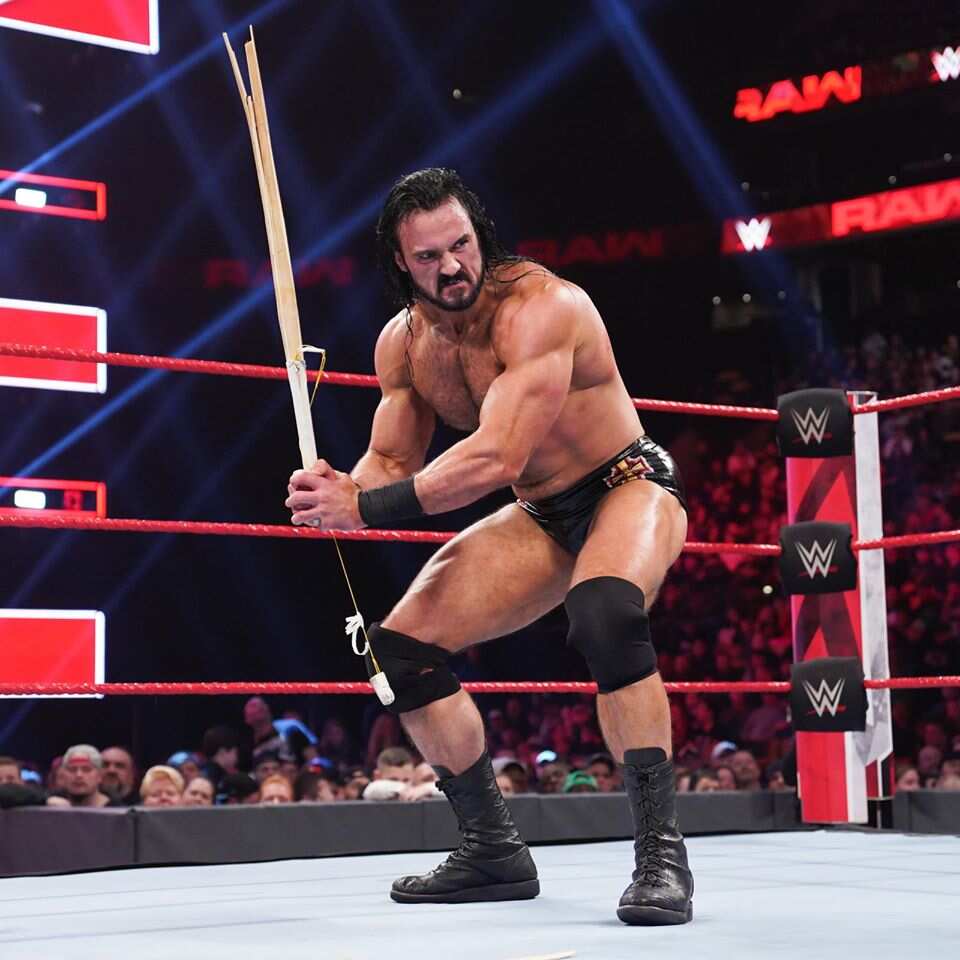 2019-2020 feuds
Before the Fastlane, the wrestler rekindled his feud with The Shield. He teamed up with Bobby Lashley and Baron Corbin against The Shield, but they lost. On the 18th of March 2019, he challenged Roman Reigns to a match at WrestleMania 35 before winning against Seth Rollins at the event. At WrestleMania, he lost to Reigns. He also lost to Reigns in a rematch.
After the loss, he teamed up with Shane McMahon, and at the Super ShowDown, McMahon won because of Galloway's support. In the next match against Reigns, Galloway won before the two lost to Reigns and The Undertaker in an Extreme Rules No Holds Barred tag team match. The alliance between Reigns and Galloway ended after the loss.
In August 2019, the wrestler participated in the King of the Ring tournament but was eliminated by Ricochet. He took a break before returning to the ring on the 21st of October where he revealed that he was a member of Crown Jewel together with Ric Flair. The team lost to Team SmackDown in a Survivor Series match.
Going to 2020, the wrestler became a darling to many fans because he engaged in interaction with the crowd and garnered chants in his support. He then embarked on a winning streak in his next matches and even got a chance to take part in the world championship for the first time.
On the 26th of January 2020, he won the Royal Rumble game after taking down Roman Reigns. He got the chance to take part in WrestleMania 36, where he defeated six wrestlers, including Brock Lesnar. After the win, he announced that he had chosen to challenge Brock Lesnar at WrestleMania 36 for the championship title.
Video games
Galloway is a playable character in a video game, and he has also featured in other games. A list of these games is given below;
WWE SmackDown vs. Raw 2011
WWE 12
WWE 13 (DLC)
WWE 2K14
WWE 2K18 (DLC)
WWE 2K19
WWE 2K20
How much is Drew McIntyre worth?
Drew McIntyre net worth is yet to be ascertained, and different sources cite different figures. The NewsFeedSource website estimates his net worth to be about $1.5 million.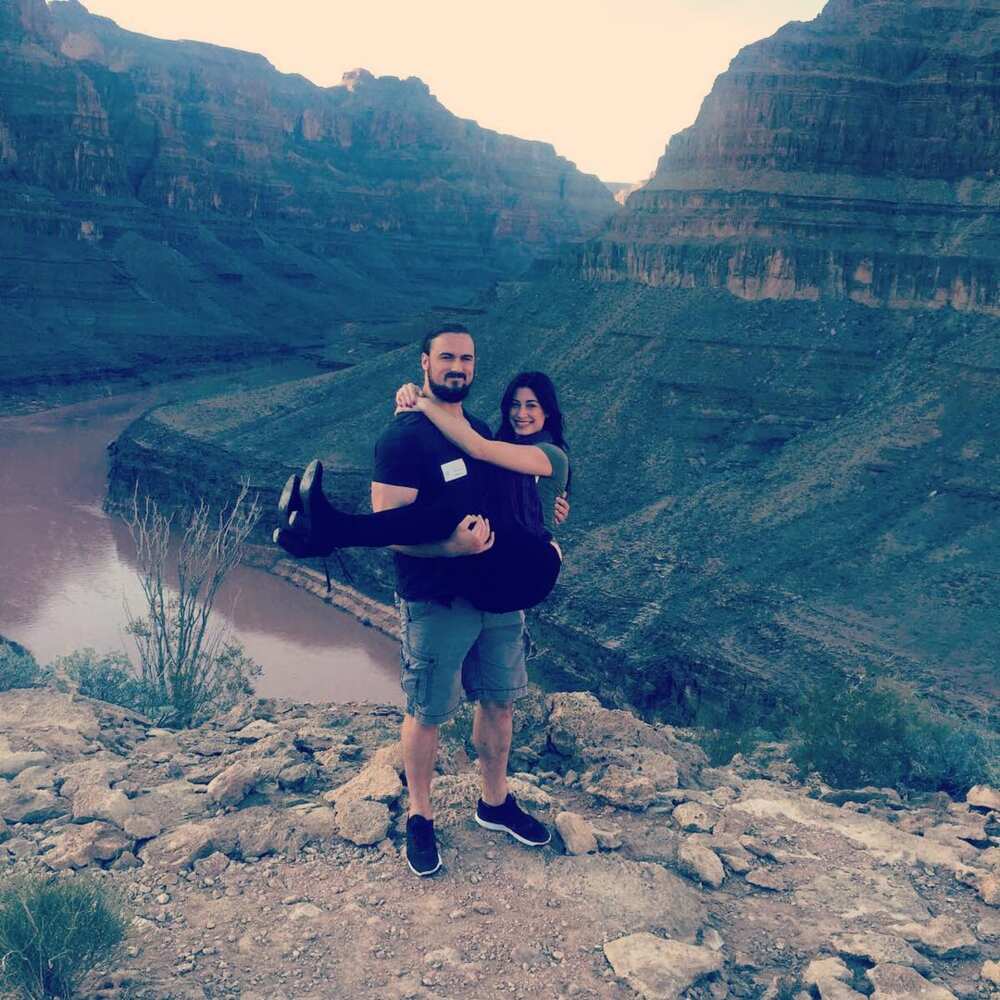 Drew McIntyre wife
Galloway has been married twice. In July 2009, he proposed to Taryn Terrell, an American professional wrestler. Their union seemed to thrive each passing day, and the lovebirds got married in May 2010 in Las Vegas.
Unfortunately, Drew McIntyre 2010 marriage was not to be his happily ever after. Terrell announced that she was going to divorce him in May 2011.
The young man did not give up on love after his divorce. He found love again, and on the 10th of December 2016, he married his current wife, Kaitlyn Frohnapfel.
Drew McIntyre Instagram
Galloway is very active on social media, particularly on Instagram. His official Instagram account has at least 548k followers. He often posts updates about his matches and other important events in his career.
He also posts cute pictures of him and his wife, Kaitlyn Frohnapfel, and the couple appears to be happily in love.
Besides Instagram, the athlete is also on Twitter, and his account has over 664.1k followers. Through this platform, fans get the latest updates about his life and career. Besides, he has an official Facebook page with over 813.7k followers and over 589.1k likes.
In the world of professional wrestling, Drew McIntyre is a household name. Where is Drew McIntyre? He is currently signed under the Raw brand of WWE, and he never ceases to amaze his fans and followers.
Since Drew McIntyre joined the combat sport at 15 years, he has grown in leaps and bounds. Today, the 34-year-old athlete inspires millions of young people to pursue their dreams from an early age.
Source: Legit.ng