Meri Brown bio: siblings, net worth, weight loss, divorce
If you are a lover of the Sister Wives series, then you should know Meri Brown, although the show is based on her husband's lifestyle. She is best known for her role in TLC's reality series, which was completed in 2018. Meri became famous after appearing in the reality show for the first time in 2010. Afterward, she has been in the spotlight and making tremendous progress.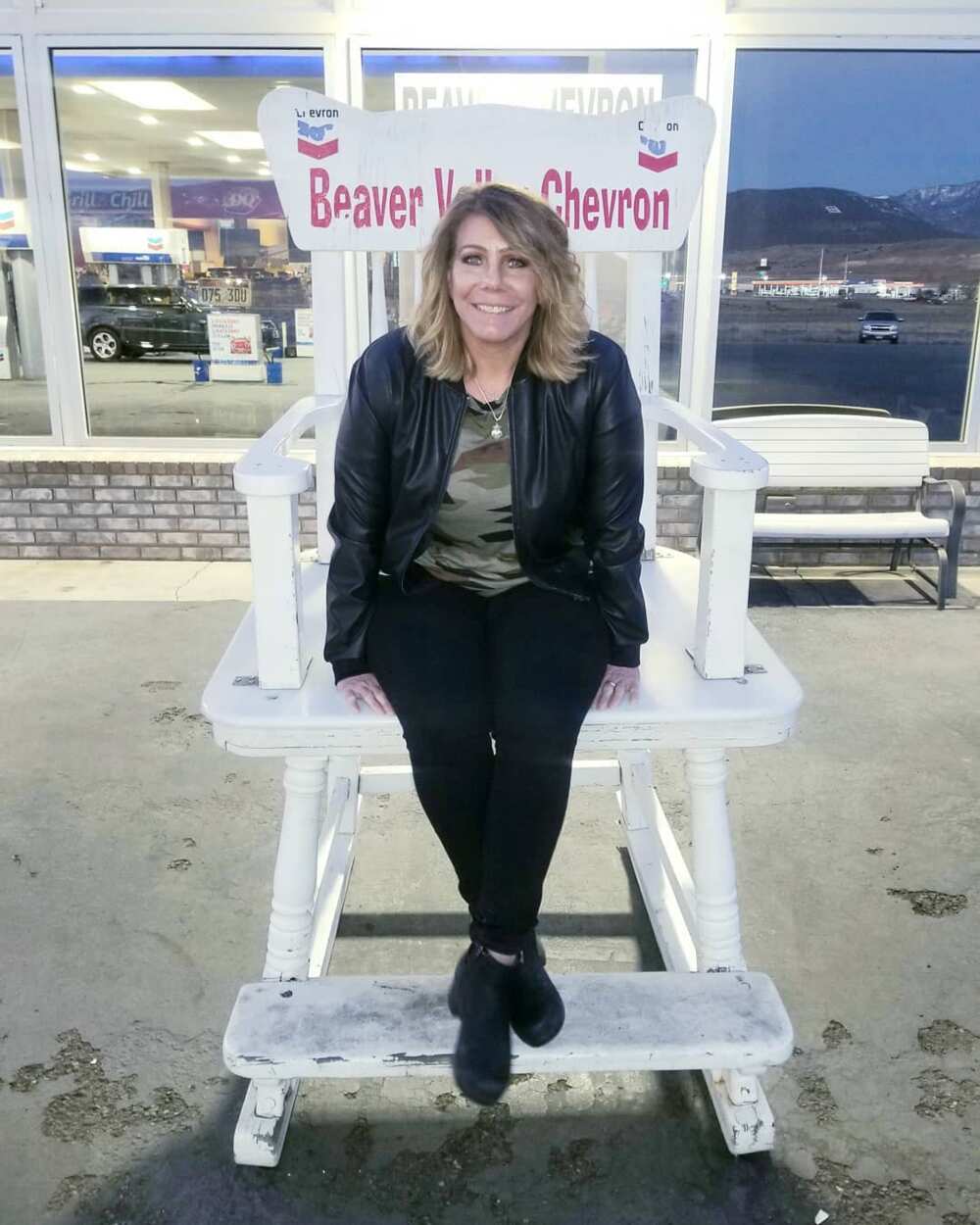 Who is Meri Brown? She is the first wife of a polygamist patriarch Kody Brown. Also, she is an American author and a businesswoman. She is a co-author of the book, Becoming Sister Wives, which describes the story of an unconventional marriage. Then, Meri possesses and operates a bread and breakfast lounge called Lizzie's Heritage Inn. She reportedly decorated the inn with her great grandmother's things and items to give the place a homely and traditional look.
Meri's Brown profile summary
Full name: Meri Caroline Brown
Date of birth: 16th of January, 1971
Age: 49 years old
Birthplace: Alameda, California, United States
Zodiac sign: Capricorn
Hair color: Dark blonde
Eye color: Blue
Height: 1.7 m
Profession: TV personality, author and businesswoman
Books: Becoming Sisters Wives: The story of an unconventional marriage
Nationality: American
Parents: William (father) and Bonnie (mother)
Marital status: Divorced
Net worth: $ 400,000
Daughter: Mariah Brown
Siblings: Teresa, Marc, Adam, Deborah, Rebekah, and Elaine
Weight: 70 kg
Body measurement: 38-32-3
Background information on Meri Brown
Meri Brown was born in Almeda, California, the United States of America, to William Barber and Bonnie Barber. Her father passed away on the 5th of September, 2007, and her mother is a homemaker.
The information about her childhood is limited. However, from the available ones, she is a high school graduate, but the information about her college qualifications is not available. As regards her career, the all shinning star of Sister Wives Meri Brown has reached a milestone in her TV reality career because of her role.
She appeared in the show for the first time in 2010 after she got married to Kody Brown for two decades. Apart from her TV reality shows, she runs an inn since 2017.
How old is Meri Brown?
The businesswoman is 49 years old. She was born on the 6th of January, 1971.
Who are Meri Brown siblings?
Meri Brown was born into a full house. She has six siblings. Of these siblings, two are males: Marc William Barber and Adam Barber, and four are females: Elaine Barber Jenson, Deborah Barber Bronson, Rebekah Barber Dilts, and Teresa Barber Kunz.
Meri Brown weight loss
At different times, Meri has been in the spotlight for various reasons. One of which is her weight loss. If you have not followed her beyond the latest season of Sister Wives, you might not notice this. However, if you are her fan on social media, you must have seen how happy she is. Although her happiness could be attributed to various reasons, unarguably, her weight loss is partly responsible for her excitements.
Unlike weight loss of some other people, Meri Brown's was not dramatic. It was a gradual process, and this gives credence to the fact that it took place naturally and over a reasonably long period. Her pictures online show that she had got busy with fitness over the years. Some people argued at first, saying it was due to the angle the photos were taken. However, more pictures have revealed that she has slimmed down.
How much is Meri Brown net worth?
According to Celebrity Net Worth, Meri Brown net worth is estimated at $400 Thousand. She has made this much as a successful businesswoman and TV reality personality. A large part of her income must have come from her role as an actress in the series, Sister Wives. This television series premiered on the 8th of September, 2010.
During that time, it reportedly had 2.4 million viewers, which was considered an enormous success. Then, in addition to making money from her role in Sister Wives, Brown has also made some money from appearing in various television talk shows. Some of these shows are the Oprah Winfrey Show and The Wendy Williams Show.
Her marriage and divorce
The TV reality star met her husband in 1989 through Kody Brown's sister. The duo hit off on a romantic note, and Kody proposed on the 24th of December, 1989, which she gladly accepted. The legendary sister wives got married legally to her heartthrob in 1990 at the age of nineteen years. They planned to have eight children. Unfortunately, unexplained fertility did not allow them to fulfil their wishes.
She became pregnant by 1994 with her daughter, Mariah. Then, in 2007, she took in again but ended up miscarrying it. She was willing to fulfil her wish of eight kids by opting for surrogacy, but her husband was not interested in it. Then, the polygamist patriarch decided to marry a fourth wife and adopted three children in 2014. Consequently, this act led to the divorce of the love birds, although they are still spiritually married.
When they disclosed their divorce, they bolstered their decision with a point that they had decided to restructure their family legally and that their decision was based on understanding, thoughtfulness, and for the best. Though she is no longer legally married to her husband, however, she shares a powerful bond with the kids, and she is at peace with them. Meri Brown divorce did not affect the long-lasting relationship she has built with the family, which she described as eternity.
Brown's catfish
The businesswoman revealed that she had been in an online relationship for over five months with a man who she thought was named Sam after her divorce in 2015. Unfortunately, she found out later that she was allegedly in a relationship with a woman who disguised as a man to manipulate and mislead her.
Who was Meri Browns Catfisher? Jackie Overton is the woman who disguised as Samuel Cooper. Overton released Meri Brown catfish photos and identity. She also released intimate and emotional texts about Brown's confusion about their relationship.
Regrettably, the catfisher tricked Meri Brown Sister Wives star for about half a year. Followers indicated that Sam's photo was stolen because he had been accused of catfishing afore time. The humiliation resulted in the star distancing herself from the rest of the family. However, she is still a part of the Sister Wives series after the incident happened.
The life of Meri Brown has been full of ups and downs. However, being one of the casts of Sister Wives series, she has enjoyed fame and considerable success in her career. Falling a victim of catfishing due to her online dating is an experience some of her fans wished she never had, while some others have kept wondering why she had to involve herself in an activity like that.
Source: Legit