- A Kano court has rejected a report of an anti-corruption commission which recommended the suspension of Muhammad Sanusi, the emir of Kano
- The commission had claimed that the emir misappropriated the sum of N3.4 billion between 2014 and 2017
- The court, however, ruled that the commission violated the principle of fair hearing by not giving Sanusi an opportunity to be heard before releasing the report on him
A preliminary report of the Kano state Public Complaint and Anti-corruption Commission (PCACC), which recommended the suspension of Muhammad Sanusi, the emir of Kano, has been dismissed by a Federal High Court.
A report by the commission had in 2019, recommended the suspension of the emir of Kano, pending investigations into alleged financial misappropriation of the emirate's funds, The Cable reports.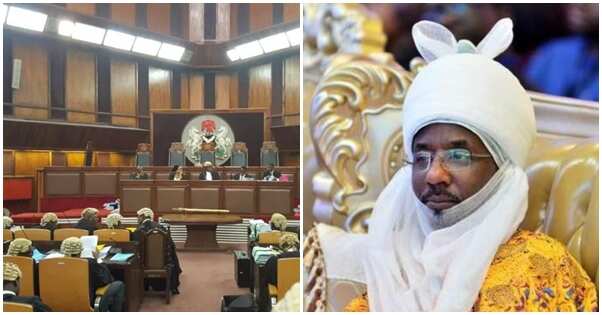 The commission claimed that Sanusi misappropriated the sum of N3.4 billion between 2014 and 2017.
However, the court in delivering judgment on Friday, February 21, said the commission violated the principle of fair hearing by not giving Sanusi an opportunity to be heard before releasing the report on him.
The emir was also awarded N200, 000 as general compensation for the breach of his human rights.
In another news, Emir Sanusi has advocated for the arrest of fathers who send out their children to beg for alms.
Sanusi made the statement on Thursday, February 20, at a conference organized by a non-governmental organisation of Aisha Buhari, the first lady, organised in collaboration with the Supreme Council for Islamic Affairs (NSCIA), The Cable reports.
The emir said no law provides that a man should marry, have children and abandon them without living up to his responsibility to them.
He said instead of sending children to beg, any man who is too poor to take care of his family should go out and beg himself.
Sanusi stated that any man who becomes the head of the family has assumed the responsibilities of being the provider of the family.
The emir on another occasion condemned the rising level of poverty across the northern region of Nigeria.
Speaking at the 60th birthday of Kaduna state Governor Nasir El-Rufai, the emir said no northern leader should be happy about the current situation in the region.
PAY ATTENTION: Install our latest app for Android, read best news on Nigeria's #1 news app
He said if the north fails to change by tackling some of the challenges - poverty, insecurity, education among others, it is then headed for destruction.
Meanwhile, in the wake of members of the insurgent groups laying down their arms and renouncing violence, Major General Bamide Shafa, the coordinator of Operation Safe Corridor, has revealed the government's reasons behind the adoption of a safe platform for repentant fighters.
According to The Sun, Shafa speaking at the Bulumkutu Rehabilitation Centre, Maiduguri, Borno state, told reformed and repentant insurgents numbering about 86 that war could not be won alone with force.
The army commander advocated that dialogue is the better way of ending the war, especially when the other side lays down their arms. He went on to note that the former insurgents on their own voluntarily surrendered and decided to return to society as normal citizens.
Emir Sanusi blasts Nigerian leadership | Legit TV