Tyler the Creator bio: age, awards, songs, albums, net worth, dating
If you are current with entertainment news, then the name of Tyler the Creator should no longer be new to you. The multi-talented young man is a singer, rapper, songwriter, and producer. Since he picked up a career in the entertainment industry, he has not stopped amazing and entertaining his fans with his skills. He is also a winner of several awards, including the 2020 Grammy award for Best Rap Album.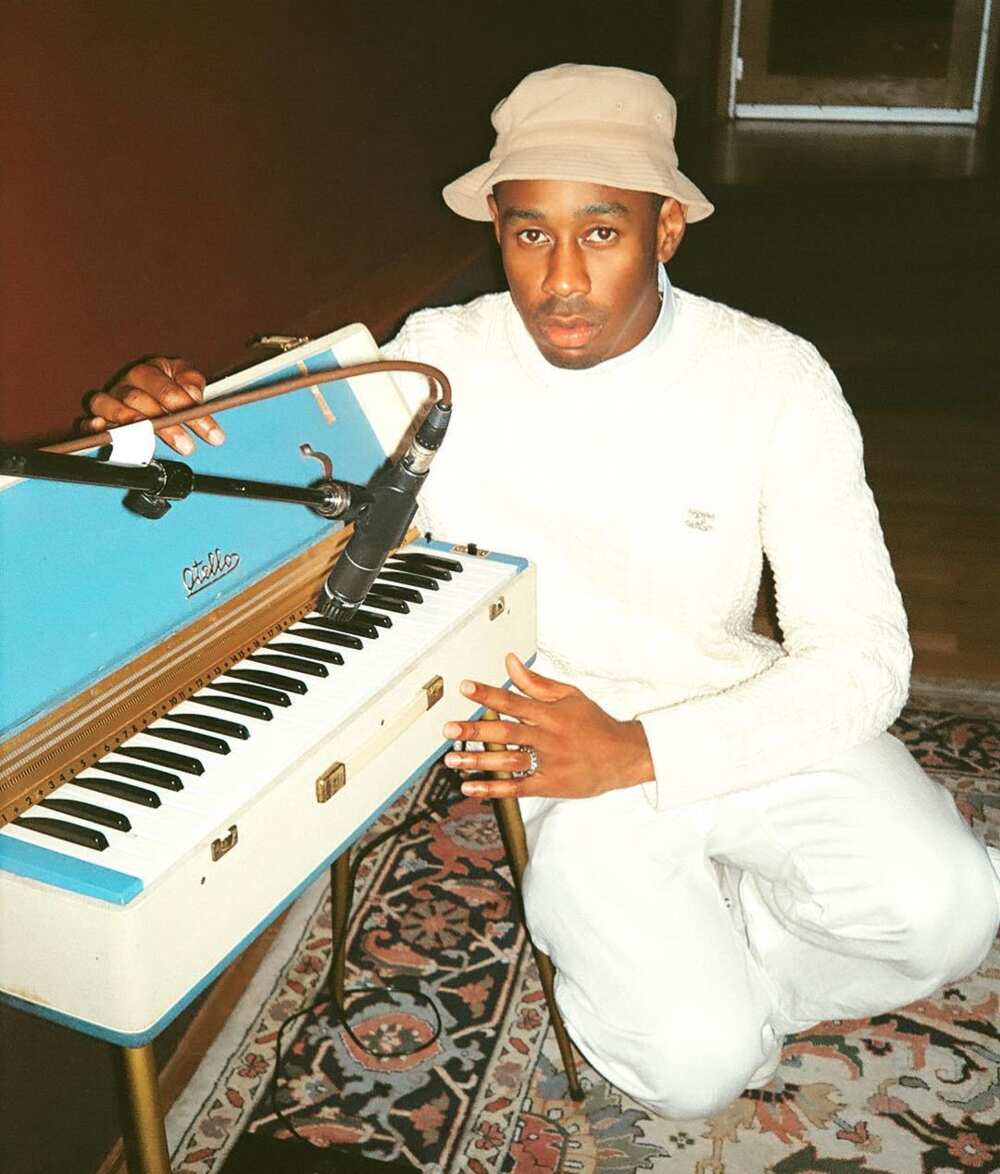 One of the questions that fans across the world have often asked about the fantastic rapper: "Is Tyler the Creator Nigerian?" Tyler was born to a Nigerian father, which means that he is half Nigerian. His father is from the Igbo ancestry. Apart from his skills in singing and rapping, he is also a fashion designer. He founded Golf Wang and music festival Camp Flog Gnaw. Interestingly too, the five solo albums that he released to date have made the Billboard 200's top five.
Tyler's profile summary
Full name: Tyler Gregory Okonma
Nickname: Tyler, The Creator
Date of birth: 6th of March, 1991
Nationality: American
Age: 28 years old
Zodiac sign: Pisces
Place of birth: Ladera Heights, California, United States
Famous as: Rapper
Height: 6 feet and 2 inches (188 cm)
Parents: Walter Whitman (father) and Louisa Van Velsor (mother)
Siblings: Andrew Jackson, Edward, George Washington, Jesse, and Thomas Jefferson
Background information on Tyler
Tyler was born in Ladera Heights, California, and spent his childhood days where he was born and also in Hawthorne, California. His father is Nigerian, while his mother is of mixed African-American and European-Canadian descent. Unfortunately for him, he never knew who his father was, so, his mother raised him. He became famous as the co-founder and de facto leader of Odd Future, an alternative hip hop group, in the early 2010s.
It was reported of him that at seven, he was already creating imaginary albums even when he did not know what music creation was all about. While doing this, he would come up with a title of songs, a title track as well as the duration of each song. Then, by the time he clocked fourteen, he had already learnt how to play the piano, because he was passionate about playing a musical instrument.
As for his education history, he went to twelve different schools, all within the Los Angeles and Sacramento area. During this period, he loved sports and had a particular interest in skateboards. He learnt how to skate from merely watching different videos and the game' Pro Skater 4'. Even though he was shy and often stayed aloof, he started gaining fame after his schoolmates discovered his musical skills in his senior year.
Moreover, before Tyler began his music career, he worked for FedEx for about two weeks. He also worked for more than two years at Starbucks. His stage name was inspired by a Myspace page where he was posting his works. His fame is well pronounced, and currently, he is on the list of Forbes' 30 under 30 for 2020 in the music category.
How old is Tyler the Creator?
Currently, Tyler the Creator age is 28 years. The music star was born on the 6th of March, 1991.
Tyler the Creator awards
Since he picked up a career in the music entertainment industry, the hip hop star has been decorated with several awards. For instance, he got three awards in 2011. The first two were from MTV2 Sucker Free Awards as Must-Follow Artist and Rookie of the Year, while the third was from MTV Video Music Awards for Best New Artist.
Additionally, in 2013, he was nominated for the prestigious Grammy Awards. Tyler the Creator Grammy nomination was under the Album of the Year (as featured artist) category. A year after, he got another nomination for Best Art Direction in MTV Video Music Awards.
Also, he received another nomination for MTV Video Music Awards on his singles Fucking Young and Death Camp for Best Visual Effects in 2015. In 2020, he won the International Male Solo Artist award of the BRIT Awards, and Grammy award for Best Rap Album based on his album titled Igor.
Tyler Gregory's career
2009 was a notable year for the young talented music star as that was when he released his debut mixtape with the title Bastard. Interestingly, the song was a hit that on Pitchfork Media's Top Album list for the year 2010, it was ranked as 32. Shortly after then, XL Recordings signed a record deal with him, and that led to the release of his first single from Yonkers album. He yet again recorded a massive hit from the music video.
In 2010 also, Goblin, his first album, was released with positive reviews from the public. The success of this also granted him the opportunity of performing at different concerts and shows. Then, in 2011, when he made his first appearance on TV, he performed the song, Sandwitches on Late Night, with Jimmy Fallon. Additionally, he performed at Jimmy Kimmel Live and MTV awards.
In the same year also, Odd Future was formed together with Pyramid Vritra, Matt Martians, Jasper Dolphin, Casey Veggies, and Left Brain. It was later that the likes of Simitry Elyashkevich, Lace Bangs, Jeff Tremaine, and others joined them. After some time, Odd Future started its television show titled Loiter Squad for Cartoon Network's Adult Swim under Dickhouse Productions. The show aired in 2012, and it ran for three seasons with thirty-one episodes.
Tyler's second album was supposed to be released in 2012, but it came out in early 2013. The album with the title Wolf was produced under Odd Future Records. Sony Music Entertainment and RED Distribution also assisted, and in the first week of its release, ninety thousand copies were sold. Also, on the U.S. Billboard 200 album chart, the album peaked at number three.
Tyler The Creator songs and albums
So far, a total of five Tyler The Creator albums have been released, which are:
Goblin in 2011;
Wolf in 2013;
Cherry Bomb in 2015;
Flower Boy in 2017;
Igor in 2019.
Also, the following are some of the songs that the American rapper has either personally released or collaborated with other artists:
I Think;
What's Good;
Running Out of Time;
Earfquake feat. Playboi Cart;
Who Dat Boy;
911/Mr. Lonely;
IFHY;
Domo23;
Yonkers;
Puppet;
New Magic Wand;
Igor's Theme feat. Lil Uzi Vert;
A Boy Is a Gun;
Okra;
Martians vs. Goblins feat. The Game;
Where This Flower Blooms;
See You Again;
Pothole;
Smuckers;
Fucking Young/Perfect;
Find Your Wings;
Cherry Bomb;
The Brown Stains of Darkeese Latifah, Pt. 6-12;
Trashwang;
Cowboy.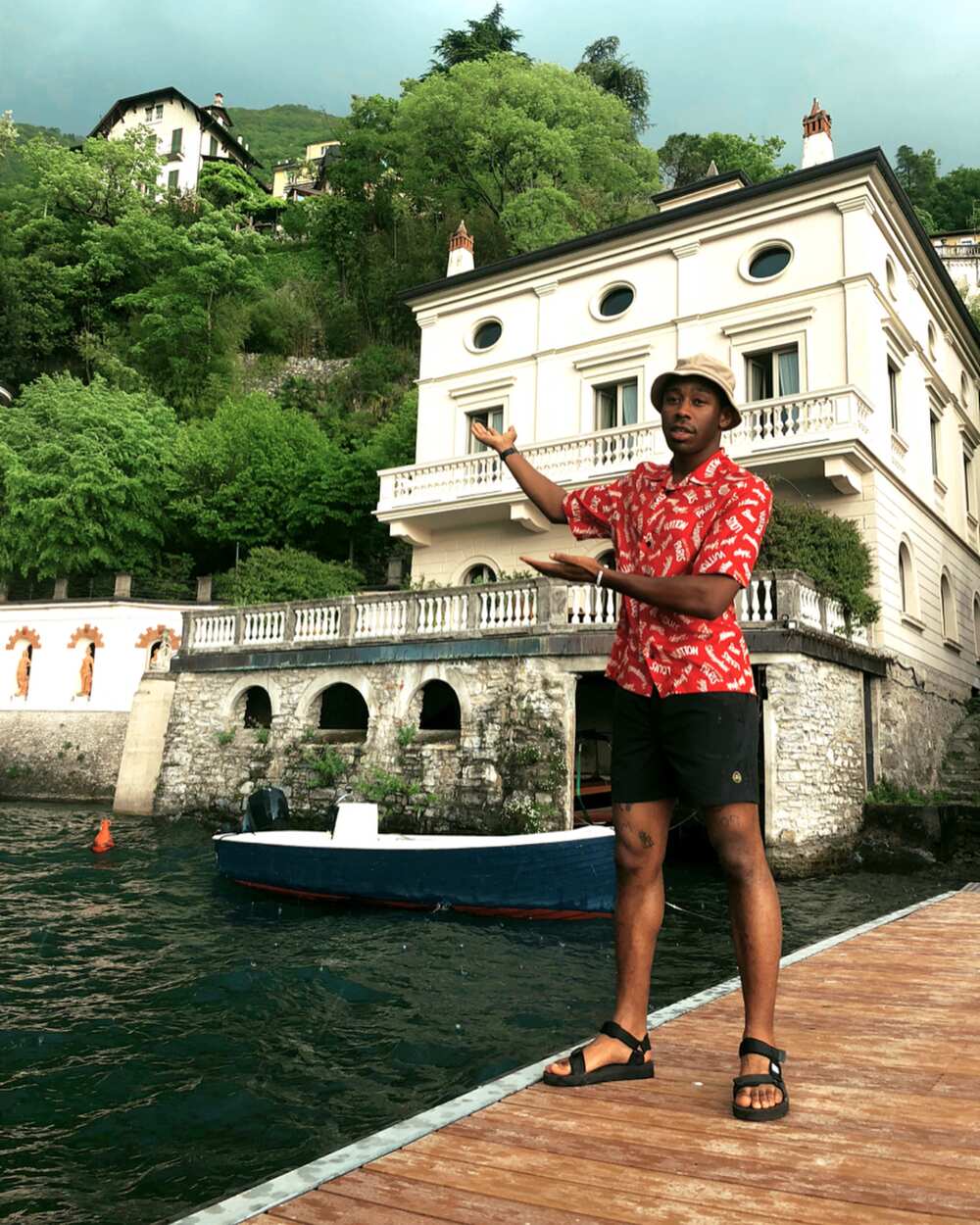 What is Tyler's net worth?
The American rapper Tyler the Creator net worth 2020 is estimated at $16 Million. He has earned so much from the sales of his albums and events that he organises.
Who is Tyler the Creator in a relationship with?
One of Tyler the Creator latest news is about what Jaden Smith has been asserting about their relationship. Already, Smith is known to be gay, and for a few years now, fans are still waiting to confirm if what Jaden said about him and Tyler the Creator dating is true.
Earlier in November 2018, Jaden publicly declared his love for Tyler after pausing his performance at the 2018 Camp Flog Gnaw Carnival. On the 11th of November of the same year, Jaden said:
Tyler, the Creator is the best friend in the world and I love him so (expletive) much. And I want to tell you guys something. … Tyler doesn't want to say, but Tyler is my (expletive) boyfriend.
After Jaden took to his Twitter handle and still affirmed what he said, the rapper's response was, "hahaha you a crazy (expletive) man." Besides, after Tyler won a Grammy award for Best Rap Album earlier this year, singer Jaden Smith still went on and tweeted again: "My Boyfriend Just Won A Grammy."
Tyler the Creator is a fantastic rapper worth listening to. He has made so much impact in the entertainment industry across the world. The proof is glaring from the awards and nominations that he has received and shows where he has performed. Without any doubt, the American rapper is one of the stars that his generation is proud to have.
Source: Legit.ng