Patient plays violin during brain surgery so doctors don't damage her skills
- The King's College Hospital surgeons woke up Dagmar Turner in the middle of brain surgery to play the violin
- This was to ensure the operation did not compromise parts of the brain necessary for playing the violin
- A video from the surgery showed the violinist move her bow up and down as surgeons worked to remove her tumour
- Turner learned that she had a slow-growing tumour in 2013 and doctors later found that it had become more aggressive
- Her consultant neurosurgeon who is also an accomplished pianist came up with the plan to keep the hand's functions intact
A patient at King's College Hospital in London played the violin while surgeons operated on her brain to remove a tumour.
The hospital said the unusual approach was to ensure that areas of Dagmar Turner's brain that control delicate hand movement and coordination were not inadvertently damaged.
According to a report by BBC, the 53-year-old violinist was diagnosed in 2013 with a large, slow-growing glioma after suffering a seizure during a symphony.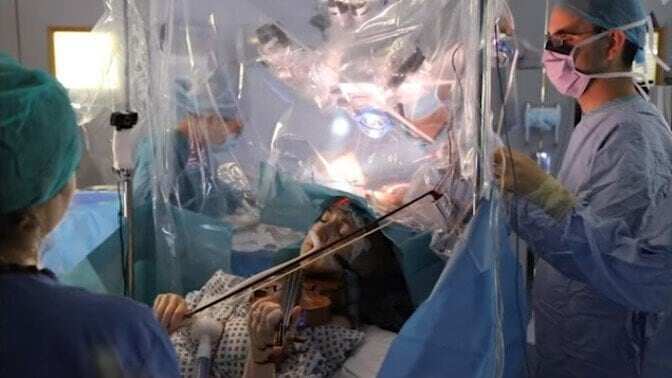 "Dagmar's tumour was located in the right frontal lobe of her brain, close to an area that controls the fine movement of her left hand," wrote the hospital in a release.
"Precise and skilled use of this hand is essential for playing the violin as the fingers regulate the length of the strings by holding them against the fingerboard, producing different pitches," it added
Turner's consultant neurosurgeon, Professor Keyoumars Ashkan, is also a pianist and holds a degree in music, according to the hospital's press release.
Ashkan knew how important preserving his patient's ability to play the violin was and devised a plan that would bring her out of anaesthesia during surgery to play the instrument.
"The thought of losing my ability to play was heartbreaking, but being a musician himself, Ashkan understood my concerns," said Dagmar.
PAY ATTENTION: Install our latest app for Android, read the best news on Nigeria's #1 news app
Ashkan and the team at the hospital went out of their way to plan the operation – from mapping the brain to planning the position she needed to be in to play the instrument.
He explained that the hospital typically will have brain surgery patients perform language tests, but Turner was his first patient to play an instrument during an operation.
While the team performed a craniotomy, Turner was carefully brought out from under anaesthesia and instructed to play the instrument while the tumour was removed.
"We knew how important the violin is to Dagmar so it was vital that we preserved function in the delicate areas of her brain that allowed her to play," Ashkan said.
"We managed to remove over 90% of the tumour, including all the areas suspicious of aggressive activity while retaining full function in her left hand," he added
Turner, who was initially diagnosed with a grade two glioma in 2013 after suffering a seizure, had already undergone radiation in hopes of controlling the tumour.
Just three days after the operation, Turner was able to go home to her husband and teen son.
While it's rare for a patient to play their instrument during brain surgery, there have been other cases.
For example, in July 2016 a team of scientists removed a tumour from a music teacher's brain as he played the saxophone.
Brad Mahon, a cognitive neuroscientist at Carnegie Mellon University, was one of the scientists who mapped the music teacher's brain.
He said that the surgery was particularly intense because it was in an area of the brain that could actually lead to loss of the knowledge of how to conduct music and how to understand music.
The surgeon further said the basic features of the type of brain surgery where patients are awake in order to avoid damage to critical brain areas have remained largely unchanged for decades.
Meanwhile, Legit.ng previously reported that a man in the United States identified as Jason Garrett displayed a rare show of love for his 12-year-old dog Lola who needs to undergo major surgery for pre-heart failure.
Garrett has drained his retirement savings to raise $45,000 (N16.3m) for the procedure, which is said to be 90% success rate.
NAIJ.com (naija.ng) -> Legit.ng We have updated to serve you better
Top 5 Nigerian couples proving love does exist in this world | Legit TV
Source: Legit.ng