Wife from heaven: Woman supports sick husband after friends deserted them
- Paul and Anne Mungai met in school and from friendship, they got married, had children and all was good
- Then the lively mood in the family suddenly dipped with the realisation that Paul had kidney and liver failure in 2016
- Even though friends and family dumped them, Anne has continued to take charge, performing the tasks of a breadwinner
Nobody ever prays to be sick. It often comes with disillusionment, a sense of shattered hopes. That was the case of Anne Mungai's husband, a Kenyan.
Anne spoke with Kelvin Momanyi of TUKO.co.ke, a sister organisation of Legit.ng, with an indication that Paul Mungai's sickness was not going to stop her from being the wife she is nor make her break the marriage vows she took with him.
When Mungai's health started deteriorating in 2016, it was Anne who first noticed. This was even before he was diagnosed. It later happened that he had both lung and kidney failure.
Paul's life took a turn when his condition became worse causing him to spend a better part of his time in the hospital and the people he called friends turned their backs against him.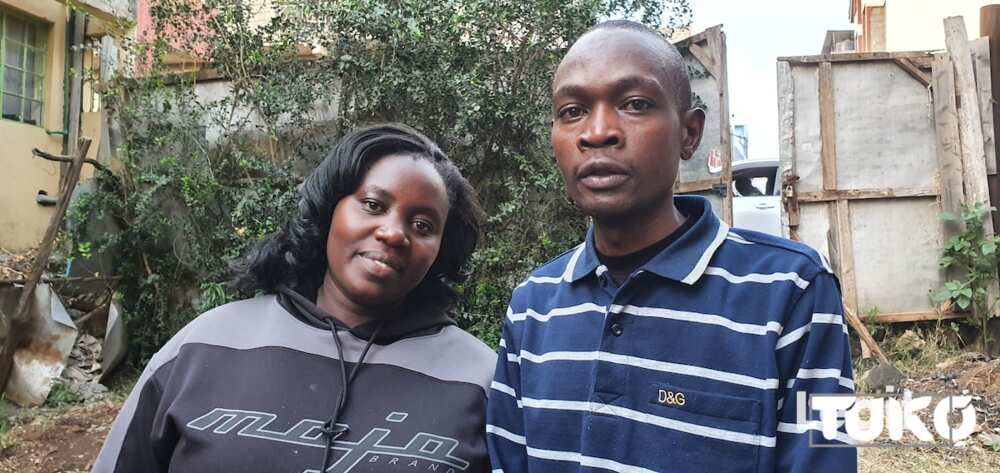 Their families abandoned them too but Anne resolved to stick with him. She took up the role of providing for the family, a task her husband was supposed to handle if his health was fine.
Anne, a librarian, was forced to tap into her entrepreneurial skills when her husband was confined in the hospital. She did not want their children to feel the absence of their father.
On many occasions, after work, she would go hawk sweets and other commodities in an estate.
"The first time I hawked, it was in a train ride with the kids and I realised there was nobody in the whole train selling anything to eat," she narrated. "So in the week that followed, I was there at the station with my sweets and other snacks. I went to Naivasha just by selling sweets on the train."
Although Paul's condition was getting worse by the day, that did not break Anne's determination to continue giving him hope in life.
Even though he regrets falling ill and not being able to cater to his children, one thing Paul does not regret doing is marrying the woman who turned out to be the best partner he could ever have.
His biggest fear has always been that one day his life would abruptly come to an end and his children would have to grow up with their mother only, something he never dreamt off.
Anne's determination to fill in the gap and provide for the family is one of the many reasons Paul has to keep fighting through his sickness.
"As a person, there are things you would not like your children to see. Like I would not like them to realise that their father can not provide for them," said Anne.
According to Paul, there are people who think Anne should have left him to get another husband who would make her life better. She never takes such advice.
Hopefully, the couple who met back in high school fourteen years ago looks forward to better days as Paul slowly heals, they believe they will one day tell their story as a testimony.
The two met when Anne was in 'Form Two' while Paul was clearing his 'Form Four' and their friendship blossomed into marriage.
Their advice to other couples? "Before ladies make a decision to marry, they need to be sure because it never goes the way you wish. They need to know that when the marriage is either good or bad they need to stick to it," said Anne.
PAY ATTENTION: Install our latest app for Android, read best news on Nigeria's #1 news app
"Even us as ladies, we feel good when we are served well, so we should do the same to our men when they need us more than we need them. Marriage is a decision ladies need to be sure about," she added.
Legit.ng earlier reported how a qualified nurse who remained without a job after completing school was recently supported with an amount of GHC1,000 (N68,000).
The nurse, identified as Mary Ndoo Azure, has been selling orange on the streets of Ghana due to her inability to find a job.
NAIJ.com (naija.ng) - Legit.ng. We have upgraded to serve you better.
How will you react if you find out your partner's best friend is his/her ex-lover? | Legit TV
Source: Legit.ng