- Kem Senou Pavel Daryl, a 21-year-old Cameroonian student who lives in Jingzhou, China, is the first African to contract the coronavirus
- Daryl is also on record as the first African to be healed of the virus completely; he was treated in a local Chinese hospital
- The student, whose treatment was fully funded by the Chinese government, says he never wanted to return to Africa with the virus
A 21-year-old Cameroonian student, Kem Senou Pavel Daryl, who contracted the coronavirus, reportedly promised never to return to Africa with it.
Daryl, who lives in the Chinese city of Jingzhou, reportedly stated that he would not have left the city even if it was possible for him to do so.
The British Broadcasting Corporation (BBC) reports how the student explained that he had no intention of taking the sickness back to Africa.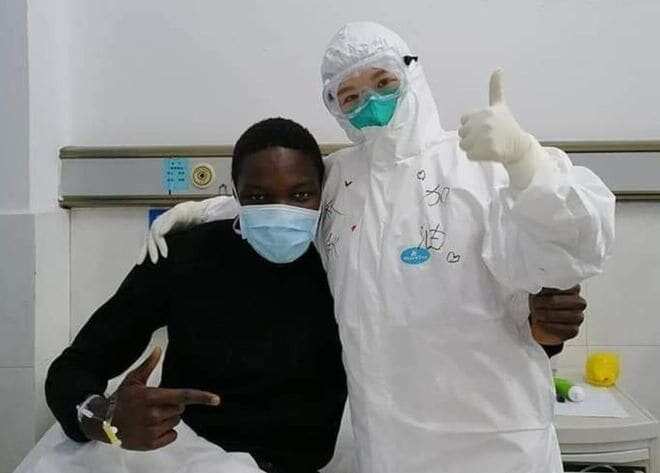 He was placed under a 14-day quarantine in his university dormitory after he showed signs of fever, a dry cough, and flu-like symptoms.
In the early days of his sickness, he recalled a time he was hospitalised back home after he contracted malaria with an anxiety that the situation could degenerate.
For 13 days, he was kept in isolation in a local Chinese hospital and treated with antibiotics, as well as drugs typically used to treat HIV patients.
The report said after two weeks of care, the African studnt began to show signs of recovery.
At the moment, he is on record as the first to be infected with the deadly coronavirus as well as the first to recover.
Meanwhile, Legit.ng had reported that the coronavirus death toll continues to rise, making global headlines in the process.
However, in a bid to help, actor Jackie Chan has offered R2 million (N48,768,880.00) reward in exchange for an antidote.
PAY ATTENTION: Install our latest app for Android, read best news on Nigeria's #1 news app
The pressure to get the coronavirus outbreak under control is on as the death toll keeps rising.
Now veteran actor Jackie Chan has climbed on board in an attempt to find a solution, offering a 1 million yuan (N48,768,880.00) reward for the development of an antidote.
Chan hopes to do more than offer songs and festivity to those affected.
Visually impaired lady plaits hair beautifully | Legit TV