Crowd breaks into fight over abandoned baby in Berger
While many people across the world are celebrating Valentine's day, pandemonium broke at Berger area in Lagos over a newborn baby said to be abandoned by an unknown lady. The incident happened some minutes after twelve in the afternoon on the connecting road to Alagbole.
According to persons present at the time of the incident, an unidentified lady was said to have given the newborn baby to one of the Hausa guys hustling in the area with a phone. She told the young man she would be back in no time.
The Hausa man however called the attention of the market women around to the situation when the woman failed to show up after a while. It was at that point that everyone became alarmed and gathered round to have a look at the baby.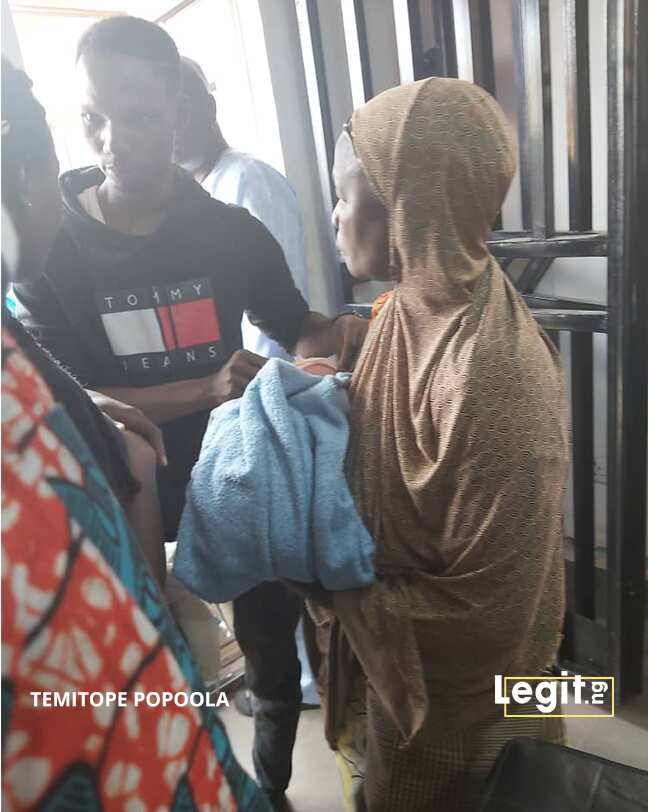 READ ALSO: Man shares experience after being left with 2-month-old daughter for a few hours
In no time, the baby was collected from the clueless man and wrapped properly by the market women around. The scene got crowded as everyone tried to take a peek and to have firsthand information about the baby.
A woman came from nowhere in order to take possession of the baby. She claimed she was going to take the baby away but the people gathered, for so many reasons, did not seem to believe her. The baby according to the people who saw her was said to be about a day old judging by her pink skin.
A fight broke out as she tried to take the baby as concerned individuals stood firmly against it. Some opined that the baby should be taken to some ministry. The baby was said to have been scratched in the arm while people struggled to carry her. The spot where she was scratched was bleeding according to a woman.
The baby was eventually taken inside a store to get the crowd to back off. The opinion of a pastor said to be the owner of the store was sought on the matter. He asked those present to calm down as he tried to sorting the issue.
READ ALSO: BBNaija star Tboss shares photos of her breastfeeding daughter (photos)
He concluded by saying the woman who wanted to take the baby should be taken to the police station where the matter would be resolved. Market women clapped their hands in frustration as they all condemned the action of the newborn baby's mother.
Slum Chronicles: People walk into our church to kidnap children - Pastor laments | Legit TV
Source: Legit